Day 2 of NSCA's 2021 BLCv — The Blog Version
On Feb. 24 and 25, rAVe attended NSCA's 2021 BLCv, or Business & Leadership Conference (virtual), the 23rd iteration of the legacy event offering industry education and purposeful discussion. The audience and purpose of the National Systems Contractors Association's event, as opposed to other NSCA events like the annual Pivot to Profit (P2P) conference, was to empower executives to learn, embrace new technology and motivate employees.
Our recap from the event's Feb. 24 sessions is here, and we're back today with another story detailing what we learned on day two.
NSCA Annual Business Meeting
The kickoff session of day two of the 2021 BLC, powered by the rAVe LAVNCH platform, was NSCA's annual business meeting. What was this session all about?
Led by NSCA's Chuck Wilson and Mike Boettcher, the session covered the state of the commercial integration industry, the election of NSCA leadership and NSCA's 2021 legislative agenda. Meant to be interactive, the session included industry leaders who have specific experience and knowledge about codes and compliance, emerging technologies, risk management, industry trends, growth strategies, and running successful integration companies.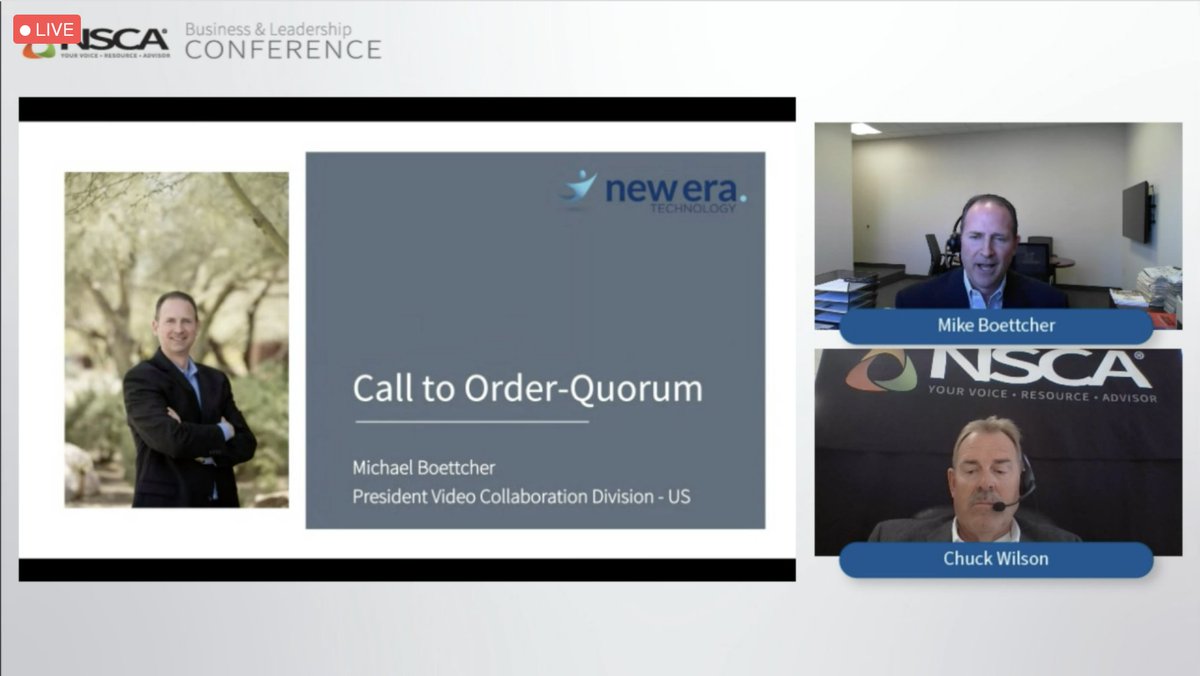 A special feature of this session included government affairs representatives from the Connected Technologies Industry Consortium, which took place virtually in October 2020 as a think tank of global trade organizations (e.g., BICSI, the Communications Cable & Connectivity Association, NSCA, the Security Industry Association, etc.) that monitor and align on state-level legislation on integrator-specific topics (e.g., PoE low-voltage lighting, network-connected devices, etc).
NSCA is seeking to support integration businesses, keep the industry informed and help business leaders take action. The best advice and takeaway we can give you from this session: Become a member of the NSCA.
Making Strategy Happen
According to Harvard Business Review, "most studies show a 60% to 70% failure rate for organizational change projects ― a statistic that has stayed constant from the 1970s to now."
That's a stark figure. How did the presenter, Michael Canic, Ph.D., address this topic in his opening session, "Making Strategy Happen," on Thursday? Moderator Mike Bradley introduced Canic so we could dig in.
Within strategic planning, execution is the hard part, Canic said. Most plans fail to deliver on their financial promise. Like, three trillion dollars worth of failure, and frequently, for IT projects.  We can't just settle, because there are real costs to failure, he added. So what's the problem? Canic found, in his work and research, there was no individual thing that correlated to success in strategic change.
LIVE: Here lies all the failed strategic change initiates 🪦

Michael Canic says, "if you're going to bet on anything, bet on failure."

Check out this video clip to hear the full statement ⬇️@NSCA_systems #BLCv #LAVNCH pic.twitter.com/0wapxOFmin

— rAVe [PUBS] (@rAVePubs) February 25, 2021
We can, however, tilt the odds in our favor, Canic continued. Of the five keys to sustaining success, we appreciated points such as "Do less with more." In other words, prioritize.
Again, there's no single thing that leads to change, Canic pointed out. It all counts — training, resources, etc. "All the things that impact people have to be aligned with the change we want," Canic said. "What matters more than anything you do is everything you do."
Do you feel equipped and inspired to "Make Strategy Happen?"
2021 Stepping Up Awards Announced Live
Here on this platform, we were lucky to see and get inspired by a live presentation of two sets of awards — the 2021 Excellence in Product Innovation (EPI) awards, delivered by Commercial Integrator, and the 2021 Stepping Up Awards, presented by NSCA's Tom LeBlanc. The Stepping Up Awards were given to companies that demonstrated agility amid the pandemic. Among the distinctions were excellence in product innovation, an award honoring employee engagement and more.
NSCA's 2021 Stepping Up Award winners:
Read more about the awards and the winners here.
BLC Breakout Sessions
Next on the Feb. 25 BLC schedule was a set of concurrent breakout sessions:
Curious how each breakout went? Just reach out to the presenters and/or moderators from each session:
Breakout #5 Track: Executive Leadership — Leadership: Pivot, Don't Panic (presenters: Chuck Wilson and Bill Bozeman; moderator: Christina DeBono)
Breakout #6 Track: Growth Strategies & Sales/Marketing — Living Your Brand on the Front Lines (presenter: Gerry O'Brion; moderator: Tom LeBlanc)
Breakout #7 Track: Finance & Risk Management — Execution with Ruthless Consistency (presenter: Michael Canic; moderator: Laurie MacKeigan)
Breakout #8 Track: Operations & Process Improvement — Process Optimization Using EOS and Lean Principles (presenter: Heidi Berger; moderator: Brad Caron)
Becoming No. 1 in a Crowded Market: What Big Brands Know
The closing keynote of the 2021 BLC arrived all too soon as Dale Bottcher of AVI-SPL took the stage to introduce Gerry O'Brion, the "most 'non-corporate' corporate executive you'll meet." O'Brion would complete the 2021 BLC conference with a closing keynote called "Becoming No. 1 in a Crowded Market: What Big Brands Know."
"Your because is the proof that you can deliver the outcome" — Gerry O'Brion

Who is tuned in to the closing keynote "Becoming No. 1 in a Crowded Market: What Big Brands Know" with us?

Watch it here: https://t.co/oKH5uctHGb pic.twitter.com/aRbdPuxMKm

— rAVe [PUBS] (@rAVePubs) February 25, 2021
What an amazing conference and virtual iteration of NSCA's BLC. What were your favorite moments and top takeaways? Need a refresher? Read our day one recap. And if you registered previously, catch the NSCA 2021 BLC on demand to rewatch.