Day 1 of NSCA's 2021 BLCv — The Blog Version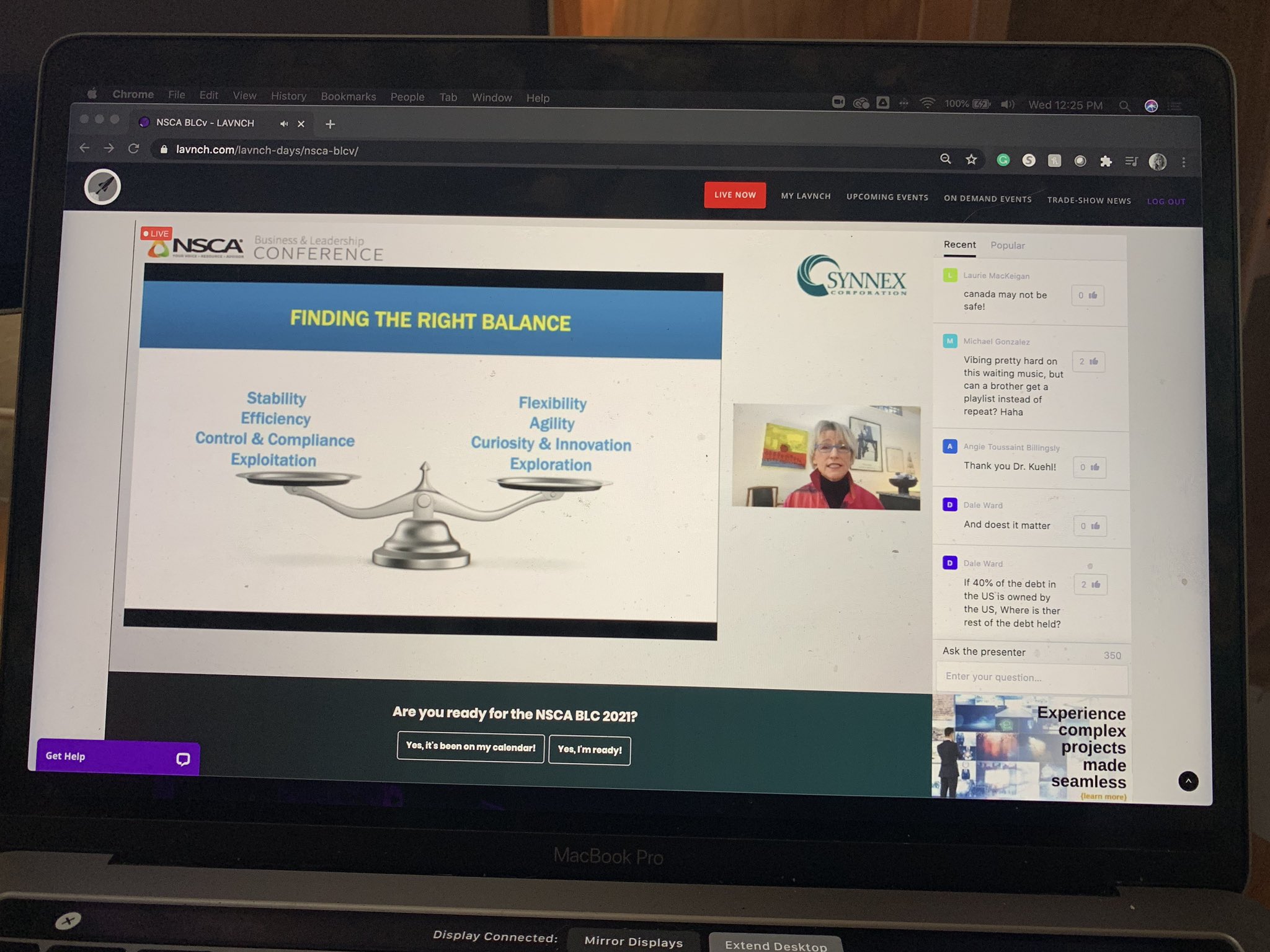 "Stepping up when it counts."
That was the tagline for NSCA's 2021 Business & Leadership Conference (BLC or, this year, BLCv: the "v" for "virtual"). This was the 23rd iteration of the legacy event offering industry education and purposeful discussion. NSCA's BLC attracts hundreds of executives annually to learn from other leaders, discover new ways to embrace technology and motivate employees. This year, it was held virtually.
The event host, the National Systems Contractors Association, is an important nonprofit association representing the commercial integration industry. NSCA is an advocate for people who work in AV, IT and more — that includes systems contractors/integrators, product manufacturers, consultants, sales representatives, architects, specifying engineers and other allied professionals.
Back in September, NSCA's Pivot to Profit Virtual (P2Pv) took place via the rAVe LAVNCH platform, and after attending P2Pv, we had high hopes for this show. rAVe attended both days of the 2021 BLC to recap the event and provide coverage for those who couldn't attend — or for those who did attend but wanted a refresher. Today's story is for BLC day one, which took place Wednesday.
Economic Outlook 2021 (and Beyond) for Integrators
After a short and sweet introduction from NSCA Executive Director Chuck Wilson, we welcomed Dr. Chris Kuehl, likely a familiar face to you if you're an NSCA member. Dr. Kuehl is the chief economist for several national and international organizations, including NSCA.
We love the meme Kuehl used to start his presentation:
Putting the present times into context: We still have millions out of work. We've had miserable supply chain experiences this past year. Despite this, there's some good news: Capital spending has improved (CapEx is expanding), and this is good, Kuehl said. Something for integrators to think about: Biden's plan and the possible stimulus, which will do one of two things. It'll either allow the economy to "roar back" or be a recipe for stagflation. If you inflate the economy too fast, you flood and overheat the money supply, Kuehl explained.
Dr. Kuehl's "all-time-favorite, weird graph" (as he called it):
What this means: Don't be shocked, this year, when the economy goes up and down, up and down. It'll definitely be uneven, Kuehl said.
Critical to the integration industry, which of these financial trends are top-of-mind, and which changes are permanent Relative to the 2021 economy, what will "life on the other side" look like? The challenge to integrators is both staying abreast of this information and navigating it in their businesses.
Making the Agility Shift: Creating Agile and Effective Leaders, Teams, and Organizations
Next up, NSCA Board President Mike Boettcher introduced Dr. Pamela Meyer, who was excited to give her keynote on creating agile and effective teams.
To start, Meyer's definition of "agility": the ability to respond effectively to the unexpected and unplanned, and quickly turn challenges into opportunities." Meyer delivered some great news, saying that everyone here, in commercial integration, is already "pretty darn agile." Her goal Wednesday, however, was to help us move from "pretty darn agile" to "consistently agile." The challenge: we largely designed our organizations and management practices to reduce threats and uncertainty.
But, "Today, we have to find a new balance," Meyer said. Three key categories within this balance: raising awareness of agility, understanding our role as leaders in promoting engagement, and looking at examples and best practices for action. A particularly important element of Meyer's six dynamics of the agility shift? To be reflective (i.e., not moving from one work fire drill to the next one). Failure will happen.
Evident from her presentation, Meyer's deep experience and research helped us look at how other organizations (like Zoom, DocuSign, Roku, Digital Realty, Peloton, PayPal and Clorox) are thriving in the midst of today's uncertainty — some by chance, some by design.
Business Benefits of Diversity, Equity and Inclusion
The 2021 BLC next brought us an extremely important keynote on why business thrives when you prioritize diversity, equity and inclusion. Moderator Akintayo Adewole introduced the session presenter, Dr. Ivan Joseph, who would explain in this session that companies with an active diversity, equity and inclusion (DEI) plan are likely to outpace their peers. In fact, data from McKinsey & Company demonstrates that a DEI program produces an 11% likelihood of increased performance over similar companies and a 19% decrease in the likelihood of outperforming your peers without one.
Introducing Dr. Joseph, Adewole echoed Joseph's work as proof that "When we help others succeed, we succeed too."
"Over and over again, we have learned that diversity is good for the bottom line," Joseph said. "But since 1980, diversity has stalled." What changed in our psyches then? We believe that diversity is hard and could be dysfunctional to our performance, Joseph said.
There are biases, and we need to change the way we act, behave and recruit, Joseph said. Recognize that even if you intentionally do these things, there are still barriers — unconscious biases that are limiting people's ability to advance. How can we get past this? Four things Dr. Joseph offers: invest in a diverse pool; define your culture and workplace cultural intentions; limit referral hiring (hiring solely by "I know a guy" does not bring diversity of thinking); and look at your systems, policies and processes that limit people's ability to move in the system.
"Mandatory training never works" — @DrIvanJoseph says research shows that optional trainings saw a 13% increase in promotion and recruitment of racialized and female leaders. @NSCA_systems #BLCv pic.twitter.com/BlP9gWHts4

— rAVe [PUBS] (@rAVePubs) February 24, 2021
What's more, we should be celebrating the ethnic and cultural differences in our workforce. Saying you are approaching it by being "color blind" is not the right approach. "The more you choose to ignore the cultural differences of the workforce, the more people will feel as if they don't belong," Joseph said. Research has told us time and time again that, to create cohesion and a sense of real connection, practice inclusion by recognizing the uniqueness that people bring to make them feel valued.
This session was crucial in engaging our integration industry leaders to prioritize diversity, equity and inclusion — now, not later. We were also happy to see that, as a follow-up to this keynote, NSCA is offering a free DEI (Diversity, Equity, & Inclusion) Workshop for Integrators on March 25 at 11 a.m. CST. In the meantime, take a look at NSCA's Ignite 2.0 initiative, which supports the belief that DEI implementation should be a core tenet for all integrators to build better businesses.
BLC Breakout Sessions
Next on the Feb. 24 BLC schedule was a set of concurrent breakout sessions:
Want to get a read on each breakout? Just reach out to the presenters and/or moderators from each session:
Breakout #1 Track: Executive Leadership — Agility Champion Training: Developing Agility is a Continuous Endeavor (presenter: Pamela Meyer, Ph.D.; moderator: Kyle Habben)
Breakout #2 Track: Growth Strategies & Sales Enablement — Think Like a Scientist, Not an Engineer (presenters: Laurie Englert and Lisa Perrine; moderator: Jay Rogina)
Breakout #3 Track: Finance & Risk Management — Rethinking Finance, Legal, and HR Leadership (presenters: Jeff Bronswick, Joel Harris, Brad Dempsey, Eric Morris, Dave Taccone and Chris Mounts; moderator: Dan Schmidtendorff)
Breakout #4 Track: Operations & Process Improvement — Predictable Outcomes: Getting Ourselves Back on Track (presenter: Leonard Lynskey; moderators: Ingolf deJong and Ray Railey)
Designing for Digital-First Customers: Focus on Experience as a Driver for Breakthrough Innovation
The closing session of the 2021 BLC, an Executive Power Hour, taught us that experience design and innovation — sort of like how Dr. Meyer talked earlier about agility — are beacons for the way forward. Present to explain these concepts Wednesday were Brian Solis, global innovation evangelist, and Tim Hennen, CTO of collaboration solutions provider IVCi.
"What are we going to look at to keep up, and or to get ahead?" Solis asked.
Now, digital is everything; it's how we work, shop and learn. From this point on, digital is the standard, not the exception, and the decisions we make now will completely impact our future state and future selves, Solis said.
Therefore, this is exactly the time to break new ground, Solis explained, even if it seems counterintuitive to think about investments when everyone else is cost-cutting. The question is, How much do we innovate? Do we jump on every new innovation possible? "Sort of," Solid said. It's a balance, and a matter of perspective, he added. Is it iterative, or is it innovative?
If you registered previously, you can get the full view of this session and day one by logging on to view the event archives — you'll find the 2021 BLC on-demand content here.
We'll be back soon with another recap of NSCA's 2021 BLC day two. Stay tuned.