If You Haven't Watched SDVoE LIVE! Yet, You're Missing Out — Episodes 6 and 7 Recaps Here
THIS IS A PROMOTED POST 
Episodes 6 and 7 of SDVoE LIVE! packed as much punch as both the debut episodes and mid-season ones. These next two episodes got a little more specific, bringing in additional industry experts and case studies to help better our understanding of SDVoE and AV-over-IP in the context of the whole industry. Mid-season, we were excited to get more "hands-on" and "real-world," as SDVoE President Justin Kennington said, discussing why SDVoE installations prove more effective than those using a matrix (episode 6) and why staying up to date on the latest ProAV trends/information/education is so critical (episode 7).
ICYMI
In case you missed it, we're talking about SDVoE LIVE! (i.e.,TV for AV), a live show hosted by the SDVoE Alliance's Matt Dodd and Justin Kennington. Each episode centers around a ProAV topic that you want to know more about. Episodes feature things like success stories, the latest ProAV news, interviews with SMEs and more.
If you missed the first five episodes, rAVe linked its two recaps (so far) above. You can also go back and watch each episode along with the aftershows via your SDVoE Academy account, which is free to create.
Now, onto the episode recaps.
Episode 6: "Why Samsung Chose SDVoE Over a Matrix"
This episode, called "Why Samsung Chose SDVoE Over a Matrix" seemed self-explanatory. But it dug deeper, inviting Charlie Sullivan, ZeeVee's head of business development, UK & Ireland, to help tell the story of the Samsung KX deployment, built and implemented by ZeeVee. This was a project with a lot on the line due to Samsung's stellar reputation for high image quality.
Teeing up the project, "AV can create these really engaging experiences," Kennington said.
Not actually a Samsung store, Samsung KX (the "KX" stands for King's Cross, one of the largest and most exciting redevelopments in London, now with its own postcode, N1C) is a 20,000-square-foot "tech playground" filled with Samsung innovations, SDVoE's Janet Matey reported. The Samsung Experience Centre is an event space, conference center, cinema, lecture hall, art and design space, yoga hub and e-gaming facility. Importantly for our readers and #AVtweeps, it includes the world's first 10-meter-wide, vertically curved LED screen. The displays are powered by a network of more than 100 ZeeVee Zyper4K fiber endpoints.
Regarding the install, it needed to be both versatile and flexible, Sullivan said, "able to flip and change in a hair's breadth." The objective was to showcase Samsung's most innovative display technologies in one space, allowing for optimum image quality, sending any source to any display across the network at any time (and, of course, at the lowest latency possible). The install required uncompressed video from day one — with uncompromised image quality, true pixel-to-pixel 4K@60 Hz (4:4:4) compression and HDR 10+ bandwidth support. (If you recall from episode 4 of SDVoE LIVE!, HDR 10+, one form of HDR, sends dynamic metadata frame by frame. It supports brightness up to 4,000 nits.)
The technical challenges faced and the solutions deployed in this showcase explained why SDVoE was such a powerful technology choice for an installation like this. The work that went into the project was incredible.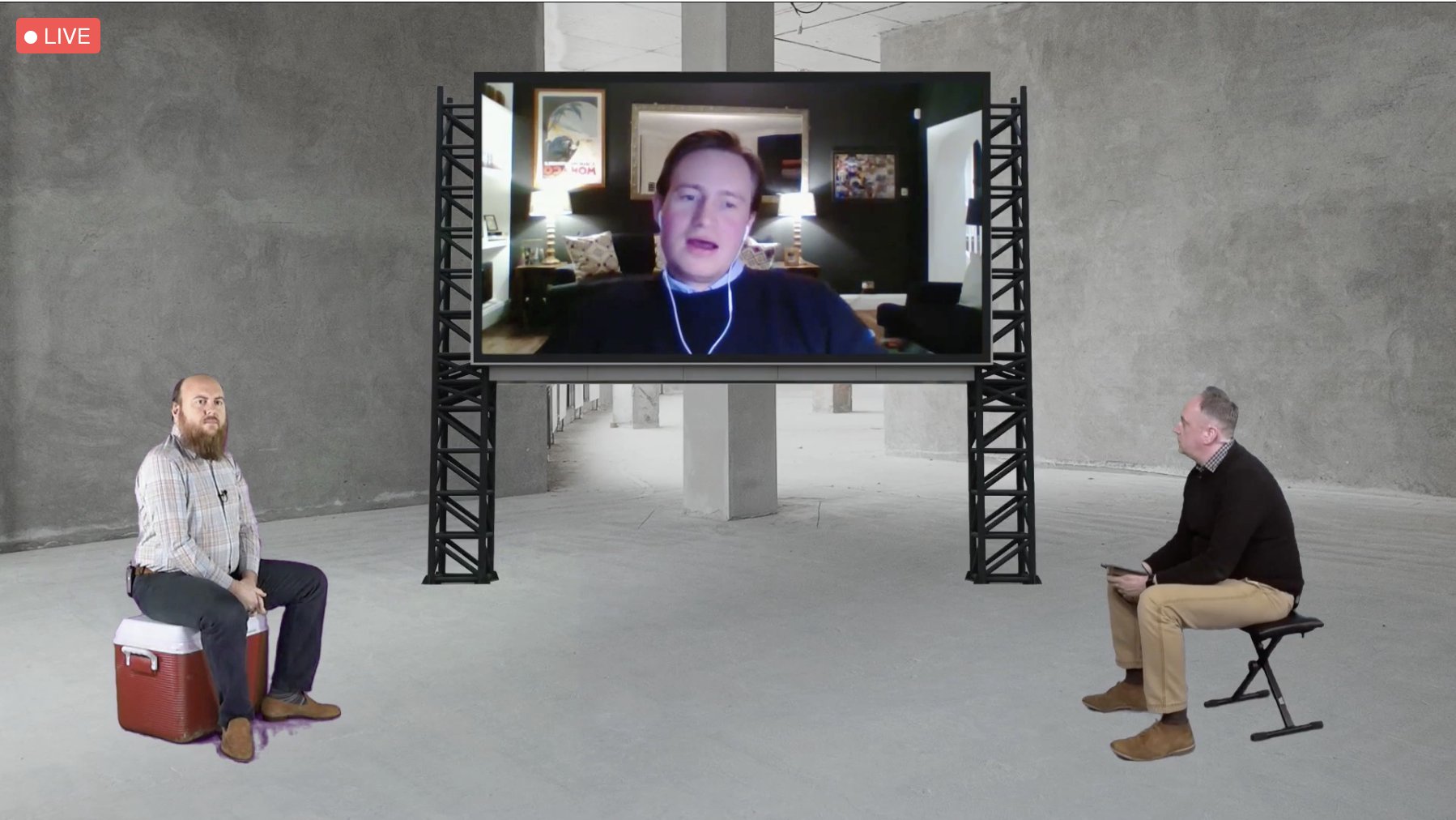 To see more on the full install, watch "Why Uncompressed and HDR Matter at the Samsung Experience Centre" — a session from ISE 2020 featuring Sullivan and Kevin Madeja from Snelling Business Solutions, the AV systems integration firm involved in the project along with Hoare Lea (consultancy), Cheil (marketing and branding) and Portview (fit-out specialists). Just log in with your free SDVoE Academy account to watch.
Speaking of your SDVoE Academy account, it also gets you access to the SDVoE LIVE! episode aftershow, which brought us some classic Justin-Matt water-cooler banter — but actually, as Justin virtually sits on a water cooler — also giving viewers a space and place to chime in and ask questions. The aftershow is only available when you watch via the SDVoE Academy, as opposed to via the YouTube recording. (Perks of signing up for a free Academy membership.)
Episode 7: "The Lost Art of AV – How Bright Are You?"
Episode 7, aka "The Lost Art of AV – How Bright Are You?" served two purposes in its cheekily named episode with a double meaning ("bright" related to display technology and "bright" asking how well-versed you are on the latest ProAV trends).
In light of staying educated, up to date and trained on the latest ProAV resources, a few news stories that Kennington and Dodd brought forth:
Next, the show invited a friendly face from Starin — Chris Neto — to explain his purpose in creating educational content for the industry, with the help of his colleague Clay Stahlka. For context: Neto and Stahlka built a series of their own short-form AV educational videos for Starin (much like the SDVoE Academy) called "The Lost Art of AV," and this SDVoE episode included some of that great educational content.
Starin's intro video gave us a quick overview of ambient light — the enemy of any display. As the overview explained: Ambient light dramatically reduces the perceived contrast from lights and darks. This makes it harder to see details on the display. As ambient light grows, the brightness of the display must be increased accordingly. Thankfully, there are solutions as simple as phone apps that can help measure ambient light (measured in lux) so AV technicians know how to adjust the brightness.
On why he creates educational videos like this, "I didn't want to lose the sense of what we bring as AV people," Neto said. "There's a science to AV — it's not just an art form."
Of course, as we are missing a lot of in-person education right now, the face-to-face interaction is a big loss, Dodd said. Neto added that short-form, educational-based videos help guide people in the industry on where to go to learn more deeply. There's value in both the long-form education (leading to certifications that come from AVIXA) and short, punchy, online educational content like SDVoE's and Starin's.
The aftershow, my personal favorite segment of all SDVoE LIVE! episodes (but again, only available to watch while viewing the livestream or the SDVoE Academy archives!), took a fun look at Neto's background in AV. Though, unfortunately, Justin didn't reveal what was in his red cooler slash seat, we did get some tips from Neto on how AV can get more involved — and he actually suggests doing so on social media. Don't be afraid to get involved (and listen to customers) on social channels, Neto said. It can often reveal where AV people are engaging in conversations around projects and gear.
Next Episode Coming March 9: "HOW Special Is That?"
SDVoE LIVE! is ProAV's only edutainment (education + entertainment) program, and it takes place every other Tuesday at 1 p.m. EST. The next episode, "HOW Special Is That?" will debut March 9. The preview:
Catch the next SDVoE LIVE! episode by visiting SDVoE.org/Live. By clicking on the link, you can sign up for email reminders or download the event to your calendar. Don't have an SDVoE Academy account yet? Use this link to make a free one before the next show.