LAVNCH WEEK 3.0: 'The Power and Value of Storytelling' with Kevin Carroll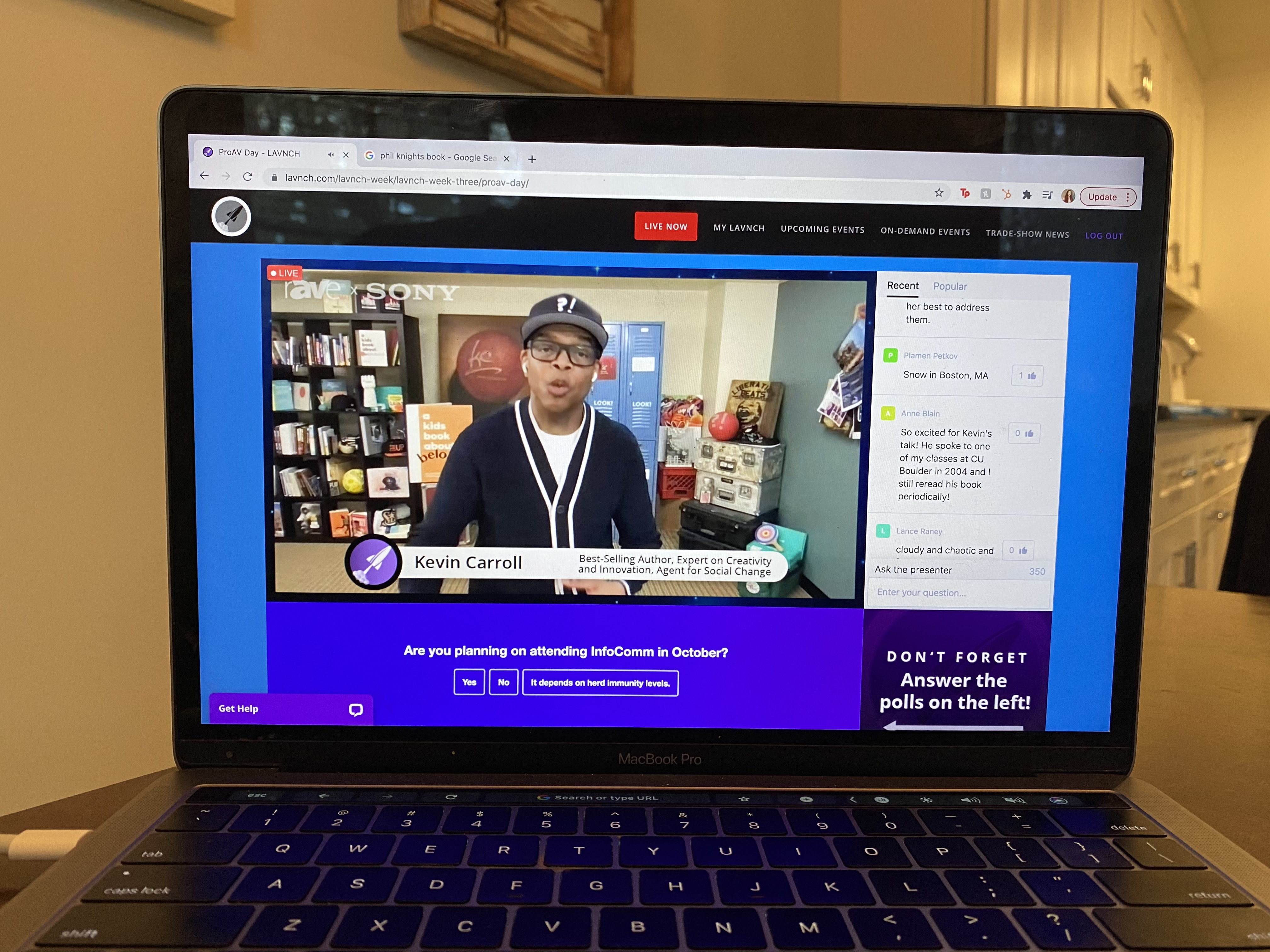 About 10 years ago, I had the pleasure of being introduced (virtually) to best-selling author and creative catalyst Kevin Carroll when I was but a third-year at my alma mater. Never did I imagine I'd be so lucky as to meet him again. Luck was on my side Tuesday because the keynote speaker for LAVNCH WEEK 3.0 just so happened to be that familiar face (a face that never seems to age, mind you), Kevin "Katalyst" Carroll. After K.C.'s Feb. 9 ProAV Day kickoff session, I remembered why Carroll inspired me so much the first time.
Now, a quick question before jumping in: What's your red rubber ball?
Why Play Is Necessary
To quote E. O. Wilson, "We are drowning in information while starving for wisdom," Carroll said.
During COVID times, did you lean into the moment when everything happened? How can we all, on this LAVNCH event, level up and change? Carroll asked.
Shedding light on his personal narrative (which was anything but linear), Carroll explained how his life predicaments led to a journey and passion — his "red rubber ball." As a six-year-old, when Carroll was playing by himself with the ball on the playground, he received a simple invitation from others to play. With that invitation, Carroll got the one thing he wanted, to feel a sense of belonging and community. Little did he know that innocent moment of inspiration would turn into a lifetime of connecting and belonging to a team. Carroll's red rubber ball represents community and bonding and connection.
Importantly, play is key, Carroll continued. Shouldn't it be our quest to find joy in every moment to blend work and play? Why waste our time when our future is getting shorter? And by the way, Carroll continued, "Play is serious business." It's not frivolous; it has purpose — it's about community building. Play will help solve the creative problems we're facing.
To energize and uplift us even more than he already had, Carroll shared a few simple truths, stories, books and parables. Some of our favorites:
You get a choice every morning to decide "which wolf you feed."
"After you pivot, you can pirouette."
"Why not?"
"Don't talk about it. Be about it."
"There are a lot of talkers but very few doers."
Find a way to be an optimist, not a pessimist. "An optimist sees the opportunity in every difficulty," Carroll said.
"The way you show up absolutely affects other people."
"2020 was a stage-five clinger."
Reverse mentoring is one way to think outside the box. Just because you're older than someone doesn't mean you can't learn from them. Carroll, for instance, is taking an "art class" from an eight-year-old named Marco. Work with someone junior to you to respark your curiosity and knowledge.
We need to raise our game as adults. How can we become better grownups and inspire the kids? Be mindful: If kids don't like what they see, they'll call you out!
It's better to be seen than viewed (re: Carroll's grandfather).
"Stay curious. Stay curious. Stay curious."
You can't do anything with a broke "want to." You have to want to make your ideas real.
Tip: Connect with three people you've never met. Check on one another. It's okay to not be okay. But it's not okay to not have someone there to let them know.
"Fly your freak flag," Carroll said. In other words, be undeniably true to yourself.
Continuing with his message that play is essential, Carroll illustrated a Steven Johnson quote from Johnson's book, "Wonderland": "You'll find the future wherever people are having the most fun."
Hey, #AVtweeps! Are you loving this keynote session as much as we are? @kckatalyst is an incredible and inspiring speaker — thank you so much for joining us on #LAVNCHweek 3.0! pic.twitter.com/VN48kVuMo6

— rAVe [PUBS] (@rAVePubs) February 9, 2021
Speaking of books, Carroll recommended a lot of them Tuesday. Here were just a few he called out:
Check out K.C.'s full booklist on the ProAV Day archives — you'll find a PDF titled "Here Is What Kevin Is Reading."
Now & Next
We're all dealing with difficulty, Carroll said. But it's about the collective — the collective energy, the collective confidence. And we need the collective energy to rally and bring together our creative confidence. We have to have that fight in us while recognizing it in others too. We all want to collaborate better. But if you deprive yourself of playful moments, Carroll said, you deprive yourself. What will we take away from all this to prove that we are fighters? That we raised our game?
Because if we got through last year, we know we've already, most certainly, got some fight in ourselves.
Love this keynote as much as we did? A helpful resource provided directly by Carroll (a PDF titled "Here Are the Creative Resources Kevin Spoke About") is linked on the ProAV Day archives page!