LAVNCH WEEK 3.0: The ProAV Day Roundup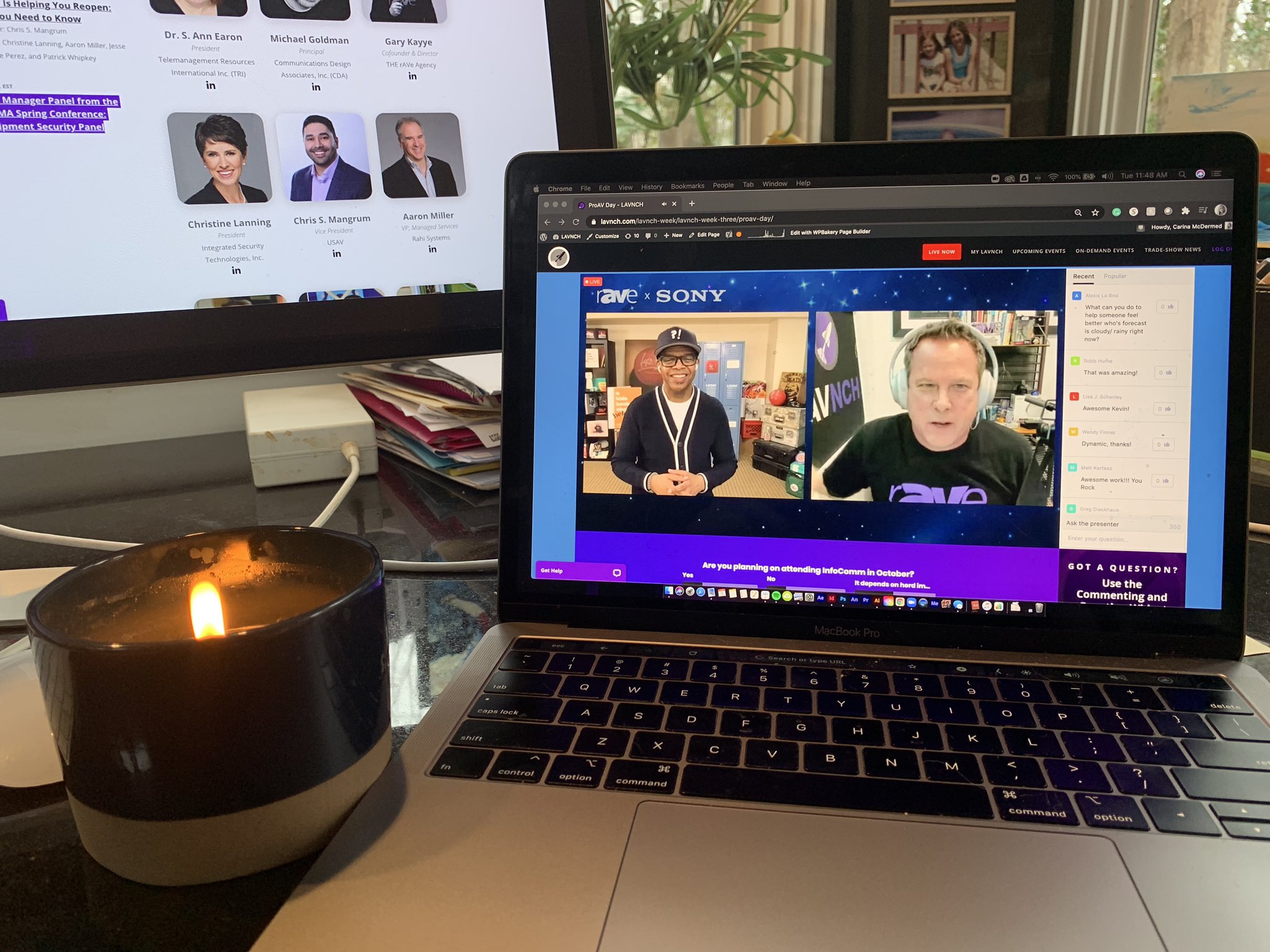 Within the amazing evolution of AV this past year, we've seen new solutions along the lines of UCC, digital signage, dvLED, projection, voice/gesture control and so much more. What will be the keys to 2021 success? Preparation, connection and agility, Rich Ventura of Sony said as he joined the LAVNCH WEEK 3.0 welcome segment to tee up Tuesday's keynote speaker. As an industry, being committed to the ebb and flow is key. 
Keep that in mind as we ebb and flow through this recap article of LAVNCH WEEK 3.0's ProAV Day, as well as recap all of LAVNCH WEEK 3.0 over the next few days. We'll give you the key coverage, takeaways and must-knows from:
Feb. 9: ProAV Day
Feb. 10: End User Day
Feb. 11: New Tech LAVNCH Day
Now, as rAVe emcee Steph Beckett said, roll the tapes!
The Power and Value of Storytelling
Kevin Carroll, best-selling author and creative expert (but still operating in "beta mode," always striving to level up and remain curious), blew us away Tuesday with his upbeat keynote on why "play" is essential.
One of our favorite pieces of Carroll's advice? "Fly your freak flag." Don't worry, we explain what this means in our recap article of Carroll's keynote. Find it here!
Solving the Hybrid Workplace Puzzle
Next up was Mark Coxon, an industry guru you know and love. On Tuesday, he spoke about achieving hybrid spaces. Because if "collaboration" was the buzzword of 2019, then "hybrid" definitely took the cake in 2020.
Many companies are currently tasked with setting up their offices for a great return, Coxon led. But they're discovering one thing: Hybrid is tricky. Creating a true hybrid workplace goes well beyond adding a $100 webcam and choosing your favorite soft codec platform. And working fully from home was (and is) actually easier than creating an effective hybrid workplace. ProAV can help create more equality between in-person and virtual workers, maximize the effectiveness of distributed teams, and help bridge the gaps that inevitably develop when people are not physically together.
So yes, hybrid is hard, even harder than remote. Why go through the trouble then?
Because hybrid is preferred to remote, Coxon said. A lot of people actually want to get back into the office. A recent Gensler work-from-home study revealed that 70% of people want some flexibility in where they work. And despite the belief that millennials and Gen Z adapted the best during COVID-19 pivots, the study revealed younger generations actually want to return to the office more (likely due to lack of dedicated office space). Why do employees want to go back then? The people.
So what does hybrid do? It bridges the gap between the remote and in-person experience, Coxon said. Speaking of gaps, to realize the advantages of hybrid, there are three to be aware of.
Innovation gap. Companies that are highly innovative don't find their best ideas in scheduled time but, rather, impromptu "aha" moments. Many of the remote tools we have now are set up to be "one to many," limiting those aha moments. 
Collaboration gap. Remember, collaboration is a workflow — more than just hardware — Coxon said. Sure, we have these all-in-one devices and room kits, but these alone don't solve the collaboration gap.
Connection gap. In a nutshell: The digital experience and being virtual (knowing it isn't real, like an analog experience is) can change our brain chemistry and the way we connect. People are still feeling a disconnect while remote.
After explaining a few more obstacles with hybrid — going from "face to face" to "face to room; going from "device to device" to "device to room" — Coxon ended on the key themes technology will need to hit on: intimacy, equality and inertia. While hard, hybrid is worth it. The better we can have these conversations, helping navigate the waters on what to solve for, the better we can help our customers fill the gaps.
Gary: Unscripted
The next session of LAVNCH WEEK 3.0 came as back-to-back, unscripted one-on-ones, 10 minutes each, between Gary Kayye and industry leaders. ProAV Day "Unscripted" guests included Amanda Boyer (AV Chicago), Randy Klein (Crestron), Dave Labuskes (AVIXA), Merry McCleary (AVI Systems), Jaime Raffone (Sony) and Rashid Skaf (Biamp). Rest assured we'll bring you more events like these in the future, because we agree that the beauty and value of the unfiltered conversation cannot be overstated. On that note, we'll bring you further coverage on Gary's "Unscripted" sessions from Tuesday soon. So, more to come!
The Ultimate ProAV Panel
Last but not least on ProAV Day, the Ultimate ProAV Panel consisted of guests Mark Delguidice (Atlantis Partners), Lauren Eustace (Pexip), Lionel Felix (Felix Media Solutions), Sudeep Trivedi (Logitech) and Rich Ventura (Sony).
Kayye led with a tough but important one: Which does better — AV adopting IT? Or IT adopting AV services? Because both will have to play in the same sandbox, Kayye said, but how do you see it?
AV people are well-aware that AV is merging into the IT space as network adapters and Wi-Fi become part of everything they do, Felix said. Resources like the Cisco CCNA certification and its two types of classes are awesome for integrators. People who speak the network language are going to be more successful. Straight from the source:
"We are going to see more AV companies hire people who come from a straight IT background and will train them on AV." — Lionel Felix, CEO of Felix Media Solutions.

Check out the full clip ⬇️#AVtweeps #LAVNCHweek pic.twitter.com/AahnCdW7qE

— rAVe [PUBS] (@rAVePubs) February 9, 2021
Regarding how ProAV has played out, how does a group like Pexip approach the new way of working? Kayye asked.
As a UC platform where you can join meetings through your own device, Pexip offers choice, Eustace said. She explained Pexip's missions, one of which is to help customers who are having interoperability issues bringing third-party systems into their existing conferencing platforms. For example: does your boardroom strategy meet your desktop strategy? How do we make the "join meeting" experience simpler?
Felix echoed these pain points, issues he sees every day on the integrator side. "The locked-down codec age is over," Felix argued.
What kind of installs are people asking for right now? Kayye followed. And what about security?
"I'm happy to say that corporate is coming back," Delguidice said. Additionally, Delguidice is seeing more with small to medium video walls, as well as in sports applications.
Trivedi added his POV from the perspective of Logitech empowering users to create, achieve and collaborate, whether in a meeting room or at home. But it's not so easy as connecting devices via USB-C and calling it a day.
In regards to security and dropping things on the network, "What would you tell our viewers today to learn?" Kayye asked. Trivedi's advice is to have a holistic view of security — from the operating level to the application level and more. Knowing the common points of security failure is important, looking at all the layers to provide confidence to the end users.
Transitioning to AV-over-IP, "It's becoming a big deal," Kayye said. If done right, AV-over-IP means you can send the content anywhere at any moment in time. When will we see direct AV-over-IP influence on projectors and displays, etc.? Could Sony take the lead on involving itself with alliances and discussions around this?
We are looking at these things all the time, Ventura said, but we need to remember a lot of this content and data is going to the cloud. So we need to remember the cloud support too. We're all seeing the amount of money being spent by Amazon, Google, Microsoft, Netflix — all hosting unbelievable levels of content. It's taken a while as an industry to get standards and we're pushing toward that, Ventura added, but there are still a lot of limitations with proprietary solutions dominating. 
What's the one thing you're getting calls for right now? Gary asked in his parting question.
They want videoconferencing systems, Felix said. And often, it's the audio that's the biggest challenge. In the past, customers would spend a lot of money on two key meeting spaces, like boardrooms. Now, they are spending money on every little huddle space, with all-in-one systems and more microphones, etc. Felix finds an upward of 95% of his customers' rooms and ad hoc spaces now becoming collaboration-enabled.
Sponsor Shoutouts + Review the Archives
Last but not least, if you missed the detailed sponsor features from ProAV Day supporters Sony, Clear Digital and Shure, you can catch them again by logging into the ProAV Day page. 
That's a wrap on ProAV Day of #LAVNCHweek 3.0. Thank you to our presenters, panelists and all you #AVtweeps for making this day a huge success. Catch us for End User Day on Feb. 10 and New Tech LAVNCH Day on Feb. 11. It's not too late to register, even if you read this article after the fact and miss the sessions live!