LAVNCH WEEK 4.0: The ProAV Day Roundup
Thursday's LAVNCH WEEK 4.0 experience, ProAV Day, included an impressive set of presenters and products — even following an amazing day one, UCC Day, and day two, Digital Signage Day. Our talented host, rAVe Managing Editor Steph Beckett, introduced the day.
What were you most excited to see on Thursday?
Here's your rundown of ProAV Day. (Note: this summary doesn't necessarily follow the exact order of the schedule — you can view that above! — but is categorized by theme or product.)
Keynote: How to Execute a Return-to-the-Office Plan
To draw up the powerful keynote you saw Thursday, Laurie Englert and Alec Vaughn interviewed stakeholders in the industry, like AV integrators, to uncover some of the biggest pain points right now. One of those pain points is developing a return-to-the-office plan. Thursday's keynote expanded on how design thinking — a topic Susan Greene explored on Digital Signage Day — could add tremendous success. Why design thinking? For one, it's been the core problem-solving methodology at top AV organizations like Legrand | AV since 2013. For another, it was built by Stanford, and is now used by numerous Fortune 500 firms, whose leadership is on a constant journey to solve problems and improve company returns.
Having a strong grasp on empathy, the core element of design thinking, is vital to forming real and lasting change. Englert and Vaughn gave us advice, themes, models and additional learnings Thursday to help keynote viewers consider this within their own businesses.
Despite employers planning to offer hybrid work, employees are still feeling anxious about returning to an office. So corporate businesses are highly attuned to reducing as much stress as possible in their "pilot" or "prototype" shot to bring employees back. Upon asking employees to return to a physical workplace, many around mid-June, there will soon be another wave of "winners and losers," Vaughn explained. Which businesses will do it well, and which will lack the foresight to have empathy? Which employees will thrive from hybrid working, and which will feel left out? This upcoming wave will determine which businesses will succeed and which businesses will risk losing their most valuable assets — their employees.
Once these key themes were revealed from the research phase, Englert and Vaughn nailed down, and proposed, some next steps and advice for keynote viewers:
Be flexible — Employers are realizing if they do not allow flexibility, employees will go somewhere else.
Be empathetic — Prior to COVID-19, we weren't very empathetic to remote workers. Now, employers realize they should have supported them better. Listen to your employees, lead with empathy, and build trust.
Be creative — Even if you don't know the answer, communicate the developments with employees. Follow trends — like those that often permeate on LinkedIn — to be creative in how you address your firm's unique challenges. Design thinking can help employers better understand employees' hopes and dreams too (and what's compelling enough to make them want to come into the office).
Be a partner — AV manufacturers can support the industry by being clear about the purpose of their meetings with partners.
Organizations need to do the tough empathy work to find out what's important for the people who power the business. Otherwise, it's sink — not swim.
New-Product Radar
Binary MoIP: Media over IP, Perfected (SnapAV)
Video distribution has been a bit of a challenge to the industry — it's expensive, has complex networking requirements, and sometimes doesn't give you exactly what you need as far as latency is concerned. Thursday, we learned how SnapAV's Binary Media-over-IP (MoIP) solves a number of problems we see in video-distribution setups. Panel guests explained that it's also easy to deploy and manage through SnapAV's cloud-management solution.
The New IFX Series for Education (Vestel)
If you haven't heard of Vestel, Thursday's 12:00 session introduced you to its new IFX Series, a line of new 4K interactive displays offering a creative solution for education. Powered by Android 9 OS, the IFX Series is the second generation of Vestel's cost-effective and highly interactive, tailored display design for education markets specifically. Features like flicker-free technology (which reduces eye strain), anti-glare glass (which provides a smoother touch) and powerful touch/pen tools give teachers, students and school IT administrators what they need to digitize classrooms and foster classroom collaboration.
The Importance of Flexibility, Simplicity and Creativity in Technology in 2021 (Sharp/NEC)
The ProAV market is always having to consider the changing needs of technology, especially within education. In a segment with Mark Knox and Matt Griesert, both of Sharp/NEC, and rAVe's Gary Kayye, we got to hear the latest on Sharp/NEC's approach to flexibility, simplicity and the need for creativity in both K-12 and higher education. "We can't predict the future, but we can anticipate change," Knox pointed out. "We need to be nimble, to have solutions that not only enhance the teaching experience but enhance the learning experience." The most important question: How is the technology impacting the students? What it shouldn't do is create distractions or make it more complicated. A good next step for integrators is to stop and assess if we're doing a good job breaking down the barriers between the virtual world and the in-classroom world — considering high-quality audio and video, a simple control system and user interface, and the classroom environment you're working with.
Making Fine-Pitch LED Video Walls Accessible (Planar)
From lamp projectors to laser projectors to LCD video walls to, now, direct-view LED (dvLED): Display technology has come a long way. Excitingly, fine-pixel-pitch LED video wall technology is no longer as cost-prohibitive as it used to be. According to Futuresource Consulting, Planar is a leader in dvLED's 11-year history, so we were excited to see its new-as-of-one-month-ago MGP Series of dvLED displays on Thursday. Robert Detwiler gave us a live demo and explained how the MGP Series gives organizations like universities, houses of worship, and businesses a seamless, high-resolution visual experience — even at a value similar to some tiled LCD video walls.
The New Solstice Conference (Mersive)
Videoconferencing has a few key problems, Christopher Jaynes of Mersive explained. If a room is "dedicated" to one platform, it's tough to switch from one (e.g., Webex) to the other (e.g., BlueJeans). As more rooms become video-enabled, we need a better one-step start experience, so the meeting connects automatically with no hassle. Mersive Solstice Conference is "a new class of video conferencing room system" designed to combat common videoconferencing issues in bring-your-own-device (BYOD) or bring-your-own-meeting (BYOM) environments. On Thursday, we learned how Solstice enhances collaboration by enabling rich content sharing in the room — making any room a Microsoft Teams, Zoom or Webex room and allowing users to wirelessly connect their laptops to the room display and USB peripherals.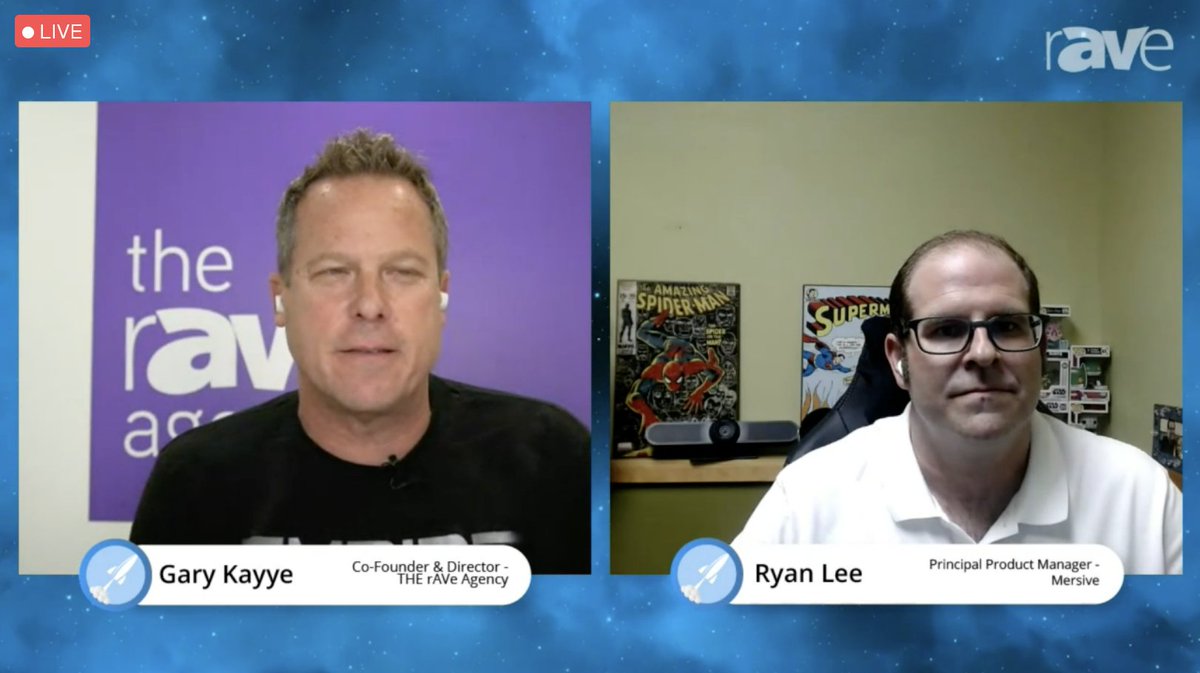 The Way IT Leaders Think Impacts Your Business
Thursday's panel, "The Way IT Leaders Think Impacts Your Business," moderated by Merry McCleary, revealed that some significant positive effects came out of the challenges of last year — even when participants on panel found their offices suddenly empty come March 2020. Each of the panelists explained what happened, how their firms navigated it, and what technologists can do to succeed moving forward.
Brandon Van Orden: Real estate, from an IT perspective, as seen as a dinosaur, Van Orden explained. Van Orden sees the real-estate industry shifting somewhat — likely moving to a soft-phone concept (or just jumping on a Zoom call) instead of relying on just audio calls or in-person visits. The real estate industry will still do a lot of in-person meetings, with tours around the office, etc., Van Orden explained, but more virtual collaboration will certainly play out.
Denys Lu: Lu, chief technology officer at Emory University's business school, explained how March to May 2020 was particularly challenging for Emory. Moving in-person university events online took a lot of work to reach the engagement levels the school desired, but it actually brought a lot of benefits too — like being able to take on last-minute registrants, bringing in more guest speakers such as international alumni, etc. Figuring out the AV component for fall hybrid instruction will be the next big challenge for Lu and EdTech.
Vish Narendra: Graphic Packaging International CIO Vish Narendra explained his firm's current approach: If customers and suppliers and third parties come in with another platform (like Zoom), GPI, which currently uses Webex, allows the meetings to come in rather than blocking them. Narendra, however, sees GPI possibly moving to a multiplatform approach in the future — letting people choose whichever platform they want to use. Whatever plays out, Narendra said the ability to scale and support it will be the most important.
Challenges lie ahead, particularly for people in technology roles. Customers are, warranted or not, going to have high expectations with their technology upon a return to offices. One great takeaway here is it's not just about your company; it's about your customers' too. How will they be using their spaces, perhaps different from you, and how can we relearn to collaborate with each other, even with different working models? How can AV/IT explore new environments — like outdoor spaces — to improve and expand ideation? How can we reduce truck rolls and enable more virtual support, now that the expectations have changed?
GARY: Unscripted, with HDBaseT
The next segment of LAVNCH WEEK 4.0 was what we call "GARY: Unscripted" — and today's Unscripted was an on-the-fly discussion between Gary Kayye and Gabi Shriki, co-founder of the HDBaseT Alliance and vice president of the Audio-Video Business Unit at Valens — which, excitingly, is heading to the New York Stock Exchange. Shriki is someone you should know, one of the best sources of industry expertise in AV, and is very active in the promotion of HDBaseT: a technology solution for uncompressed signal distribution. If you don't know the backstory on HDBaseT and Valens (a co-founder of the HDBaseT Alliance and originator of HDBaseT technology), a recent interview we held with Shriki is a great primer.
"You will see rooms in the future that have 3 or 4 cameras. @HDBaseT comes into play to have interconnectivity without sacrificing quality" —Gabi Shriki

Tune in now to learn more: https://t.co/bWrgc1hMyi#AVtweeps pic.twitter.com/ZB8rPxrrIq

— rAVe [PUBS] (@rAVePubs) May 27, 2021
On the note of signal distribution, a question Shriki always gets, and one that Gary asked Thursday: AV-over-IP or HDBaseT? You can't solve everything with only AV-over-IP, and you can't solve everything with only HDBaseT, Shriki explained. So we're going to see companies combining (or merging) the two. We covered a lot on this panel — so check out the full Unscripted session with Gabi Shriki here.
Did You Miss ProAV Day? Watch on Demand!
That's a wrap on ProAV Day of #LAVNCHweek 4.0! If you missed Thursday's event, just log onto the LAVNCH WEEK 4.0 ProAV Day page to watch it on demand.
Thank you to the presenters, panelists and event registrants who made Thursday's free event a huge success. Special thank you to the ProAV Day, and overall LAVNCH WEEK 4.0, sponsors — Kramer, Mersive, Planar, Samsung, Vestel, ScreenBeam, Sharp/NEC, SnapAV, Sony, SpinetiX and XTEN-AV — who made this day possible.
LAVNCH WEEK 4.0:
Signing off with a successful LAVNCH WEEK 4.0 behind us. See you for LAVNCH EMEA 2.0 in September!