LAVNCH WEEK 4.0: The UCC Day Roundup
I've written live coverage for a lot of AV industry events over the years. But when last year rolled around, rAVe's new concept, LAVNCH, reinvigorated my excitement to document live happenings in the industry. In fact, rAVe Managing Editor Steph Beckett reminded me in her LAVNCH WEEK 4.0 preview article that the agency developed the LAVNCH platform just over a year ago. It's amazing to see how far this platform — part digital-event experience, part virtual product-launch stage, part networking hub — has come. LAVNCH WEEK events are fresh, original and energetic. They've set the bar high for how a virtual event should go. Especially when you have a bunch of AV professionals behind the wheel.
Speaking of how far we've come, look at UCC. Unified Communications & Collaboration was surely not the dominating vertical in our industry a half-decade ago. But in 2018 (and especially in 2020), that changed. Now, your mom knows about Zoom. Your GRANDMA knows about Zoom. The beauty of what happened in 2020 is that more people now know how awesome the AV industry is! (At least, as far as UCC is concerned.) Today, the audiovisual industry has a big role to play when specifying and building UCC technology, and it's working hard to find ways to "own" this vertical while working hand in hand with IT.
Tuesday's LAVNCH WEEK 4.0 experience, UCC Day, featured a host of presenters and products that gave us the 4-1-1 on where this vertical currently sits. Is AV ahead of the game when it comes to UCC, or are we falling behind?
Schedule & Lineup
Here's what we were excited to see on UCC Day, which took place Tuesday, May 25.
We were particularly excited to demo some never-before-seen products while live on the LAVNCH platform. Here's your rundown of UCC Day.
Keynote: The Top 21 Products of 2021, So Far
Ashley Zick of Peerless-AV has been in the AV industry for 15 years. "Once you get in the AV industry, you're not going to get out of it," Zick joked as she kicked off LAVNCH WEEK 4.0 in the best way possible. Via rap.
We are thrilled to have Ashley Zick from @PeerlessAV kick off #LAVNCHWeek 4.0! Tune in now as we celebrate the beginning of an educational and inspiring week.

Log in here: https://t.co/dGlhRnu6MP pic.twitter.com/2yKfWZgeXj

— rAVe [PUBS] (@rAVePubs) May 25, 2021
True artistry. Thank you, Ashley, for bringing the fire to LAVNCH WEEK 4.0.
If you're a fan of the annual Kayye's Krystal Ball, then you would definitely dig this keynote. "Gary Kayye's Top 21 Products of 2021, So Far" — a pretty self-explanatory title — was an exclusive to this event, highlighting how 2021 is shaping up to be one of the biggest years for new product launches. "One of the biggest" as in, roughly, 700 new products launched since January alone.
So, with 700+ products already debuted this year, how do integrators and technologists know which ones to pay attention to? Kayye shared the new products he sees already making an impact, preceding with six "top tech trends" of the year that inform the standouts:
An explosion of LED (think: "The Mandalorian")
Collaboration is still dominating our market, and has been since 2018
Opportunities in virtual reality (VR) and mixed reality (MR), like Apple Glasses
Some killer collaboration cameras, which have come a long way in the UCC space
USB-C is trumping AV-over-IP
Digital signage, digital signage and more digital signage
If you're curious which solutions Kayye discussed in his "Top 21 Products of 2021" presentation, rewatch the session here.
New-Product Radar
The Only SaaS AV Systems Design Platform on the Planet
AV system integrators and designers have, historically, had a tough job on their hands: Designing systems per AVIXA published standards and guidelines isn't always the most … streamlined … task. XTEN-AV, which describes itself as the world's only cloud-based AV design platform using artificial intelligence, is on a mission to cure the experience.
How does the XTEN-AV software work? A few key features include drawing and editing tools, a proposal tool, a CRM tool and an automation tool — all combined into one cloud-based software. XTEN-AV Co-founder and CEO Vibhav Singh, who has a background in AV himself, gave a great overview of the platform Tuesday.
We're LIVE with @xten_av!

XTEN-AV is a cloud-based software platform with drawing and editing tools, a proposal tool, a CRM tool, and an automation tool combined into one solution.

Join us as we review the platform and introduce new updates: https://t.co/OK91qm1uJe pic.twitter.com/Ue8DQud3is

— rAVe [PUBS] (@rAVePubs) May 25, 2021
"This is very powerful," Kayye reiterated as he jumped into Singh's demo to note the importance of XTEN-AV's adhering to AVIXA standards in the platform. And the best part? Dhingra asked. It's all cloud-based.
The New Solstice Conference
We're all trying to figure out how to crack the collaboration code. How can we enhance collaboration in bring-your-own-device (BYOD) or bring-your-own-meeting (BYOM) environments while still playing nice with the meeting-room peripherals (speaker, camera, microphone, etc.)? The Solstice Conference by Mersive is "a new class of video conferencing room system" that enhances collaboration by enabling rich content sharing in the room. The system makes any room a Microsoft Teams, Zoom or Webex room by allowing users to wirelessly connect their laptops to the room display and USB peripherals.
Videoconferencing has three main problems, Christopher Jaynes of Mersive explained. If a room is "dedicated" to one platform, it's tough to switch from one (e.g., Zoom) to the other (e.g., Teams). Secondly, we need a better one-step start experience, so the meeting connects automatically with no hassle. Lastly, content has largely been ignored by videoconferencing systems, limited to one piece of content shared through the platform's cloud infrastructure. That creates a bad side effect, often with a less-than user experience, Jaynes explained.
#LAVNCHweek: Solstice Conference from @Mersive makes any room a #Teams, #Zoom, and #Webex room by wirelessly connecting users' laptops and conferencing services to the room display and audio/video peripherals.

Check out the full demo here: https://t.co/OK91qm1uJe#AVtweeps pic.twitter.com/NKSaR0KzWS

— rAVe [PUBS] (@rAVePubs) May 25, 2021
Mersive Solstice Conference, designed to combat these three issues, also helps those on the remote end. How? Because a seamless in-room conferencing experience makes the experience better for at-home participants too.
Gary: Unscripted — with Jon Sidwick, Janné Mummert & Mary (Meeker) Wurch
The next segment of LAVNCH WEEK 4.0 came as back-to-back, unscripted one-on-ones, 10 minutes each, between Gary Kayye and industry leaders. UCC Day "Unscripted" guests included Jon Sidwick (AVIXA), Janné Mummert (Rentex) and Mary Wurch (MMDI).
What is Jon Sidwick's confidence in live events?
We'll need to re-imagine how our industry connects, even for something as small as attending a trade show, Sidwick said. But people, fundamentally, want to get back together again. The hybridization of live events has been great too. How can we keep that momentum going? As chairman of the board at AVIXA, Sidwick sees a lot of confidence in the return to live events. Check out this full Unscripted session here.
Janné Mummert: When will we see the light at the end of the tunnel for live events?
"We're all broadcasters now … whether we like it or not," Janné Mummert said. "We're not so afraid of streaming anymore." Mummert's company, Rentex, provides all the hardware for live events and the new trends we're seeing in the market. If we can keep our hearts open to the changes — with the virtual component here to stay, making events truly hybrid — AV can continue to add value. Check out this full Unscripted session here.
Where does Mary (Meeker) Wurch think AV, and digital signage, is going?
After sharing some of her favorite installs over time, (Meeker) Wurch discussed how she thinks digital signage is changing to become more experiential. "Retail is about the experience," (Meeker) Wurch said. "The brick-and-mortar store is not going away." But what they need to align on is making the experience amazing, (Meeker) Wurch added, from audio to video to messaging. Check out this full Unscripted session here.
The Future of Hybrid Work Is Here
We rounded out UCC Day with a session that probably answers the top question on your mind — how can AV/IT navigate the future of hybrid work, and what products will help us do it? Guests Mike Ehlenberger and Jay Taylor, both of ScreenBeam, joined Gary Kayye to discuss.
What differentiates the ScreenBeam product in the wireless conferencing space? What people may not know about ScreenBeam is that it co-invented the Miracast technology along with Intel. ScreenBeam's Ehlenberger — a part of that founding — has a unique perspective and experience that he, along with Taylor, brings to the new ScreenBeam Conference launched Tuesday morning. With ScreenBeam Conference, a BYOM meeting-room collaboration and presentation system, you're not tied to one UCC platform. The price point of ScreenBeam, significantly less than competitor products, adds major value as well. ScreenBeam Conference is available at no charge with every ScreenBeam 1100 Plus wireless display receiver and without additional hardware or license fees.
After 2020, we should all be interested in the future of hybrid work. Stay tuned to hear @gkayye, Jay Taylor and Mike Ehlenberger from @ScreenBeam discuss their new office solution.

Join us here: https://t.co/OK91qm1uJe#AVtweeps #AVisLIFE pic.twitter.com/tDQNRIbvO6

— rAVe [PUBS] (@rAVePubs) May 25, 2021
Security is always the first question customers have with wireless sharing, Kayye mentioned. Taylor took the opportunity to respond. A multilayered approach, first in the architecture, means you can't hack your way to ScreenBeam on the corporate network. Then your connection level, with ScreenBeam following industry protocols of course, means data transmitted across is encrypted and secure. The ScreenBeam system is an inherently secure device with multiple layers of security, Taylor added.
Keep up with the beta release of the new ScreenBeam Conference here.
Did You Miss UCC Day? Watch on Demand!
That's a wrap on UCC Day of #LAVNCHweek 4.0. Thank you to our presenters, panelists and event registrants for making Tuesday's free event a huge success. Special thank you to the UCC Day supporters — XTEN-AV, Mersive and ScreenBeam — and overall LAVNCH WEEK 4.0 supporters — Kramer, Mersive, Planar, Samsung, ScreenBeam, Sharp/NEC, SnapAV, Sony, SpinetiX, Vestel and XTEN-AV — who made this day possible. If you missed LAVNCH WEEK 4.0 UCC Day, just log onto the UCC Day page to watch it on demand.
Lastly, are you registered for day two of LAVNCH WEEK 4.0, Digital Signage Day? It kicks off Wednesday, May 26, at 11 a.m. Eastern time. It's not too late to register!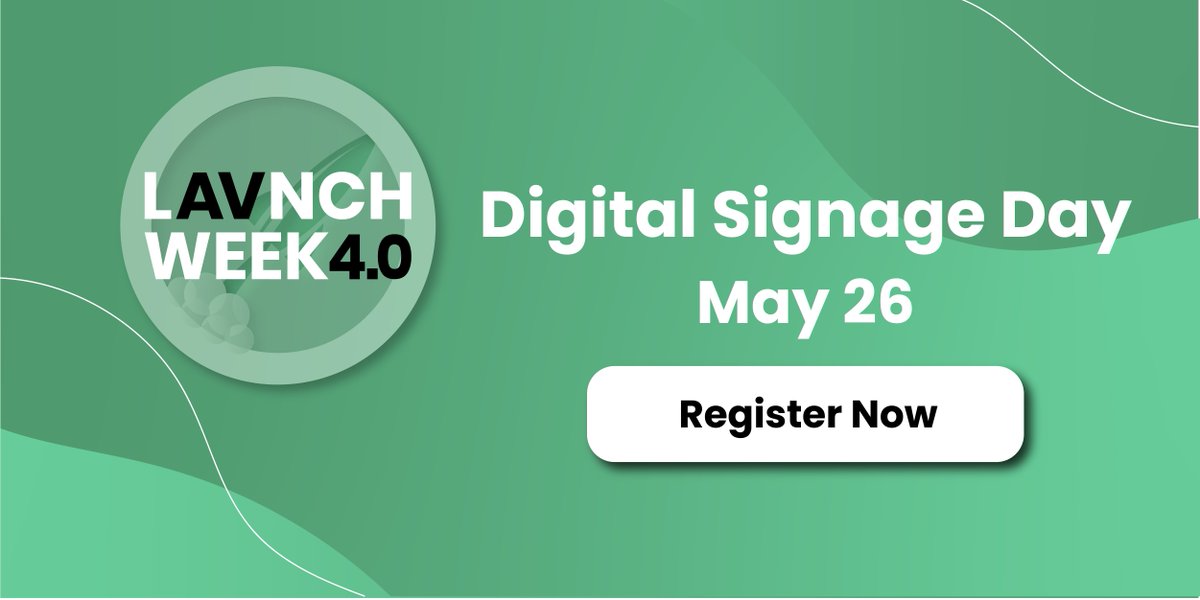 LAVNCH WEEK 4.0:
We'll be back soon with live coverage for day two, where we'll dedicate a whole afternoon digging into digital signage. See you then — maybe even on some great digital signage (we hope).