5 Things You'll Learn on SYNNEX VISUALSolv Education Day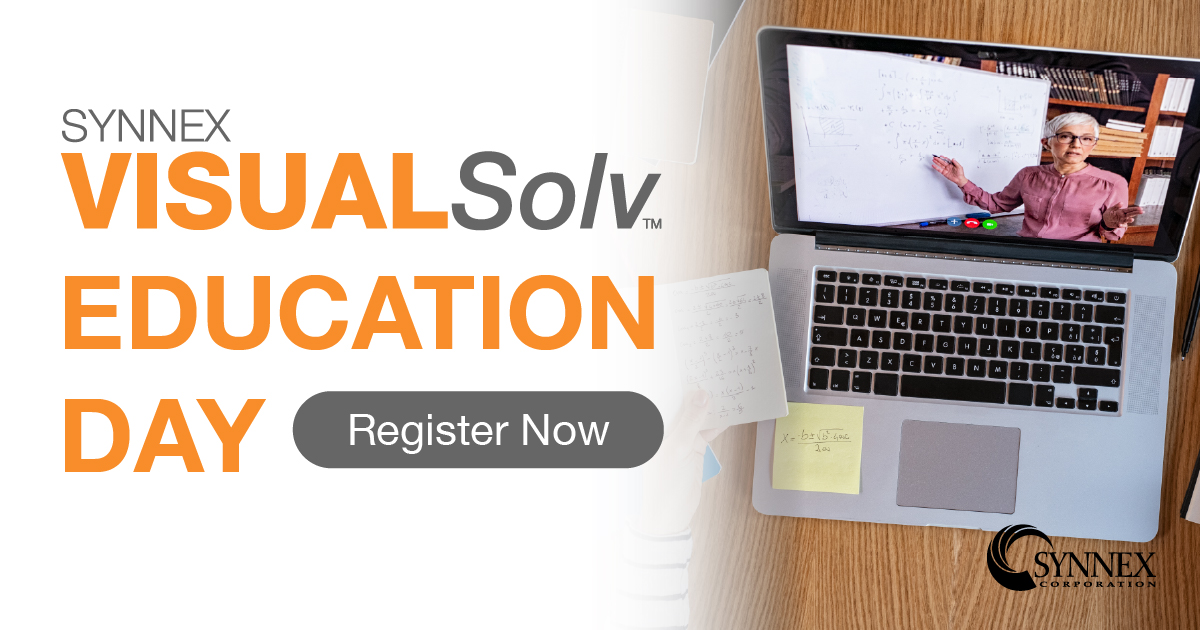 SYNNEX VISUALSolv Education Day is just two days away. What is this day, you ask?
Oh, maybe you forgot! Or maybe you haven't heard! Happy to fill you in.
Distributor SYNNEX launched a full series of events called SYNNEX LAVNCH Days this season — one set for SYNNEX VISUALSolv, another for SYNNEX COLLABSolv.
With themes tailoring to the most important verticals in AV right now, like healthcare and education, you're likely to find one (or four) virtual SYNNEX events to your liking.
SYNNEX VISUALSolv Education Day will take place Thursday, Aug. 6 (register here). And to go along with the education theme for the day, we bring you five things SYNNEX VISUALSolv Education Day will teach you:
1. Making sense of education structures today means facing a reality: Many schools and education environments just aren't prepared for this new world.
For SYNNEX VISUALSolv Education Day, Kenneth Grover — a national education consultant, a former teacher with 20+ years of experience in schools, and founder of the SOYLA Foundation in Guatemala — and Chuck Wilson — executive director of the National Systems Contractors Association — will tell it how it is: Some school environments just aren't prepared for this new world. A thoughtful keynote on education structure and tools, however, will seek to call out some of the improvements that'll be important these next few months and years. Through a detailed look at current education structures (both outdated structures and newly emerging structures), the AV community will learn what to be prepared for in a new world of hybrid classrooms. In the context of the AV tech we specify, it'll be absolutely imperative that integrators, designers and dealers can help partners rethink, visualize and execute upon these new structures. We'll also have to help our students and school leaders understand the shifts in schools' instructional practices — importantly, teaching them how to adopt new tools for sustainable school transformation. The success of our tech deployments in school systems depends on it!
2. Alyssa's Law
Heard of it? If not, you'll learn about it on Education Day. Alyssa's Law, while only currently in effect or working its way through four U.S. states, is fast-moving critical legislation that addresses the issue of law enforcement response time for emergencies on campus. You'll learn about this widely growing legislation and the role of the systems integrator regarding compliance to school safety and alarm requirements. This will be just one takeaway in a full day of revisiting the role of the integrator in facility modifications and getting back to school safely.
3. AV has a huge role to play in helping re-imagine education with virtual/hybrid learning.
The fall 2020 school year is right around the corner — and by "around the corner" we mean friends and family are already strapped in for their return flights back to campus. So while it's probably too late to completely overturn a campus AV system for fall 2020 (one can dream, though, right?), a solution deployed today doesn't mean changes and new solutions won't be needed tomorrow. Five vendor partners — Havrion, Legrand AV, LG, Panasonic and Samsung — will take the stage on SYNNEX VISUALSolv Education Day to discuss the solutions they're seeing in the education market today. Through each of their insights, we'll learn how AV plays a massive role in the education market and a new era of hybrid learning. These SYNNEX vendor partnerships provide the AV community "total solutions" in the education space — in the end, all for a better experience for students and teachers in the classroom.
4. New technology has to adhere to government and CDC guidelines.
With new technology comes new regulations. New AV solutions for the blended/virtual education market could have a completely different set of end-user requirements. For example, what are the rules around monitoring student devices at home? How do network and infrastructure, facilities and learning environments change when you go from a traditional brick-and-mortar space to a virtual/blended space? On Education Day, you'll learn how SYNNEX tech offerings adhere to CDC and regulatory guidelines. Other topics you can expect to hear more on: How to create safe entry and exit points using advanced technology and staggered scheduling; visitor management solutions, tracing and location technology, and integration trends; and the regulatory/legislative environment and role of government in school safety. Put your thinking caps on!
5. Fall 2020 funding initiatives will impact schools come fall 2020.
On Education Day, you will hear from SYNNEX education and public policy specialists on the federal and state funding initiatives that will impact education-buying season. Why care? Because key updates on education funding help us better understand the ecosystem we're working with as we go into the fall. Without spoiling too much of what you'll learn on Aug. 6, you'll hear about the CARES Act, being in an era of "states' rights," and learn who we, in the technology industry, will be working with to roll out new technologies.
Register for SYNNEX VISUALSolv Education Day here.