And That's a Wrap(up)! Highlights from the SYNNEX LAVNCH Days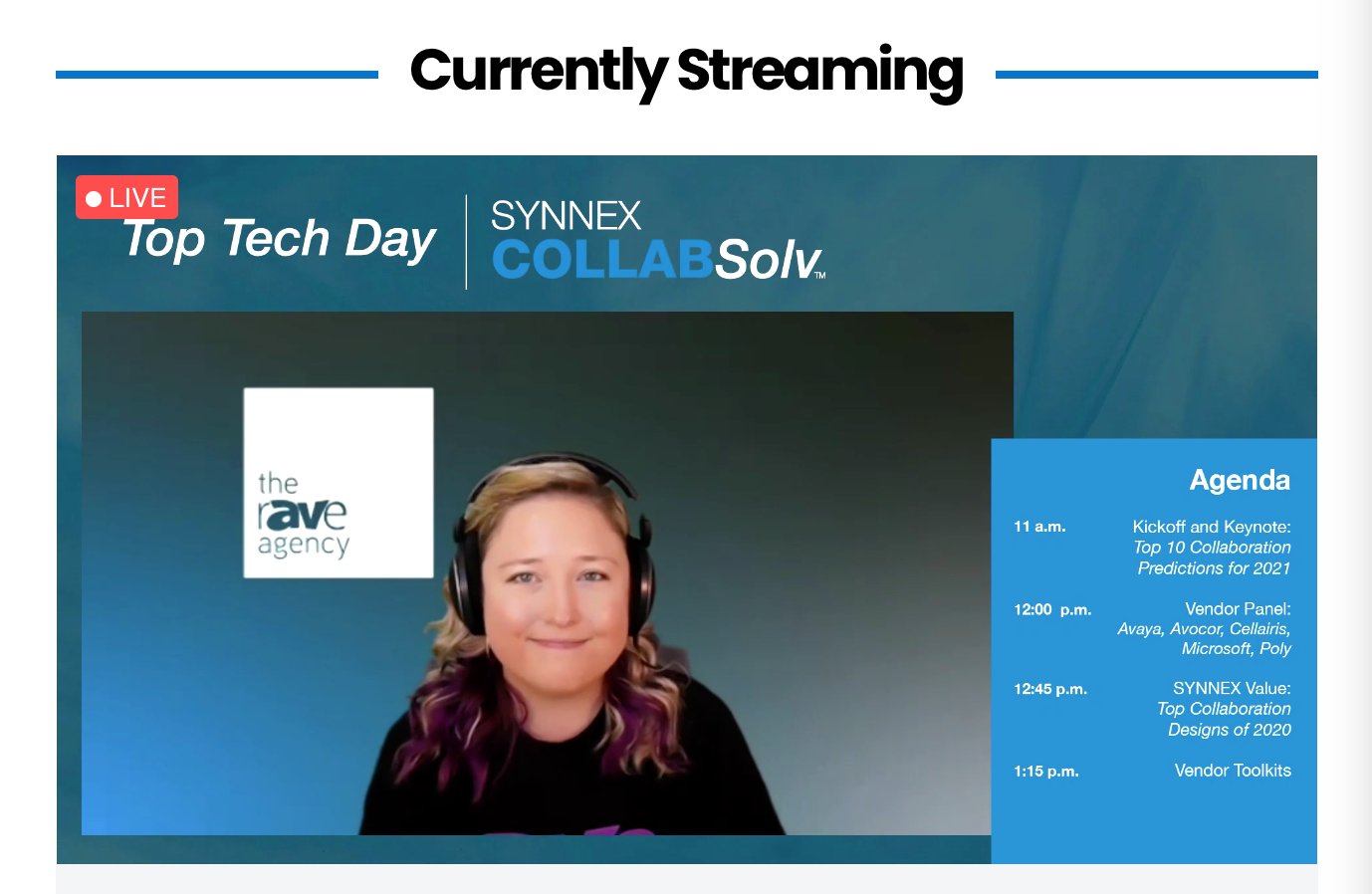 Reflecting on the year, it's been a scary but eye-opening but wild but exciting but exhausting but fun ride. On the events side, I thought surely, with everything that's happened, we'd have fewer opportunities to learn and network this year while home. I was wrong.
rAVe had the pleasure of hosting all the SYNNEX LAVNCH Days in 2020, offering detailed coverage and synopses too. I had a ton of help writing these from my colleague Steph Beckett (when she wasn't busy crushing it as event emcee, of course). The events were a lot of fun and provided an important space for the industry to share key insights when we needed person-to-person connection more than ever this year.
On Wednesday, SYNNEX's final LAVNCH event, COLLABSolv Top Tech Day, took place. In addition to our final synopsis hurrah, we're recapping a few of our favorite moments from all the SYNNEX LAVNCH events of 2020. After reading, let us know on social which were your favorites.
Top 10 Collaboration Predictions for 2021
I'll put money on David Danto's top collaboration predictions for 2021, which he shared on COLLABSolv Top Tech Day on Wednesday. Some of these predictions were teased in Danto's recent rAVe piece, "Video Collaboration Has Finally Arrived," and reiterated in his keynote. For one, "Hybrid working is here to stay," Danto, director of UC strategy and research at Poly and an industry consultant and analyst, argued. "To a huge extent, knowledge workers are going to work from wherever they deem is the most appropriate for the task at hand. … There will no longer be an expectation that work takes place in the same way, every day."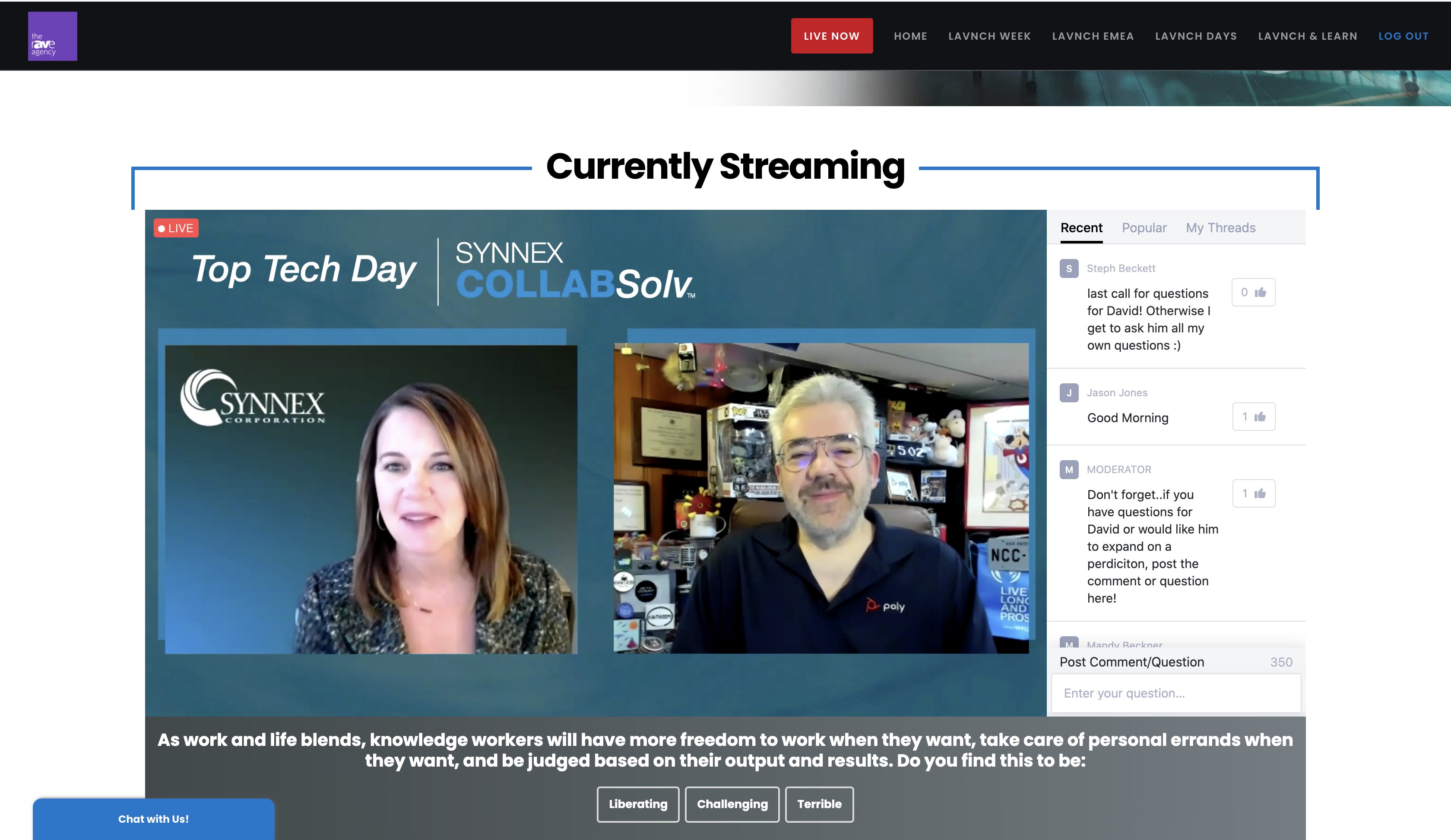 Another Danto prediction is that the entire concept of work-life balance will "morph into work-life blend." Agree with this? Want to hear Danto's other predictions? Catch his keynote on SYNNEX COLLABSolv Top Tech Day to rewatch and state your case.
The "Safe Place Process" Keynote
One of our next highlights comes from SYNNEX VISUALSolv Public Spaces Today. In her keynote, Laura Davis-Taylor of InReality taught us about what she calls the Safe Place Process: Basically stemming from the idea that, from here, there's going to be an expectation that businesses do what's "reasonably expected" of them to protect the people in their care at the time.
Is the process simple? Yes but also no — it's nuanced. Is it critical? Definitely. Yes, the specifics are murky because each business is different. But the key advice here is for businesses is to think of process before product. There's no one piece of technology that'll work for everyone. But it's up to us to simplify the construct of the consumer's decisions, Davis-Taylor said.
Vendor Panel: "2021 Collaboration On Demand"
On the COLLABSolv Top Tech Day vendor panel — the final vendor panel of the SYNNEX LAVNCH Days — the group left us with their best predictions and insights for what to expect next year.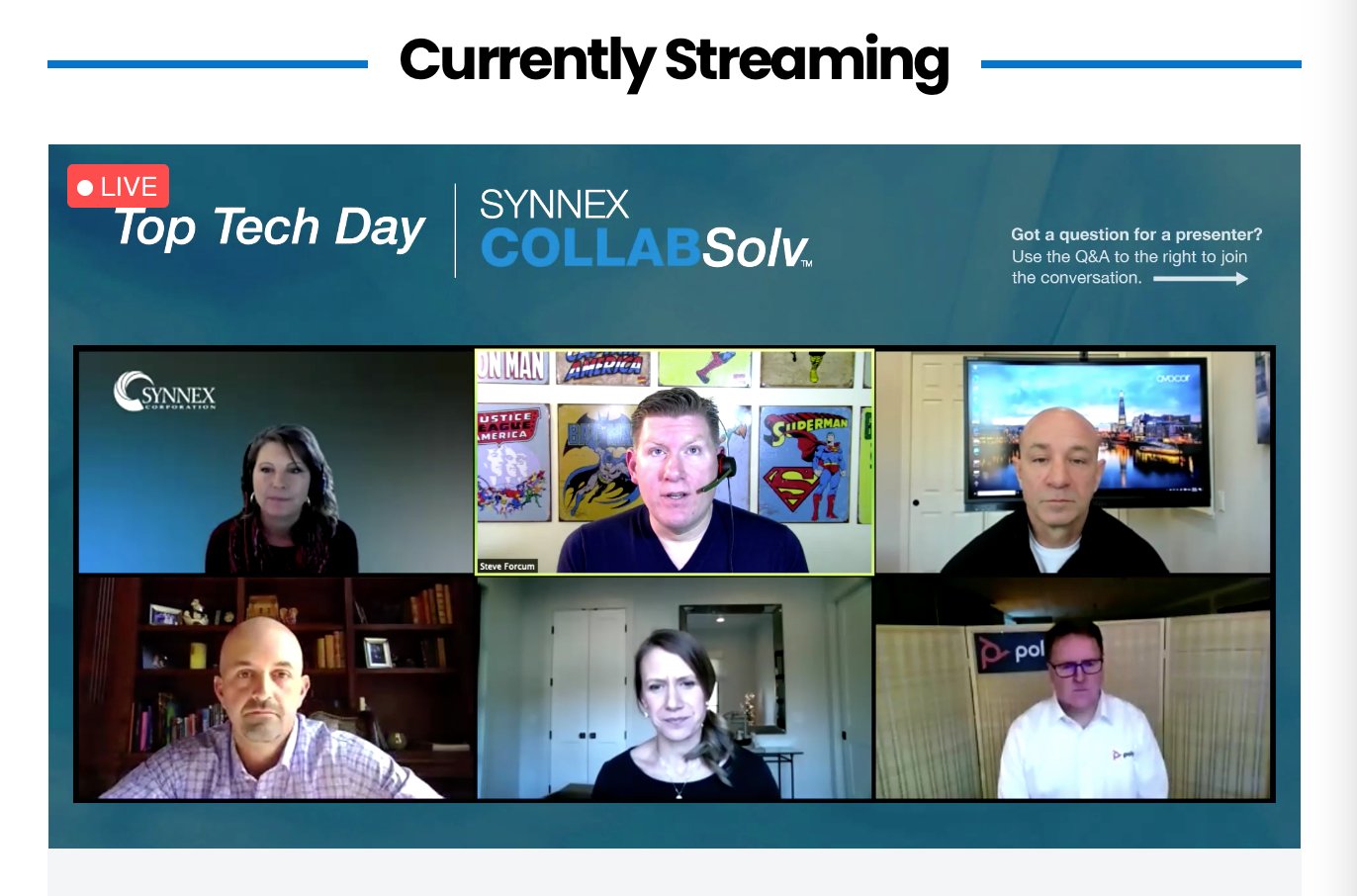 As one of our highlights of all the SYNNEX LAVNCH events, here's the quick synopsis of key takeaways — where Pennie Crosslin, the session moderator, asked each guest to give us their wisdom:
Avocor's Dana Corey said that the silver lining of this year is that, in our AV space, we took a step back to move forward; there's a much higher expectation on performance level now — it's no longer just how we get on a conference call but how to have an exceptional experience doing it. This race with all the major conferencing platforms — Teams, Zoom, Cisco — will actually benefit the rest of us in the space.
Renee Bergman of Microsoft pointed out that working with great partners is more important now than ever; we all need support from our vendors, groups like SYNNEX, to help get customers what they need at this time.
Steve Forcum of Avaya argued the importance of helping our customers consolidate funds. Additionally, apps are going to be differentiated by their features, with "best of breed" and "best of suite" solutions making a big impact. There will be a big return for those who adopt these methods.
Poly's Keith Homan said that growing working-from-home technology solutions are here to stay. When people go back to offices, they'll expect the workflow to be as easy as it was to connect at home. Thus, the enterprise footprint will change, and partners will need to have various expertise, with a special focus on technology that's simple for all stakeholders to understand (even if they've never touched technology in the UCC environment). How it works in the environment will be more critical than the technology itself, Homan added.
Taki Skouras from Cellairis finds it's important to just keep it simple. Post-COVID-19, there will be a big work-from-home play; as suppliers, we can put our money where our mouth is and support the customers by stepping up in unique ways.
What wisdom would you add for 2021?
A Recap of the Recaps
There were many great moments from the SYNNEX LAVNCH events — too much to cover, too little space. So, for our final act, we give you a recap of all the SYNNEX LAVNCH Days recaps so you can read them for yourself.
And that's a wrap(up)!
We are incredibly thankful to SYNNEX for hosting these events on the LAVNCH platform, and we greatly admire the distributor's effort in pulling them off in a wild year.
To rewatch the live SYNNEX LAVNCH events, just register here (COLLABSolv) or here (VISUALSolv) and view the archives. Content will be available for a limited time.