Day One of NSCA's P2Pv — The Blog Version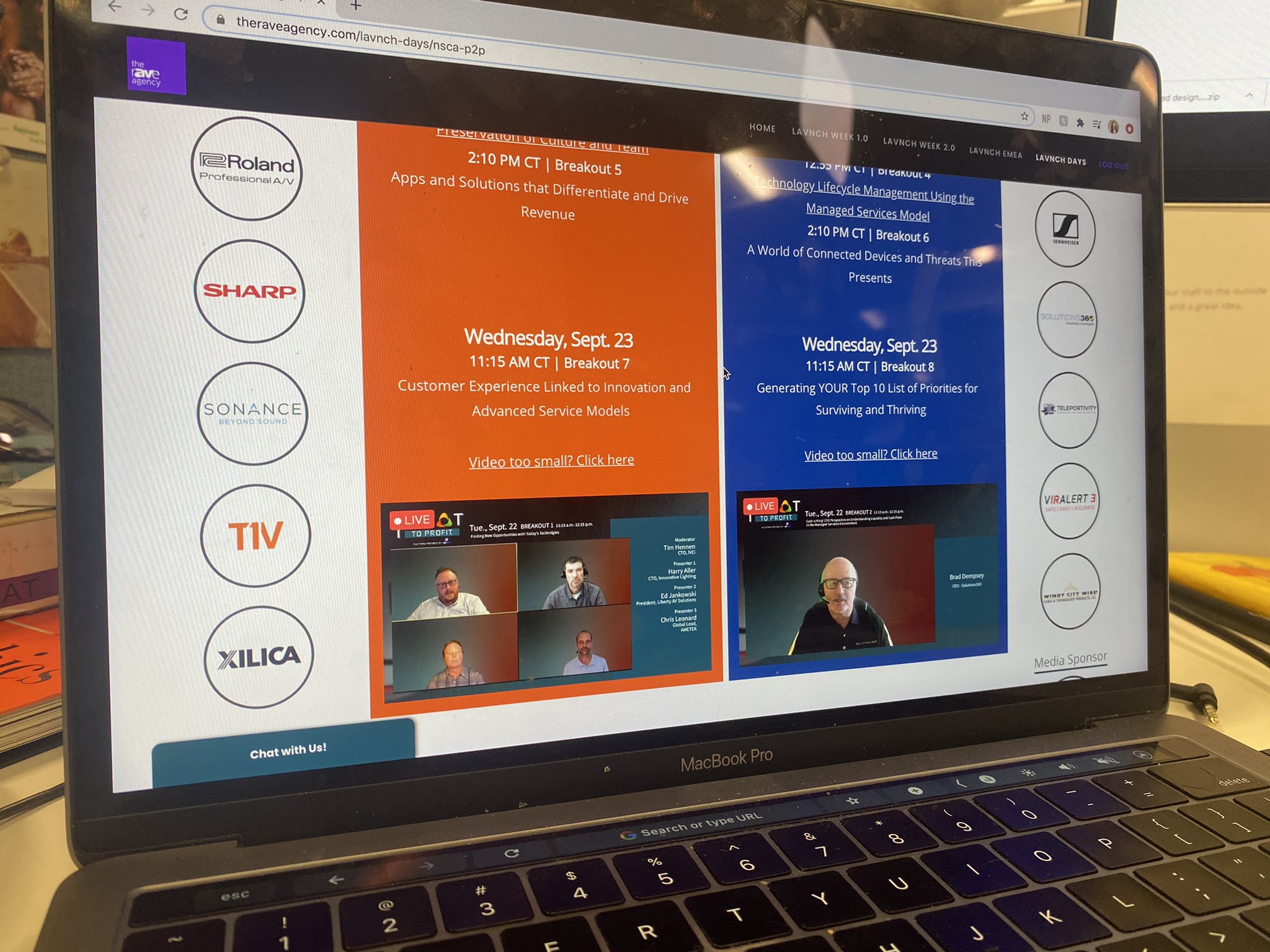 This week, I was excited to cover my first virtual event on the first official day of fall (Yes! Fall officially began Sept. 22!) on what's finally a beautiful (not deathly hot) North Carolina day. This show was one that I'd never attended, and one that would be all-brand-new to me — designed specifically for the low-voltage integration market. The event, Pivot to Profit, is put on by the National Systems Contractors Association (NSCA), an industry association that I've learned is considered an invaluable resource/partner to integrators and tech managers. This year, NSCA's event looked a little different, named Pivot to Profit Virtual (P2Pv) and held virtually via the rAVe LAVNCH Platform.
Although business transformation is always an important priority for the evolving integration market, NSCA said, the stakes are even higher in 2020. P2Pv was designed to support integration companies as they recover from the impact of the coronavirus crisis and reposition for success in an evolving market.
We attended P2Pv for all those who couldn't attend — or for those who did attend but wanted a refresher. With so much good education and info to take in, we were excited to share what we learn with the rest of the AV industry. The recap of P2Pv day one is below.
Keynote: The Leadership Challenge During the Most Unpredictable Time Ever
P2Pv started with a bang. Delivering that bang was Mike Staver, author of "Leadership Isn't for Cowards." We heard that Staver was a big hit at the NSCA 2020 Business & Leadership Conference, so, as attendees of another NSCA event, we wanted that same powerful, uplifting message about leading in turbulent times. We definitely got it Tuesday.
Company leaders are struggling with how to remain relevant in a world that's shifting, Staver started. "We've adapted in a lot of ways, but what this leaves us with is a lot of questions … But good leaders ask questions," he said. Most of us today are probably asking questions about revenue. But that shouldn't be the only topic of discussion. The best business leaders are inventing a new way of looking at the world — not just shifting how we already behave.
In other words, a lot of people are doing (the same) things differently, but Staver argues we need to, in fact, do different things. Courageous leaders need to pay attention to the psychological impacts — and to be successful, we need to create a space where we create certainty for the people who follow us. Specifically, to create certainty, Staver suggested:
Even if it's bad news, communicate it clearly and quickly.

This gives employees/clients certainty in the direction and vision forward, giving people an idea of where they fit into that particular vision.

Create safe spaces/outcomes.

Communicate out the plan (whether you're giving company updates every 60 days or what have you) to give people that same certainty within the business. Create the "flag on the hill" or road forward, Staver suggested. There is a direct correlation between the value we provide — and, by the way, value is not always in our products/systems — and certainty.

Foster "significance."

Employees and leadership and sales and operations all need to feel a sense of significance, person by person. How do you create significance in your business? Do you empower your managers/leadership to make each employee feel significant?
Relative to perspective (how we view things in their relationship to each other), Staver shared business leaders today have to be part business operator, part sociologist, part psychologist. To speak to the latter two (what's the sociological/psychological part of leaders' jobs?), Staver asked, Are you paying attention to the effects on life and family, examining the psychological effects on the world, including your own world? What happens if this continues into 2021?
"Whatever your eyes see and your ears hear is what your brain uses for nourishment," Staver explained.
"Everyone's perspectives are fundamentally different. The problem comes when they're forced to make a choice — If you provide a pathway for each prospective, you are going to create and manifest a business that is more attractive." -Mike Staver #P2Pv #AVtweeps @NSCA_systems pic.twitter.com/V0HK0YbwMo

— rAVe [PUBS] (@rAVePubs) September 22, 2020
Staver's three actionable steps and what businesses/leaders need to provide:
Clarity — set clarity of expectations.
Accountability — how will we all be held accountable day to day? Make it crystal clear.
Recognition — provide recognition for a job well done.
A return to normal is unlikely; instead, we should focus on adapting our leadership by balancing perspectives (like freedom, money and health: the three perspectives leading the 2020 pack right now) and thriving as a company. One of the most important things we can do now, in business, is to know what the company strategy is based on these perspectives.
P2Pv Breakout Sessions
Finding New Opportunities with Today's Technologies
After a great P2Pv keynote, the event's breakout sessions commenced. Session moderator Tim Hennen, CTO at IVCi and the NSCA emerging technologies committee chair, spearheaded this first P2Pv panel, "Finding New Opportunities with Today's Technologies." The panel included Harry Aller, CTO at Innovative Lighting; Chris Leonard, global lead for Ametek; and Ed Jankowski, president at Liberty AV.
The session today pointed out how fast change is happening, with COVID-19 as "the great accelerator." Central to everything is video, Jankowski started, a huge opportunity for AV integrators.
Session learnings/takeaways:
Everyone's chasing managed services of AV-as-a-Service (AVaaS) but the true need is to avoid onsite visits and truck rolls, being able to remediate issues remotely.

New technologies, like temperature-screening devices, require the proper equipment and processes — which means real considerations in responsibility and liability. New innovations are a great opportunity and a differentiator, but they need certainty and reliability behind them.
New technologies like AR/augmented reality (and new platforms delivering on it like P2Pv) are, as I write this wrap-up, changing business. Think about something as simple as a product demo. Product demos are being delivered to customers through things like Oculus headsets and VR/virtual reality now. Products like

Teleportivity

are ahead of the curve in this sense, creating a practical tool to reduce cost and bring value.
How far is too far regarding new innovations and SLA (service-level agreements)? Beyond what is on the job description, embrace your teams' hobbies and skills. The one thing you don't want to do is pretend to be an expert and offer faulty advice — you're getting into quicksand at that point.
The session synopsis: The world is moving quickly, and the workforce is being decentralized; employees, end users, corporate customers and individuals are seeking experts, and AV integrators can be the go-to for technical problems. Many integrators seeing more projects, but smaller in size, today. How do we manage this going forward, knowing what we know now? Can the system integrator step up and be that point of knowledge now and beyond? 
Cash is King! CFO Perspectives on Understanding Liquidity and Cash Flow in Managed Services

I love industry money conversations, because they get to the core of what many of us are really thinking about. So "CFO Perspectives on Understanding Liquidity and Cash Flow in Managed Services" was definitely a draw — as most of us are pretty concerned with cash flow these days. To start us off, moderator Brad Dempsey introduced us to panelists including Chris Mounts, CFO at AVI Systems; Eric Morris, CFO at Wayne Automatic Fire Sprinklers; and Dave Taccone, EVP of finance at Spinitar.
A key theme: First defining "recurring revenue" is important. Interpretations may vary among organizations (Eric Morris' business is a little different from more traditional AV and security companies, for instance), so take the time to focus on what it takes to build a recurring revenue base from a cash perspective. Additionally, the topic of compensation — in particular commissions — is one of the biggest challenges in creating a recurring business. Know what it costs to build a recurring revenue base, and know what to look out for. You'll need to know how to compensate after selling the services, as well as understand risk of paying upfront commissions.
Integrators also need to learn and be able to speak to:
Financing models — everything from leasing to self-funding and beyond. What are the pros and cons, and how do the different models affect how are financials look to the bank?
Forecasting — a great advantage of predictable revenue is forecasting. But "predictable doesn't mean smooth," Dempsey pointed out.
"Opting in" and "opting out" financial mindsets — how do we choose between the methods in selling recurring-revenue services? It starts with clarity around what service you're getting for the contract price, particularly if contractors are involved. Having an opt-out clause/program is also important when discussing client pricing.
The session synopsis: Are the people who made us successful in the project-based world going to be the right people for the recurring-revenue world? The above topics — things like AV-as-a-Service, compensation and forecasting — are just a few discussion points to get us thinking.
Preservation of Culture and Team

Work culture is so crucial to productivity and success — and when you take into account this year's massive disruption, a digital transformation (changing the way we live work and socialize) and total health and economic chaos, it only gets more complex. Today's panel — featuring Josh Shanahan of SVT and Mike Boettcher of New Era Technology — pointed out what's changed: New collaboration tools have emerged; new behaviors have surfaced; new work habits and methods of connecting with our clients and partners now exist.
Session learnings/takeaways:
Leading a remote workforce, driving accountability through structured schedules and reporting, means managers having schedule visibility and daily follow-up discussions. Meeting cadence also needs to be adjusted to the remote workforce to drive teamwork and preserve culture. Could you consider dedicated sessions on core company values and how to live those from remote locations?
Mental fatigue and months of hybrid working from home is starting to wear people down — businesses need to identify bad habits early on to call out the warning signs of stress-related performance issues.
Technology has a big role to play. Tools that enable remote workers to access information necessary to do their jobs should be prioritized.
Black-and-white policies — like client interactions and use of time, and producing billable hours — look different when working from home. Define those within your organizations.
The session synopsis: The systems integration channel, more than any other sector of technology, has gained relevance and increased value through what is best described as "mission-critical." These developments don't have to set us back — they can fuel culture and team.
Technology Lifecycle Management Using the Managed Services Model

"Technology Lifecycle Management Using the Managed Services Model" is a pretty self-explanatory title; this breakout session was about life cycle management and managed services — what I, personally, find to be a sticky (albeit confusing) topic in AV. But the session today debunked some of my confusion.
Session participants today included Lee Rozeboom, VP and managing director of sales for GreatAmerica Financial Services, and Bob Lobascio, partner of Corporate Sales Coaches. Topics of discussion included presentation techniques, client interaction and various subscription-based financial models (like advanced client retention strategies and annual pricing modifiers). How can we add attached services, bundled solutions and remote services, increasing our offerings every year?
The session synopsis: Developing a predictable, reliable and profitable managed services business requires a steadfast business strategy developed around the clients' preferred method of consumption of technology and their desire to remain relevant.
Apps and Solutions that Differentiate and Drive Revenue

This session's panelists included Dale Bottcher, EVP at AVI-SPL (and our moderator); Dan Dunkel, managing director at PSA Security; Mehryn Corrigan, director of strategic alliances and marketing at Sharp; and J.B. Fowler, chief product officer at Domotz.
An intro question: How do you drive revenue and stand out among (what seems like) endless competition in the integration channel? You pick the right innovation partners and match those to your subscription offerings and technical competencies.
Today's session covered how to increase value for customers through predictive analytics and virtual client touchpoints — like remote monitoring solutions, managed services automation tools, design software and predictive analytics, to name a few. Are AV integrators moving into the role of supporting client-adopted platforms?
The session synopsis: New and innovative technologies within AV integration are exciting. They can prove successful and profitable as a managed service, but it takes a firm understanding of both facilities and the IT stakeholders to execute on them. That, and understanding the overall economy, even in recession, by finding/proving ROI and demonstrating value. 
A World of Connected Devices … And the Threats It Presents

Security — everyone's favorite topic. (No, seriously, it's some people's favorite topic.) This session, bookended by Rob Simopoulos of Defendify and Siddharth Bose of Ice Miller, offered a two-fold look at security:
Cyber awareness

(discussion led by Simopoulos, co-founder of Defendify, all-in-one cybersecurity platform that makes cybersecurity possible for small businesses).

The legal aspects of the connected-technologies world

(discussion led by Bose, an attorney).
The session synopsis: Systems integrators experience cyber breaches (or identify the potential for an attack to occur) daily. When it comes to the data you store and the systems you manage for clients, they place a high degree of trust in you as a technology solutions provider. Network-connected devices can increase vulnerability, and embedded technology often has inherent flaws. Integrators should learn to strengthen their defenses from every angle and develop risk-mitigation strategies through resources like cyber insurance, compliance and clear IP protection contract language. 
Closing Session: Beer & Bull — Future of Streaming
Four-thirty East Coast time, 3:30 Central and 1:30 on the West Coast. Too early for a beer? Not for this panel.
The closing session of P2Pv arrived all too soon as NSCA's Mike Abernathy took the stage to introduce Gary Kayye to moderate "Beer & Bull: Future of Streaming" — a panel including Joe Perez of ClearTech and Chris Wissinger of Roland U.S. I wasn't familiar with NSCA's "Beer & Bull" talks (per the session title) from previous NSCA Business & Leadership Conferences — but I heard they've been around for years now and are quite popular. I also learned that NSCA has a new "Beer & Bull" podcast to go along with the theme — so I was pleased to hear the format for this panel would be "a substantive conversation while keeping it loose." Makes sense with the name now.
The topic was the future of streaming services and the impact on integration businesses, the presentation marrying two integration industry passions — enthusiasm for new technologies and business opportunities.
Questions posed:
How will streaming evolve in the education, house of worship and corporate markets?
What trends will impact cloud-based streaming?
How can integrators create a business plan and solution for addressing their customers' evolving streaming needs?
"In an ideal world — pre-pandemic, of course — cloud-based streaming was relatively good, but since we've added so much more content into that cloud … I'm sure the clouds are stressed out, riding on the edge of a cliff, if you will. Hardware still has a major play, and reliability…" Wissinger said.
Keeping in mind that UCC and streaming are not exactly the same thing, we have commoditized UCC technology now, Kayye continued. The question is, How do we step it up to the next level? Streaming on a phone isn't enough. We're seeing a trend toward personal control, a possible integrator opportunity. We can take a "good, better, best" approach too — identifying at what level you may need a technical operator versus just the end user controlling the stream.
On the topic of education and HyFlex classrooms, Perez said that he definitely sees a growing need for the hybrid-flexible (HyFlex) classroom. "Several of those classrooms are going to have the immediate need for distance learning," Perez added.
Regarding live and hybrid-event production, Roland/Wissinger sees two growing industry trends:
Productions with minimal workers
An increasing number of hybrid events (with a combo of live and online audiences)
A few suggestions Wissinger gave us: Do your best to create a great experience (one that's more "experiential," bringing the reality of the real world into digital, regardless of the virtual limitations). Production value should also still be top of mind — trying to improve sound quality is a great first step into making your livestream better than average. Lastly, what about a multiview camera? In a hybrid world, with some of us out and some who aren't, the multi-camera option could give participants more of a full, immersive experience.
I hope you enjoyed the wrap-up of NSCA's P2Pv day one. Those who previously registered for NSCA's P2Pv can log in to view the archives here. Otherwise, I'll be back with another new recap Wednesday for P2Pv day two. See you then!