What Gives Displays Their Visual Edge? — a Recap of LAVNCH EMEA's Display Session
Welcome to another recap of LAVNCH EMEA. I'm your host, Leah McCann, and if you're here, you are probably more interested in learning about displays than hearing me blab. So I'll get on with it. What gives displays — whether LCD, LED or projection — their visual edge? Why pick one over the other? Read our recap below of LAVNCH EMEA's Display Session, "The Visual Edge of the Platform: A World of Blended Display Technologies," to hear what the experts had to say about it on ProAV Collaborative Day.
Leading the Display Session was Matthew Rubin, senior market analyst covering the professional display industry at Futuresource.
The topic at hand: The display market is evolving with new technologies, new opportunities, falling costs and new display applications. But COVID-19 definitely threw a rock into things. Rubin peeled back the layers for the "big three" large-format display technologies — commercial flat panel displays (CFDs), projection and LED — and the specific market opportunities in the EMEA for each. Notably, the total EMEA market for displays in 2019 was 6.5 billion. That number is expected to grow to 8.8 billion by 2024. Take a look:
Notable points for dvLED, projection and LCDs specifically:
Direct-view LED: dvLED is mirroring development trends once seen in LCD, Rubin said; it has application flexibility that offers more routes to growth. It also currently faces an unbalanced supply chain — but that won't last forever.
Projectors: There's been a decline in projectors in meeting rooms as flat panels rise to prominence. Specifically, the education market struggles with new tenders — but Rubin says there are opportunities. With projectors and newer trends using projection (like projection mapping and digital signage), there's hope for creative sectors.
LCD: Interactive LCDs are becoming more important as collaboration grows; there's been a lot of usage changes in digital signage short-term, Rubin added. Pricing for LCD continues to be the key factor in whether LCD is chosen over other display technologies, according to Futuresource.
After Rubin's analysis, a great group came on to discuss sustainable long-term display solutions to be aware of. Panelists included Neil Colquhoun of Epson, Steve Scorse of Unilumin, Tom Burch of Pixel Artworks and Laila Hede Jensen of Zeta Display.
Of the topics discussed were a few mega trends moving the display industry in ProAV:
While geopolitical issues have created more uncertainty and COVID-19 has severely impacted the Pro Display market, there are many reasons for optimism
Competition between core display platforms has intensified
Creativity, innovation and "experiential" are richly rewarded, but basic formats are still important for future growth
Resolution and screen size continue to dominate, but other features are growing in importance
Transitioning to additional predictions in the display market, Scorse noted that flexible meeting room spaces, LED and XR, and expensive residential technologies in leisure spaces are experiencing growth.
PANEL: What are some of the positives we've seen come from our current situation?

Check out what Steve Scorse had to say ⬇️⬇️ #LAVNCHEMEA #AVtweeps pic.twitter.com/idQnST7tfy

— rAVe [PUBS] (@rAVePubs) September 2, 2020
"There's an application for everything, though the application may change," Scorse said.
"We've heard it's 10 years of innovation in 10 weeks," Colquhoun pointed out. "Any resemblance of returning to semi-normal is going to involve large screens, because people are going to have to remain engaged."
With signage, as information needs to be updated instantly, this makes digital platforms the ultimate choice," Jensen added. "Our customers have needed a bit of help and retail strategy getting back into stores again … I'm really proud that the public has been able to adapt to this new technology."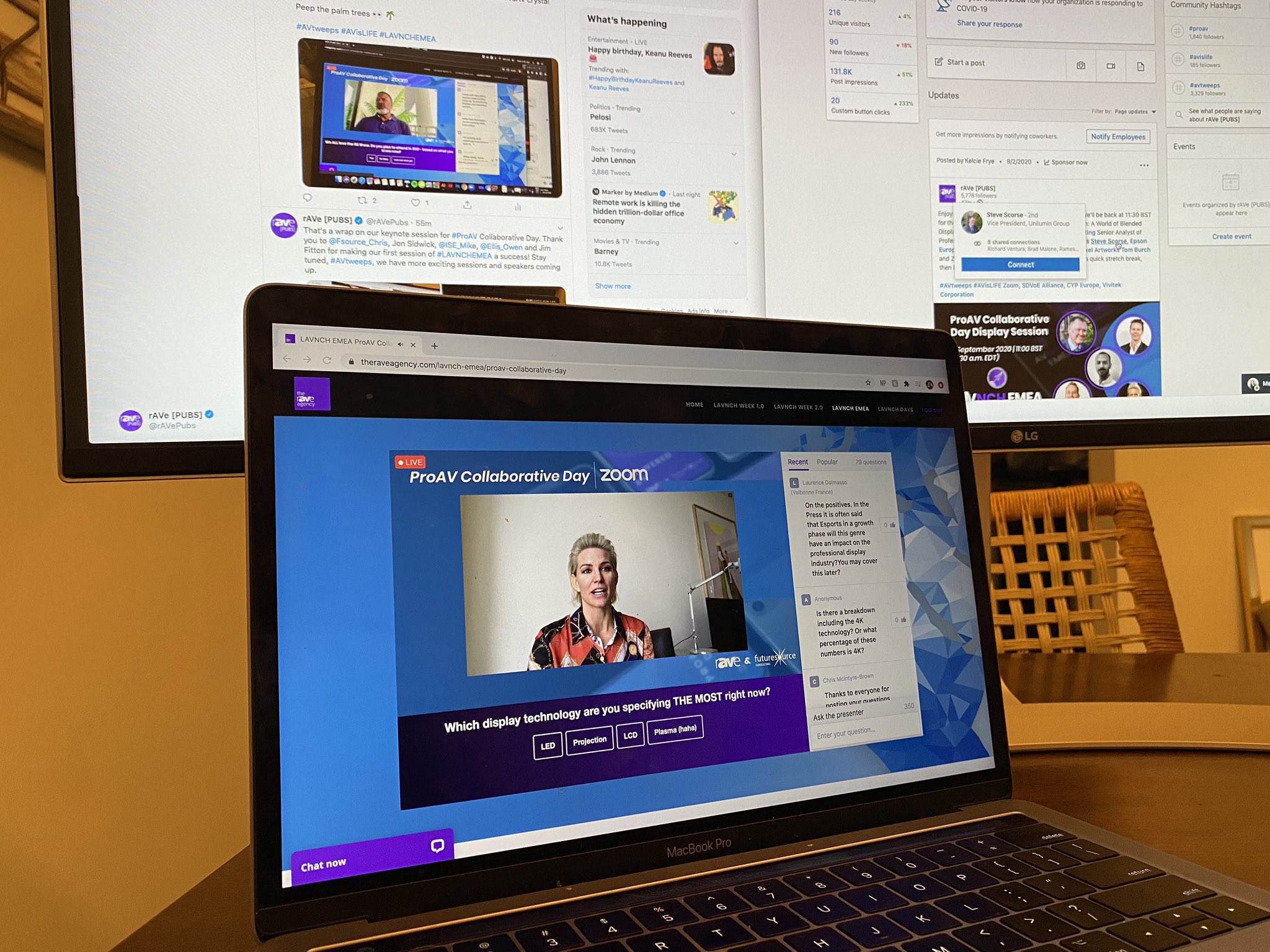 The whole concept around the retail experience is being reimagined too. "Immersive-driven retail environments are a huge opportunity, along with the meeting space and immersive meeting rooms," Burch said. Regarding retail, he added:
"'Instagrammability' is often more important to our clients than the installation itself."
The question "What gives displays their visual edge?" isn't quite black and white. But the title of this session — blended display technologies — is indicative of the way we should be looking at the display market. These technologies can coexist, and it's up to us to guide our customers regarding them.
Display technology will continue to help us target conversations with customers. We just have to help our partners understand the range of technologies available — outlining the pros and cons, pointing out the key specifications of each so they understand the subtle differences and usage.
"It's all about complementary technology. The Pro AV industry is big enough to work together," Colquhoun added.
If you missed the Display Session on ProAV Collaborative Day today and want to rewatch it, you can still register. AVIXA CTS-RU credit is not available by registering to view the archives, but you'll definitely want to tune in to see what you missed. Register to view the LAVNCH EMEA archives, and let us know your favorite moments of this session on social media!