Sony's Th!nk AV Is What a Successful Virtual Panel Series Looks Like
THIS IS A PROMOTED POST 
In case you haven't heard, Sony's new three-part Th!nk AV Thought-Leadership Symposium debuted this year at almost the perfect time. In between the sleepy holiday season but before the frenzy of spring (which officially begins March 20 in the Northern Hemisphere), the timing of Th!nk AV couldn't have been better. Why? Because this is a pivotal point in the year for AV, UCC and digital signage teams to buckle down and inform their customers of the must-know changes, if they haven't already. How can we get ahead of mass returns to the office, classrooms, tourist destinations and more?
rAVe attended each of Sony's three Th!nk AV sessions to highlight the key takeaways you may have missed — or just want a recap of. Today's article covers the final session, the End-User Panel. Read on to get the details, then scroll down to catch the links to rewatch.
Th!nk AV: Remind Me What It Is?
Sony's new symposium gives the industry a space and place to connect with others, with an online platform to discuss shared experiences. The final event took place Tuesday; here's a look at the lineup:
Influencer Panel (Jan. 19, 2021, 11:30 a.m. EST). "No one would argue that our market is influenced by space, time and technology. And in 2020 all three of those were at play, simultaneously. This panel will bring together the ultimate thought leaders in AV, UCC and Digital Signage." Read the recap here.
Consultant Panel (Jan. 26, 2021, 1:00 p.m. EST). "Nearly 50% of all AV and UCC projects are touched, in some way, by design consultants. No other group inside our market has more influence on how spaces are used and how technology is seamlessly integrated into spaces than AV design consultants. This panel will feature some of the leading design voices in the AV industry." Read the recap here.
End-User Panel (Feb. 2, 2021, 1:00 p.m. EST). "All of us strive to make customers happy. Happiness is what results from exceeding expectations and delivering AV, UCC and Digital Signage installs that work. This panel will feature the voice of the end-user; that group we all strive to deliver happiness for and as each one of them represents a different discipline of the businesses we serve, this panel will feature some happy users of AV, UCC and Digital Signage." Read the recap below.
With that, it's time for our coverage on Th!nk AV part three, the End-User panel, with three of our biggest takeaways.
End-User Panel: Recap & Takeaways
Moderated by rAVe's Gary Kayye, Sony's Feb. 2 panel included Juan Lalinde (director of supply planning at Full Swing Golf), Robb Mann (manager of integrated educational technologies at UNC Wilmington), Jeff Hostilo (executive director of teaching & learning technologies at the University of South Carolina) and Dan Christy (manager, ITAV services at L3Harris).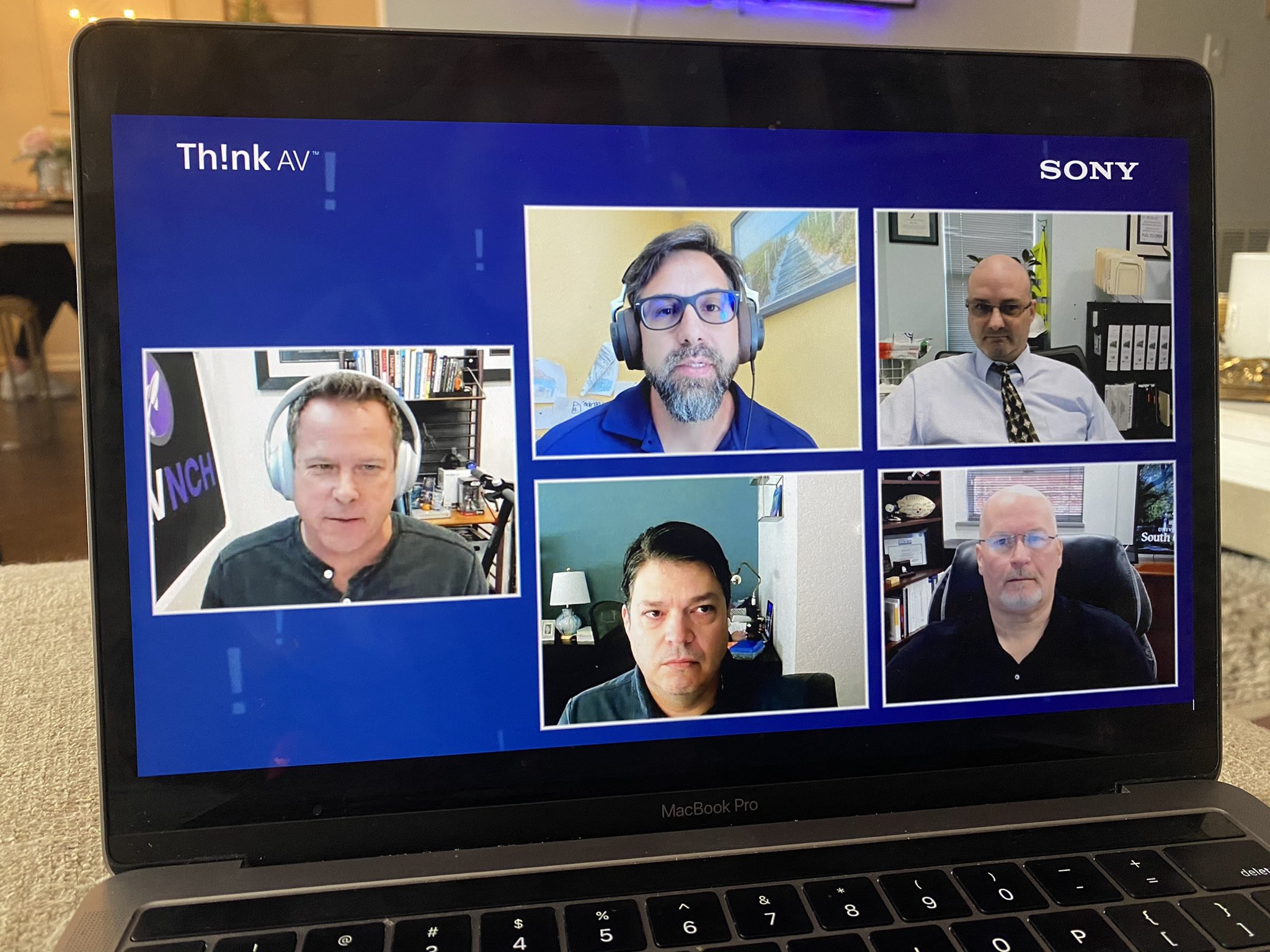 1. Where do we, from the end-user perspective, stand? What happened in 2020, and what's happening now?
Kicking off the session, Kayye commended the panelists on a job well done this past year. Mann and Hostilo, for instance, overcame a great challenge getting their universities (UNCW and USC, respectively) to remote learning in a matter of one weekend when the pandemic forced us all home. Kayye continued with context that, over the last 10 years, we've done a great job as an industry of connecting technologies to the network. "What's the panel's perspective on that?" he asked.
Dan Christy of L3Harris, an integrator that works with a lot of end users like those listening on the panel, said his firm works diligently within the IT infrastructure to prioritize security. To do so, projects take a lot of piloting, then starting over, then piloting again. Prioritizing great partnerships with manufacturers like Sony is key, Christy said.
Transitioning to Hostilo of USC, Kayye asked how the university pulled off pivoting to a hybrid model, continuing with in-person classes but expanding online course offerings, all while transitioning faculty to teaching remotely.
"It started with really good-quality leadership," Hostilo said. He added that the university was equipped with great resources to deal with the pandemic and, "We're fortunate that we have that leadership in place here." The plan was to "upfit" existing classroom technology in nearly 500 rooms, Hostilo illustrated, adding capabilities for simultaneous and live online instruction — with technology like lecture capture to ensure students had high-quality content on the remote end as well. That remote experience needed to be as close as possible to the in-classroom one.
In the case of UNCW, there was a bit of whiplash as students were sent to classrooms then back home again only weeks later. Kayye asked Mann: "What were the key components of your transition, and what technology was added in the case of UNCW?"
Mann said his team bought somewhere around 300 or 400 webcams and divided them out to professors who didn't have them. The team also supplied students with as many laptops as possible so they could stay connected. Still, last fall semester, UNCW maintained 19% of classes face to face; 42% were hybrid, with in-classroom rotations or the option to either stay at home or come into class. UNCW had a two-tier system for classroom upgrades and asynchronous learning — and a brand-new building that went online as fully AV-over-IP (which Mann has received nothing but positive feedback on thus far).
2. Talking more about partnerships
Juan Lalinde offered his POV from his unique role of director, supply planning, for Full Swing Golf — a company that makes golf simulators. "In regards to the technology partnerships you have, where have you seen success?" Kayye asked.
Gary Kayye is talking to Juan Lalinde, Director of Supply Planning at @FullSwingGolf, about the gamble companies had to take at the start of Covid-19.

Check out what he had to say ⬇️@SonyDisplays #AVtweeps pic.twitter.com/3nSRh0YmU1

— rAVe [PUBS] (@rAVePubs) February 2, 2021
A coordinated relationship, working directly with partners like Sony, has been paramount to Full Swing's success, Lalinde said. The prices on laser projectors have allowed them to offer better experiences to customers — experiences like Topgolf's indoor Swing Suites, which use Full Swing's golf simulation technology. The level of warranties Sony offers, for instance, is phenomenal, Lalinde said. Tech support calls have gone down tremendously due to the nature of the laser versus lamp-based projectors too.
Regarding success this past year, Hostilo offered a great point. From his perspective at USC, it comes from a plethora of excellent resources and "great people," as well as great behind-the-scenes work that the people do to make the university look incredible.
"It's not just the technology but the talent behind that technology as well," Hostilo said. "So kudos go to them."
3. What's next? What products should we pay attention to?
There's talk of space reconfigurations on the horizon, so what technology did our panel envision being used? IoT? AI? Enhanced remote capabilities? All of the above? "What equipment would make your job easier right now?" Kayye continued.
It depends on the application of the space, Hostilo said, but technology like beam-forming microphones — which USC has only just started using — has really been impressive for the school. Hostilo has been able to apply it in a number of spaces as a truly transformative technology for the classroom.
In addition to recent success with AV-over-IP, Mann also shared his university's success with laser-based Sony projectors, which have offered his team at UNCW a lower total cost of ownership. Even though laser projectors cost a bit more than lamp-based ones on the front end (it's been about three years since Mann has purchased a lamp-based projector for the school), Mann said it's been totally worth it with the reduced amount of service calls coming in. Lastly, Mann added that UNCW is looking more into auto-tracking cameras, currently experimenting with a product that offers handwriting extraction.
With improvements to auto-tracking camera technology, Hostilo agreed and is optimistic for trying out these new technologies.
Christy's firm allocated a lot of money to adding new UCC services like Zoom (they were a Skype house before) and spending money on acquiring and understanding USB devices for conferencing. Notably, most of Christy's customers who can remain working from home will continue to do so for some time. For L3Harris customers, a lot are waiting until more people are on-prem, comfortable being back in the office again with the vaccine, before retrofitting rooms. One of Christy's lessons learned throughout this whole process: make it easy for the user, and take as much choice in the deployment away to reduce complication.
In addition to great success with Sony laser projectors, for Lalinde, AR and VR technology are definitely part of the future path. Full Swing just launched a new game software in its simulators with some amazing features, Lalinde added.
Final Thoughts & How to Rewatch Th!nk AV
Sony's Th!nk AV is what a successful virtual event series looks like. The timely thought-leadership that came from each session was the exact kick we needed to inform and inspire. Sure, a hiccup-free, clean, professional broadcast is the gold standard. But a great virtual event is much more: It requires great content that makes attending worthwhile. Th!nk AV offered the audience of ProAV, UCC and digital signage technologists insights that certainly made this series a must-see.
If you missed Th!nk AV, there are three ways you can review the content.
View them on YouTube (linked above).
Thanks for reading! Until the next Th!nk AV symposium (we hope).