Snap One Launches New Single-Room Control Bundle to Help Partners Tackle One-Room Installations and System Expansions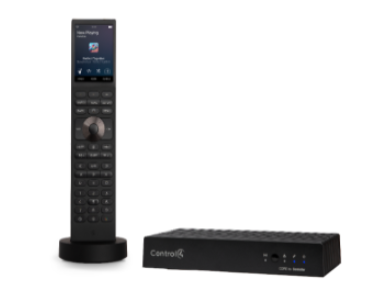 Entry-level solution includes a new Control4 CORE lite Controller and Halo Remote for single-room projects or room expansions for existing systems.
CHARLOTTE, NORTH CAROLINA, May 31, 2023 – Snap One today announced a new entry-level Control4 bundle to help Partners tackle single-room installations or expansions, leveraging the powerful new CORE lite Controller and popular Halo remote to deliver full functionality for any budget. According to Eric Fritz, Director of Product Management at Snap One, the global launch of the Single Room Bundle with CORE lite and Halo offers Partners and their clients more features than any competitor while lowering total system costs.
"The Single Room Bundle with CORE lite and Halo provides Snap One Partners with a simple, profitable solution that lowers the barrier of entry to the Control4 ecosystem and allows for expansion in any size of project," Fritz said. "Offering powerful features such as a high-resolution audio streaming, OnScreen menu, Intercom Anywhere, OvrC Pro, and more, the bundle delivers more out-of-the-box capabilities than any competing solution."
The CORE lite is a new Control4 system controller specifically designed for single-room use with ports including ethernet, one USB, one HDMI, one internal Zigbee antenna, three IR Out, and one of which can be used as a serial port instead. Additional user features include an HD menu, high-resolution audio streaming with up to 12 native services and, with an active subscription, cloud services that include: remote access, notifications and alerts, Intercom Anywhere, cloud backups, and support for Amazon Alexa and Google Assistant.
For Snap One Partners, CORE lite provides access to the Control4 Online Driver Database with more than 20,000 unique drivers for device control, smart device integrations, and personalized automation. With OvrC Pro built-into CORE lite, Partners have remote access for network monitoring and management, device and system configuration, and a suite of diagnostic and troubleshooting tools. The controller is not sold individually and is only available through the Single Room Bundle.
To ensure every user has convenient, reliable access to their Control4 system, the Single Room Bundle includes the Control4 Halo remote. Customers can use this stylish remote to control the CORE lite's OnScreen menu, use the Voice button for push-to-talk commands, and use familiar hard buttons for common tasks, all on a 2.8-inch screen with hard buttons for simple navigation. Users can also utilize the popular Control4 App for mobile devices for advanced control and remote access.
The remote's dual-band WiFi antennas support 2.4 GHz and 5 GHz networks to improve reliability with three to five times stronger connections than previous remote models. When users press the new Voice button on the Halo remote, Control4 captures the user's command with the embedded microphone and dynamically routes it to the proper voice service via proprietary technology. Available voice integrations currently include AppleTV through Siri, with Xfinity coming soon.
"Snap One and Control4 are dedicated to supporting our Partners with revenue-driving products that offer repeat sales opportunities and create entries into new markets," Fritz concluded. "This bundle makes sophisticated home control affordable and easy to use for any customer while giving our Partners a chance to exhibit the full power of Control4 without large up-front investment."