LG Demos Cutting-Edge Digital Displays, Robots, EV Charging Stations for Hotels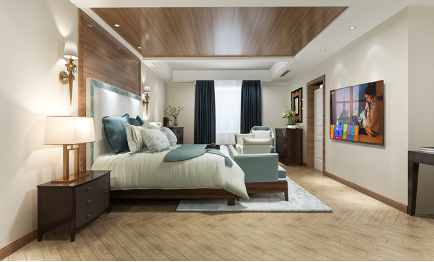 LG Business Solutions USA is demonstrating how its broad range of powerful display technologies, service robots and computing devices can improve hospitality guest experiences throughout hotel rooms, lobbies, business centers, meeting spaces and even restaurants at HITEC 2023 in Booth #1809 in the Metro Toronto Convention Centre.
"The hotels of the future are being designed today, and we invite HITEC attendees to experience all of LG's innovative display technologies and devices that hoteliers can deploy to attract today's tech-savvy guests and drive revenue," said Michael Kosla, hospitality vice president, LG Business Solutions USA. "From state-of-the-art in-room LG OLED TVs and digital art screens to big-screen touch displays for conferencing and large, awe-inspiring DVLED displays for presidential suites, we are helping decision makers identify the ideal technologies to wow guests and deliver novel experiences in every area of their hotels."
Visitors to LG's booth in Toronto this week can see how the latest displays enable upgraded experiences and capabilities for specific hospitality scenarios, with booth areas designated to present technologies for Lobbies, Retail, Reception, Meeting Rooms, Business Centers, Smart Rooms, Suite Rooms, Presidential Suite Rooms and Public Solutions including restaurants and bars. LG is also highlighting new opportunities for hotel owners including the LG CLOi ServeBot robot assistant and an EV charging station that includes a 55-inch LG digital signage display with an integrated revenue-generating ad placement service.
Starting in the Lobby zone, a 65-inch 4K display shows how hotels can integrate digital art canvases and features live content provided by Blackdove and Apollo, a digital art subscription service and LG partner. The Retail zone highlights the unique atmosphere offered by LG's cutting-edge transparent 55-inch 4K OLED display and Transparent LED Film that can be applied to any glass surface, including windows.
In the Reception Zone, visitors can experience the "wow factor" and power of LG's 136-inch All-in-One Smart Series 1.5mm pixel pitch DVLED display that includes an embedded controller, an on-board speaker, optional rolling floor stand and the option to add simple screen sharing through the LG One:Quick Share accessory solution.
The booth's two Meeting Room zones exhibit how simple it can be to enhance a meeting room with smart conferencing capabilities, utilizing the LG CreateBoard, a 75-inch interactive digital board that offers 40-point multitouch, 4K resolution, dual 15-watt speakers and simple screen sharing through the LG CreateBoard Share app.
Also designed to appeal to business travelers, the 55-inch LG One:Quick Works video conferencing display and 43-inch LG One:Quick Flex touch display combine videoconferencing, screen-sharing, on-screen collaboration, scheduling, and more in one simple-to-deploy solution. On the signage side, a new 163-inch All-in-One Smart Series display joins the 136-inch version to offer the same installation simplicity in a larger screen size.
Moving on to the Business Center zone, attendees are shown the power of LG ProBeam laser projectors, with various models demonstrating up to 4K resolution, 7,000 nits of brightness and short-throw capabilities that enable use in virtually any space. The zone also exhibits multiple sizes and models from the LG gram series of ultra-lightweight laptops, in addition to an LG UltraPC laptop, a 27-inch LG Libero Monitor with detachable Full HD webcam and a curved 38-inch LG UltraWide monitor.
Next is the Smart Room, which offers a look at the power of automated room technologies including a demonstration of the recently announced Apple Airplay for Hospitality on a 55-inch LG Smart TV. There will also be demos of Amazon Alexa for Hospitality, previously announced last year at HITEC 2022.
The Suite Room zone introduces LG's high-end 97-inch OLED display, while the Presidential Suite zone ups the ante even further with a 136-inch LG MAGNIT DVLED display that utilizes a 0.78mm pixel pitch to provide an unrivaled viewing experience for TV and movies with deep blacks, accurate colors and incredible contrast.
The Public Solutions zone looks at how the powerful Pro:Centric Catena platform provides simple control to manage televisions in bars or common areas, where they can be used to tune live TV content using a tablet or smart phone without requiring TV remotes or a separate content control system. Pro:Centric Catena also allows guests to listen to their preferred television through their smartphone or personal earphones.
Also featured at HITEC 2023 is a demonstration of the popular LG CLOi ServeBot robotic assistant that can carry food and beverages in service settings, as well as a advanced EV charging station that features a 55-inch LG digital signage display with integrated BroadSign software to enable new revenue streams for hotel operators through automated ad sales. Flanking the exhibits are a variety of guestroom 65-inch TV models, including OLED models that present upgrade options for guest rooms.
"The LG solutions highlighted at HITEC 2023 offer hoteliers an array of options to suit every space, every budget and every need," Kosla added. "As leisure guests and business travelers increasingly use high-end technologies at their homes and workplaces, LG solutions can help hotels meet their expectations through premium displays, specialty services or devices and convenient business-focused spaces."