Industrial Smart Switch Achieves Network Interoperability and Integration Quicker Than Ever Before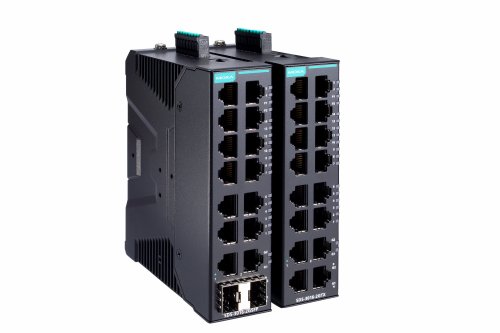 Moxa is pleased to add the SDS-3016 Series to our Red Dot award-winning product family. The new addition includes Gigabit uplink, eight additional ports, and an easy-to-configure Industrial Automation (IA)-profile that allows automation engineers to quickly process the increasing amounts of data within the smart manufacturing industry. Moxa will always strive to ensure you can achieve network interoperability and integration immediately.
Automation engineers are increasingly putting more emphasis on the underlying health of their networks to ensure they can maintain reliable plant operations. This is often achieved by monitoring data and the network status from SCADA/HMIs, allowing automation engineers to prevent network downtime.
"We decided to develop the SDS-3000 Series industrial smart switches with the 3-2-1 design to simplify industrial communications. There are 3 pre-configured IA protocols, 2 installation methods, and a 1-page dashboard for easy configuration. The new SDS-3016 Series includes an additional rotary-coded DIP-switch, which is located on the bottom of the device, to allow engineers to perform profile-based settings quickly without using a web browser," noted Elsa Liu, Product Manager at Moxa.
The smart switch was specifically designed for IA engineers and automation machine builders. The switch only includes the functions IA engineers and automation machine builders need, and importantly, does not require them to have IT-based network management skills. We believe the smart switch is the ideal product for the manufacturing industry, especially for machine builders who are embracing the Industrial Internet of Things (IIoT) and Industry 4.0.
The SDS-3016 Series Smart Switch Features
√ 14+2G-port Gigabit smart Ethernet switches
√ 3 industrial protocols including EtherNet/IP, PROFINET, and Modbus/TCP
√ 2 installation methods with DIN-rail and rack-mounting options
√ 1-page dashboard GUI for easy device configuration and port diagnostics reports
√ One-step configuration to enable seamless SCADA/HMI/NMS integration
√ Supports RSTP/STP/MRP(Client) network redundancy
√ Compact size to fit in confined spaces