October 31, 2020 | Volume: 9 | Issue 10
Hello everyone, and welcome! Happy Halloween!
Let's get spooky.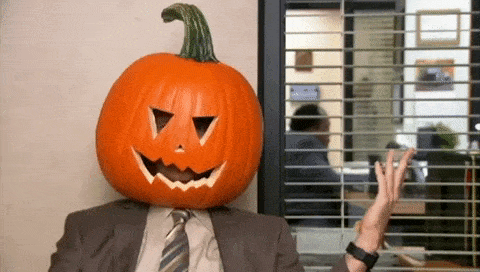 First order of business, please watch The Office S9 E5 to get the context for this gif if you have not already. Thank you.

Next order of business: the actual newsletter. I hope you're ready for some good listening this weekend, #AVtweeps, because I have some awesome episodes of Rants & rAVes all gathered here just for you. Make sure to listen to a few of my favorites from this month: One with Dan Dugan who won a real-life Emmy! One about the importance of 4K! And my last favorite: the episode with AVIXA's Sean Wargo on the general state of AV, UCC and DS.
Also in this issue, Mark Coxon gives us some tips on leaving voicemails. I do not know at what age generally you are supposed to get over your voicemail anxiety, but I am not there yet. I don't listen to them. I don't leave them. I don't even want the feature on my phone — but I have to get over it and listening to Mark's episode should help me and it will help you too!
Alright. Go and listen — or else I'll put a spell on you.
Copyright 2020 –

rAVe

[PUBS] – All Rights Reserved.
© THE rAVe Agency 2020 1011 S. Hamilton Rd Suite 300 Chapel Hill NC 27516
Manage your email preferences.