Volume 12, Issue 4 — April 24, 2018
When Every Shot Is a Selfie

By Joel Rollins
rAVe Columnist


In politics and economics, a Potemkin village is any construction built solely to deceive others into thinking that something is better than it really is. The term comes from stories of a fake portable village built solely to impress Russian Empress Catherine II (Catherine the Great) by Grigory Potemkin; the structures would be disassembled after she passed and re-assembled farther along her route to be viewed again.

I have spent the best portion of my working life in one Potemkin Village after another.

Sets, for presentations, entertainment events and trade shows are Potemkin villages, where the side the attendees see is seemingly brushed aluminum and shiny, solid marble, looking as if it was painstakingly constructed by artisans. We maintain the beautiful illusions with carefully crafted lighting and set pieces that direct our cameras or the audience's eyes. Only the crew sees the cardboard, staples and gaffer tape that hold the structure together until we quickly pack it up and move it on to the next show. And I, being part of such a crew, have spent most of my working time behind the set, behind drapery or up in a booth, behind the audience, hidden from view. As the Great and Powerful Oz once said, "Pay no attention to that man behind the curtain!"

So our ability to remain behind the camera (or behind the curtain) is derived from our ability to direct the viewer's attention elsewhere. And my current work in VR video formats, where the viewer has the ability to direct his/her own view through a 180- or 360-degree space, has me scratching my head a bit over the future of our events and how they work. Because I am already receiving questions about using these formats to stream live events, placing the remote viewer in the middle of the action, so to speak.

Now, 180-3D can be great for certain types of entertainment events, locating the viewer in the front row at a concert, for instance, allowing the person to follow his/her favorite performer throughout the show, rather than where our traditional cameras force them to look.

But is this really the best idea for presentations? Admittedly, most of my experience is in the commercial rather than entertainment world, but in the kind of events I have always worked on, we attempt to always direct the viewer's attention to the presenter, to the screen, to the car rolling in from backstage. Do we really want them to be able to focus on our Potemkin village? To check out in detail the equipment on the stage,or the places where the backdrop is taped? Or the rigging? And before somebody says, "But they will never do that!", let me say: "Oh yeah? I would."

And now, for double the fun in staging, think about 360. OK, so now the audience members could not only direct their attention to anywhere in the front of the theater, they could also look to the back row where our control table was to watch us frantically working with the client to find the place in the script that the presenter has now skipped to. Or at the door, to see who is leaving because of the error. And yet, 360 video is the one of the things that most of my clients are excited about, as it is taking off the fastest online, probably due to the fact that it is the easiest format to shoot with a phone. Or it's more likely due to the fact that the 360 format makes every shot a selfie, letting the viewer turn to see the googly eyes of the person who was holding the camera, alarmingly close. I've spent a fair amount of time recently watching people who were experiencing 360 video (shot under a variety of circumstances) and watching them universally take a quick step backward when they first turn toward the person who was holding the camera in a handheld shot.

Sometime soon, I can easily predict that a client is going to ask me about staging a show specifically for the 360 format, so that they can "use it to its fullest." And how are we going to do that? Will we be forced to create a kind of reverse theater in the round and if we do, how will speaker support be shown? And how will we seat the audience? Will we put them on a rotating platform or just seat them in swivel chairs? Or will we simply do away with a live audience altogether?

The introduction of live video and streaming changed the way live events are done. As the VR video formats gain in interest and popularity (Facebook Spaces or YouTube VR, anyone?), it is inevitable that we will have to accommodate them.

Pay no attention to that man behind the curtain. He's just looking for another roll of gaffer tape.

Leave a Comment


Share Article
Back to Top

Click above to learn more
Vinten Debuts Ceiling Track System for Cameras
Vinten today announced that its robotic camera dolly and ceiling track system will ship in the U.S. next month. A collaboration between Vinten Automation and veteran dolly manufacturer Tecnopoint, the new Vinten ceiling track system is designed for creative productions in which floor space is at a premium.
Like its sister product, the Hexagon floor track system, the new ceiling track system fully integrates with all Vinten robotic camera supports. The dolly, motorized column and robotic head natively interface with the Vinten control protocol and can be fully managed from the Vinten robotic control system (VRC) to create a powerful studio robotic solution. The track system supports shot sequencing, allowing users to select multiple shots and execute a seamless move through multiple key frames, and an absolute encoder outputs tracking data to the VRC, making the system ready for use in an augmented reality or virtual reality environment.
The new ceiling tracks are designed for flexible installation. The dollies run on steel rails mounted on a truss, while four traction wheels with dual synchronized motors enable high-traction operation with virtually no slipping. Available with straight or curved tracks, the system's modular structure enables multiple configurations to fit any specification.
The quiet ceiling track system offers integrated cable management, so there are no cables outside the track. Cables move along the track with a festoon system, although a unique cable management system that uses a side vessel for chain cable is available for users who can't accommodate a festoon.
Leave a Comment
Share Article
Back to Top
Marshall Electronics Releases New AR-DM61-BT Multi-Channel Digital Audio Monitor
Marshall Electronics announces the release of a new multi-channel digital audio monitor, the Marshall AR-DM61-BT. Packed into a 1 RU design, the Marshall AR-DM61-BT allows users to monitor up to 64 channels of audio vertically, or two detailed audio channels horizontally and also includes a live video confidence monitor. It also is equipped with two powerful stereo speakers that feature a max volume of 100 dB.
The AR-DM61-BT has two dedicated 3GSDI inputs with loop through (MADI compatible), and one additional HDMI input. It has four stereo AES inputs and outputs, supports eight channels on "D" input and output (-10 dB or +4 dB switchable), and has speakers powerful enough to be heard even in a noisy control room environment. The 10-inch LCD intuitive touchscreen panel uses Loudness, K-weighted, relative to full scale (LKFS) bars and peak indicators and is the first-of-its-kind to include a live video confidence monitor.
The AR-DM61-BT is fully compatible with the latest Dolby and Dante formats, and has a built-in Web server for software updates, storing and retrieving presets, making the AR-DM61-BT a "future proof" solution. It is AES67 compliant and accepts inputs from multiple signal types with format conversion and matrix routing.
The Marshall AR-DM61-BT is here.
Leave a Comment
Share Article
Back to Top

Click above to learn more
Hitachi Debuts New 4K Production CU‑HD1300F-S1 Camera Control Unit
Hitachi Kokusai Electric America today announced the CU-HD1300F-S1 HDTV camera control unit with 4K, 12G-SDI output. The company also announced an optional firmware upgrade for its SK-UHD4000 4K Ultra HD camera system to enhance simultaneous HDR and Standard Dynamic Range (SDR) acquisition. New optional 12Gbps SDI output capabilities for the accompanying CU-HD4000 CCU have also been added to its existing quad-link SDI interface.
The new CU-HD1300F-S1 builds on the rich feature set of the original CU-HD1300F, combining SMPTE fiber transport and multi-format HDTV support with intercom, teleprompter return, and additional signal connectivity in a space-efficient 2RU unit. The CU-HD1300F-S1 can output natively-acquired 1080p video as 4K/UHD over single-link 12Gbps SDI or quad-link 3G-SDI connectivity.
The 4K output functionality of the CU-HD1300F-S1 is compatible with all fiber-equipped, 1080p HITACHI Z-series and SK-series cameras, and supports High Dynamic Range when used with HDR-enabled camera models including the award-winning Z-HD5500 and the SK-HD1300. The new CCU can also be used with interlaced HITACHI camera models for HDTV output.
A second, new CCU, the dual-cable CU-HD1300FT-S1 fiber/triax model, offers similar 4K output capabilities when used with fiber-connected cameras. The CU-HD1300FT-S1 offers all of the capabilities of its fiber-only sibling, plus Hitachi Kokusai's fourth generation digital triax system for long-distance triax transport of HDTVsignals.
Like the transition from HD to 4K, the path from SDR to HDR has its own challenges for content producers, requiring them create separate outputs for optimal viewing across different generations of displays. The new firmware option for the SK-UHD4000 camera system allows separate video shading adjustments for HDR and SDR outputs, enabling users to select from multiple HDR profiles alongside SDR simultaneously with the same camera.
Leave a Comment
Share Article
Back to Top
Waves MultiRack and Plugins Power the KN-DSP100 Kramer Network Server
Waves Audio has now integrated Waves MultiRack and Waves plugins in the KN-DSP100 Kramer Network Server from Kramer Electronics.
Waves MultiRack is a software host used by FOH and monitor engineers to run multiple simultaneous instances of the same plugins used in recording studios and mixing rooms the world over.
The Kramer Network Server, with Kramer Network and DSP functionality for large-scale audio deployments, provides DSP-over-IP and enables simultaneous processing of 64 of its more than 1000 input channels – and distribution to over 1000 outputs. The unit is fully compatible with any Dante audio signal and provides auto-detection of all Kramer devices and their functionality. The KN-DSP100's processing is powered by Waves and seamlessly integrates with all standard IT infrastructures.
With Waves MultiRack and plugins now integrated, the KN-DSP100 brings the same tools that live sound engineers rely upon daily to AV professionals at large-scale system deployments such as airports, hotels, courtrooms and hospitals, providing seamless processing of up to 64 channels over a Dante network.
Leave a Comment
Share Article
Back to Top
Yamaha DXS12mkII and DXS15mkII Powered Subwoofers Debut
Yamaha today announced the DXS12mkII and DXS15mkII portable powered subwoofers that combine a super-efficient Class-D amplifier putting out 1,020 watts of peak power (as compared with 950 watts in the originals) with a unique bandpass cabinet design. This configuration helps the subwoofers achieve remarkable sound pressure levels (SPL) from compact enclosures; the DXS12mkII and DXS15mkII are capable of a maximum SPL of 134dB and 135dB, respectively. Low-frequency response has also been improved, with the DXS12mkII going down to 42Hz and the DXS15mkII to 40Hz. Compared to the competition, the DXS12mkII essentially offers the performance of a 15" powered subwoofer, while the DXS15mkII provides that of an 18" unit. Because the amplifiers do not require active cooling, the DXSmkII subs can be run at high volume for extended periods and not risk the thermal shutdown or distortion issues that plague much of the competition.

On the original DXS models, the XLR thru outputs simply passed the full-range audio from the inputs to any connected speakers. On the DXSmkII models, these outputs have a high-pass filtered option, meaning that all crossover work is done within the subwoofer. In this configuration, connected full-range powered speakers (such as the Yamaha DXR or DBR Series) can devote their full output power to amplifying only those frequencies the DXSmkII subs are not.

For mounting a full-range speaker on a pole atop the subwoofer, both models now have an M20 threaded socket in addition to the standard 1-3/8" (35mm) non-threaded socket, resulting in increased stability. For stacking speakers directly, insets on the top of the cabinet minimize unwanted vibration in even the highest SPL-use cases. Plywood construction decreases weight compared to the original models by approximately six pounds.

Leave a Comment


Share Article
Back to Top
FOR-A to Introduce MBP-1000VS 12G-SDI/IP Multi-Channel Video Server
FOR-A has announced that it will introduce a new 12G-SDI/IP multi-channel video server next month. The MBP-1000VS is designed for 4K editing environments, offering multi-input/output 4K and HD support and ingest, playout and 4K recording functionality.
With the new FOR-A video server, users can choose from four SSD capacities with maximum 9.6TB to meet their system needs, and can add an LTO option for immediate archiving of captured 4K material or extended recording. With the LTO option, for example, the 9.6TB model MBP-1000VS unit can record approximately 31 hours in XAVC Intra Class 300. The unit also enables recording of HD material for approximately 318 hours in MPEG-2 10-bit 4:2:2 50Mbps. Offering a full range of playout and ingest system applications, the MBP-1000VS is controllable from a variety of automated production control systems and offers redundant power supply.
4K XAVC and MPEG-2 codecs are available with the MBP-1000VS. FOR-A is offering a range of MBP-1000VS interfaces for 12G-SDI or video over IP transmission, including 12G-SDI, 3G-SDI and SFP+, to accommodate varying user needs for inputs/outputs and size of internal storage (SSD). The MBP-1000VS-12G, which mounts 12G-SDI in/out, supports quad-channel 4K XAVC codec. Standard configuration of this model provides two channels for recording and two for playback and it can be configured with up to four channels for recording and four for playback. The MBP-1000VS-IP includes a SFP+ port for 10 Gbps video over IP I/O. It supports up to dual-channel 4K XVAC codecs and can switch channels from encoding to decoding as needed. Supported formats for video over IP include SMPTE 2022-6/7 (TICO) and NMI (LLVC). This model also offers 3G-SDI output capabilities for monitoring. The MBP-1000VS series also includes an HD supporting model, which supports MPEG-2 codec and can be configured with up to eight channels for inputs/outputs.
Leave a Comment
Share Article
Back to Top
GeoBox VNS Debuts Three New Video Wall Controllers for Signage
VNS has unveiled a new series DCi/UHD 60fps 4 CH-8 CH video wall controllers. Three models in G400 series incorporate HDMI 2.0 input and HDMI 2.0 loop-through port for daisy chain connection with HDCP 2.2 as well as synchronized FHD outputs. Each output has independent color adjustment, image 90 / 180 / 270 rotation, scaling and cropping for irregular video walls. There are no limitations in multiple unit cascades.
G406 (4x inputs, 4x CH out) – 2x HDMI 2.0 + 2x DP 1.2 inputs ports with matrix switcher function to display one, two, three or four independent pieces of content on four LCD video wall. Two HDMI 2.0 loop-through ports allows user to select different display contents while cascade with multiple units.
G406Lite (1x input, 4x CH out) – Simplified model of G406 with 1x HDMI 2.0 input and 1x loop through port. Lower cost and easy setup but still with their top video performance and irregular video wall capability.
G408 (2x inputs, 8x CH out) – Eight screen model with 2x HDMI 2.0 input and 2x loop through ports. It can serve as one eight-screen or two four-screen video wall controller with their top video quality and irregular video wall capability. Two units with 16 monitors can easily achieve 8k/4k video wall display.
G400 series is a pure hardware, standalone 4K/60 system. All operations can be easily implemented through IR remote controller, USB or Ethernet.
Leave a Comment
Share Article
Back to Top
Magewell to Debut Standalone Streaming Encoder
Expanding beyond its video capture and playout cards, Magewell will show company's first standalone, hardware-based streaming encoder at the 2018 NAB Show next month. Dubbed the Ultra Stream HDMI, it's capable of recording or streaming video and audio from a variety of sources with one-click using on-device buttons or a smartphone app. Designed for users who want to stream but may have very little technical knowledge, the encoder is aimed at church volunteers, teachers and gamers to corporate marketers and live event organizers.
The initial configuration is performed over network or Bluetooth connectivity with the free iOS or Android app. Once encoding and destination parameters have been set (e.g., entering Facebook or YouTube keys), recording and live streaming can be started and stopped directly with physical buttons on the Ultra Stream unit or via virtual buttons in the app. It can natively stream to Twitch, YouTube and Facebook Live or to a custom-specified RTMP server. Streams can be output to multiple target services simultaneously, while real-time video preview in the smartphone app allows for monitoring.
The first of multiple planned models in the Ultra Stream family, the Ultra Stream HDMI captures, encodes and streams video up to 1080p60 via an HDMI input interface from sources such as video cameras, players and game consoles. The encoder also supports 4K HDMI inputs at 60fps with 4:2:0 color subsampling, down-converting them automatically to HD (H.264) for recording and streaming. Embedded HDMI audio is done by an analog microphone input and a headphone output for monitoring. HDMI loop-through connectivity enables source signals to be simultaneously sent to a monitor or projector without the need for an HDMI splitter.
In addition to outputting live streams, the Ultra Stream HDMI can record video as MP4 files to a directly-connected USB drive or the associated smartphone. Footage can also be recorded in a loop on embedded storage within the unit for subsequent previewing and downloading. The device supports H.264 video compression and AAC audio, with HEVC encoding and recording planned for a future update. Two distinct combinations of resolution, frame rate and bitrate can be specified, enabling simultaneous recording and streaming with different parameters. Still frames can also be captured with the app.
The compact Ultra Stream HDMI measures just 3.7 inches (94.2 mm) square with a height of 1.1 inches (28.5 mm). The flexible unit offers both wireless and wired network connectivity, with built-in Wi-Fi as well as an RJ45 Gigabit Ethernet port. Here are the specs.
Leave a Comment
Share Article
Back to Top
NewTek Claims Revolution in Graphics Workflow for Live Production
NewTek today announced LiveGraphics, an entirely new approach to the creation of real-time motion graphics that does not require a proprietary hardware graphics engine. With NewTek LiveGraphics, content authored in Adobe Photoshop CC and Adobe After Effects CC is available for live output from TriCaster TC1 and NewTek IP Series with fully replaceable text and images that can be driven by live data and web content. The result of extensive development, LiveGraphics delivers on the promise of Adobe Creative Cloud in real-time.
The process begins with LiveGraphics Creator, a plug-in used within Adobe After Effects that allows users to create advanced real-time graphics quickly and easily using complex layer preset and text effects that can be applied across multiple layers simultaneously with offsets. Simply import a layered Photoshop file with the LiveGraphics Creator plug-in and a composition is created automatically. After animating and previewing in After Effects, a single button-push exports the content and instructions into a package file for import into a TriCaster TC1 or IP Series media buffer; with 10 channels of real-time graphics and preset states for layer compositions and data elements.
Once loaded into a NewTek live production system, text and image fields are manually replaceable or can be connected to any data source using the native Datalink functionality including database updates, watch folders, remote updates from web pages, scoreboard controllers, macros and LivePanel web based scoring. Macros can be used to fire graphics or custom LivePanel user interfaces can provide content editing and triggering capabilities at one or more separate operator positions. In addition, LiveGraphics ships with over 100 customizable templates.
Leave a Comment
Share Article
Back to Top
DPI Readies Industry's First 8K DLP Projector, Ships 4K 3-Chip DLP Projector at 12.5K Lumens
Digital Projection was at NAB last week with its first-ever 8K DLP projector. The 25,000-lumen INSIGHT LASER 8K (7680×4320) — that's 33-million pixels and four times the resolution of 4K. The INSIGHT LASER will ship later this year.

In the meantime, DLP's HIGHlite 4K resolutions (3840×2160) LASER is now 12,500 lumens and a 2000:1 contrast ratio. The 3-chip projector is aimed at home-cinema and entertainment venues, commercial AV and houses of worship. Medical imaging is also supported through the projector's DICOM simulation mode. Digital Projection's LASER projectors provide a lowest cost of ownership as a result of the laser illumination system's 20,000-hour life-span. With no lamps to replace or maintenance costs, the end-user saves money over time and never needs to worry about the possibility of lamp failure. In addition, since they are laser, the projector can be oriented in any position. Other features include HDMI 1.4a, HDMI 2.0 for support of 4K-UHD formats and DisplayPort 1.2 for 4K content delivery.

Here are all the specs.

Leave a Comment


Share Article
Back to Top
TASCAM Expands Acclaimed DA-6400 Multitrack Digital Recorder

TASCAM's DA-6400 Multitrack Digital Recorder has been given a powerful new upgrade, with the new Version 2.0 firmware update adding a host of new functions and enhancements. In addition to a variety of performance and functionality improvements, the new Version 2.0 update incorporates two new features: Theater Play mode and playlist support.

The new Theater Play function enables DA-6400 users to set start and end marker points for individual takes. These markers allow theater operators to trigger multichannel events manually or via external control, after which the system automatically proceeds to the next scheduled cue and waits patiently in standby mode. This potent feature enables venue designers to easily combine audio, lighting and scenery cues into a single, easily controllable experience.

Using playlist mode, users can define regions and non-de­structively set playback ranges within individual multi-track Takes, and create dynamic scenarios whereby these regions are played in various orders and/or multiple times each. This makes creating complex performances from chains of events quick and intuitive.

Other new functions include playback of WAV files in 32-bit PCM and 32-bit floating for­mats, sorting functions that allow the take list to be arranged in Take timecode or Take name order and mDNS support so that network connection with the DA-6400 can be achieved from Mac OS and Telnet or VNC and FTP apps that support mDNS.

TASCAM DA-6400 Firmware V2.0 is available now as a free download here or to see the DA-6400, go here.

Leave a Comment


Share Article
Back to Top
Marshall Electronics Announces New HD PTZ Camera
Marshall Electronics just debuted a new high-definition PTZ camera, the Marshall CV620-WH2/BK2. Built on a 2-megapixel, 1/2.8-inch sensor, the Marshall CV620 delivers 1920×1080 video and can be controlled remotely via RS232 over Ethernet cable or RS422 over twisted pair. It uses common protocols to make it compatible with most integrated control systems.
The Marshall CV620 has multiple outputs including HD-SDI (3G) and HDMI (DVI) and many broadcast adjustable settings, such as white balance, exposure, iris, gamma, black level and more for tremendous flexibility of use. The pan-tilt range spans 340° horizontally and 120° vertically. It offers simultaneous 4D control for pan, tilt, zoom and focus.
The Marshall CV620 can be set to resolutions of 1920x1080i, 1920x1080p and 1280x720p, with adjustable high-speed frame rates of 60, 59.94, 50, 30, 29.97 and 25 frames per second. The high definition PTZ camera, available in black (BK2) or white (WH2) color options, is mountable via table, wall or ceiling and includes flappable images.
The Marshall CV620-WH2/BK2 is here.
Leave a Comment
Share Article
Back to Top
Epson Introduces LightScene – a New Category of Laser Projection for Digital Art, Spatial Design and Signage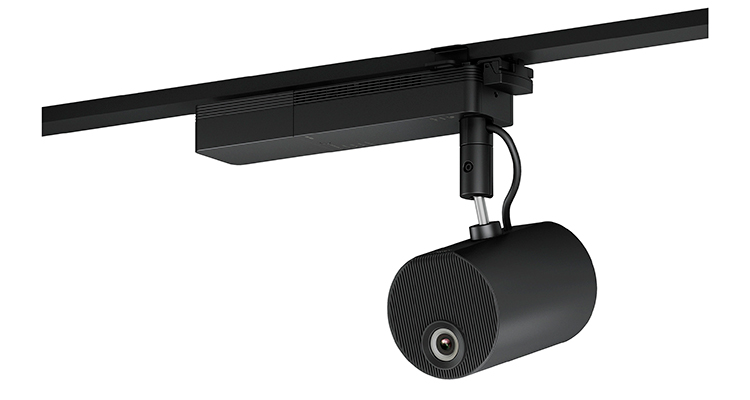 Epson today announced LightScene — a new category of accent lighting laser projectors for digital art and signage. LightScene is designed to simultaneously illuminate and project dynamic content on virtually any surface or material to engage audiences and provide an immersive experience for commercial signage applications in markets such as retail, hospitality, showrooms and museums.

With two models available in a spotlight form factor — LightScene EV-100 in white and LightScene EV-105 in black — the laser projectors blend in discreetly and offers an array of configuration, mounting and programming options. Specs include:
3LCD laser technology — Epson laser technology is spec'd up to 20,000 hours in a sealed optical engine
Built-in content management — Includes templates, effects, color filters and customizable options
Scalable — Daisy-chain multiple LightScene projectors and utilize Edge Blending technology
Easily programmable — Playlist and playback functions allow for content management for single or multiple LightScene projectors
Flexible positioning — Includes vertical and horizontal rotation with 360-degree mounting on tracks, floors, walls or ceilings; 1.58x powered optical zoom and powered focus allows for installation in both large and small spaces
Connectivity includes HDMI, RJ-45, wired and wireless LAN and SD card slot for direct content storage
Up to 2,000 lumens of color brightness and 2,000 lumens of white brightness
Leave a Comment
Share Article
Back to Top
Zixi Announces Hitless Failover Between Many IP Video Types
Zixi claims hitless failover capabilities, which include a patent-pending, DNA-like resequencing algorithm in the latest version of the Zixi Platform. These new features allow hitless failover between non-uniquely identified multi-path streams from multiple contribution points, which can prevent missing and out of sequence packets and jitter.
Zixi currently supports SMPTE protocol 2022-7, which is a working industry standard for Real-time Transport Protocol (RTP) for videos that have uniquely identified and numbered packets. However, the media industry often has multiple video sources, many of which are not RTP.
Zixi's latest product improvements solve the widespread problem for media companies who distribute at scale with multiple, asynchronous video streams. Whether packets are uniquely identified or numbered, or not, the Zixi Platform can now create one coherent stream out of multiple stream fragments. This new solution includes a patent-pending reconstruction algorithm that does not rely on unique identification. Instead, the Zixi Platform applies a multiple alignment algorithm that works much like DNA sequence alignment, to reconstruct the original sequence of IP packets that best recreates the original video stream.
Here are the specs.
Leave a Comment
Share Article
Back to Top
Gefen Ships Six New AV-Over-IP Products

Gefen is now shipping six new models from their Gen 2.0 AV-over-IP product line including the DVI KVM, VGA KVM and audio-only input and output formats. The Gen 2.0 KVM line claims 4K Ultra HD with HDR support, built-in scalers, video-wall control, independent USB, RS232, IR, audio routing and backward-compatibility with first-generation products.

The new Gefen AV-over-IP line-up includes a new KM Emulation feature which facilitates real-time, simultaneous keyboard and mouse control of each source from all connected workstations, eliminating the inherent limitations of earlier systems. HDMI and DisplayPort products feature maximum input resolution of 4K 60 Hz 4:2:0, and maximum output resolution of 4K 30 Hz 4:4:4. HDCP 2.2 and 1.4 are also supported. The DVI and VGA models support VESA and CEA resolutions up to WUXGA (1920×1200 at 60 Hz) and 1080p Full HD (1920×1080 at 60 Hz).

The Sender units (except DisplayPort) feature a video output for local monitoring of the source. USB, RS232 two-way IR and audio can be routed independently between any sender and receiver unit, allowing end users to control any of the sources and the displays within their network.

The new digital and analog audio over IP units allow integrators to add audio-only nodes to an installation. Each receiver can play back audio from any of the Gefen AV-over-IP sender units, including audio de-embedded from HDMI inputs. These senders and receivers can be used for multi-room music, conferencing, public announcement and live venue audio projects.

All KVM and AV Receivers feature a built-in scaler as well as a video wall controller that accommodates any screen configuration up to 16×16 in sizing and manipulating live and signage content. Digital and analog audio break-out on HDMI, DVI and DisplayPort receivers allow audio that is embedded into the video to be sent to a separate audio system, enhancing the impact of presentations in large venues. HDMI models pass 7.1 channels of HBR (High Bit Rate) and LPCM digital audio from source to display.

The Receivers' integrated USB hub with two USB 2.0 and two USB 1.1 ports accommodate touch panels, keyboard and mouse, and a variety of supported devices.

A built in two-port Gigabit switch on each receiver allows the daisy-chaining of additional receivers or other IP-enabled devices. In applications such as digital signage, where content is often replicated on multiple displays throughout the installation, the ability to cascade the receivers removes the requirement for each cable to be run directly to the main network switch.

You can see the entire line here.

Leave a Comment


Share Article
Back to Top
Atomos Shogun Inferno and Sumo19 Unlock the Panasonic AU-EVA1 5.7K RAW Output
Panasonic's AU-EVA1 is a great Super35 cine camera with low light capabilities. Now users will be able to unlock the true potential of this amazing camera and its low noise sensor by combining it with the Atomos Shogun Inferno HDR monitor/recorder, thanks to the release of Panasonic's free RAW output upgrade.
Users will soon be able to capture 5.7K RAW imagery direct from the sensor at up to 30 fps over the 6G SDI connections and record it to SSD media. In 4K resolution you can record up to 60fps from the RAW output in production ready Apple ProRes, Avid DNxHR or CDNG RAW up to 2Kp120 or 4Kp30. The resulting frames are super clean, detailed and capable of withstanding heavy grading.
The Shogun Inferno also helps the EVA1's slow motion performance. It can record the RAW output at up to 240fps in 2k/HD, direct to Apple ProRes or Avid DNxHR. Perfect for sports, wildlife and a wide range of other uses. All these features will come in an AtomOS upgrade for the Shogun Inferno and Sumo19 to be released this month.
Shogun Inferno also offers state-of-the-art monitoring for both HDR and SDR recording with its 7" 1500nit high brightness panel with the Sumo19 at 19" and 1200nits.
Take the guesswork out of exposure in HDR or Log with Atomos' unique AtomHDR system which shows a massive 10+ stops of dynamic range on either screen. The display is colour accurate and can be calibrated over time using a X-rite i1Display Pro probe. Benefit from AtomoOS' full range of monitoring tools like waveform, vectorscope, false colour, audio level meters and pixel-to-pixel magnification.
Users can also load and store LUTs directly into Shogun and Sumo for complete creative control, production to post. With HDMI or SDI users can output their footage in 4K PQ (HDR 10) or HLG HDR direct to a compatible television or monitor for instant preview using our AtomHDR engine.
Leave a Comment
Share Article
Back to Top
MultiDyne Debuts New IP and Fiber Transport System

MultiDyne Fiber Optic Solutions just debuted the SilverBack V, a 12G and 4K-capable camera-back system featuring an IP output. What makes the SilverBack V different is its 12G transport and conversion capabilities.

The same base station can support two camera heads simultaneously and has a built-in multiviewer that provides live monitoring for both camera feeds, along with optional audio monitoring. The SilverBack V also integrates expansion slots to support external I/O connections with other MultiDyne fiber transport systems and third-party products.

In addition to 12G, 8K, 4K and 3G, the Silverback V supports 1.5 Gbps video, audio, intercom, camera control, tally, data and power onto a single tactical, SMPTE hybrid fiber cable and/or IP network.

Here are the details.

Leave a Comment


Share Article
Back to Top
Roland Releases Updates Its V-60HD HD Video Switcher to V1.1
Roland Professional A/V has released the new version 1.1 firmware and software updates for the Roland V-60HD HD Video Switcher, an integrated video switcher and audio mixer. The new updates introduce support for Roland's RCS Remote Control Software, add Auto Scan automated video switching and add panel information commands to the already available RS232 control for use with connected touch panel or other programmable interface devices. The RCS software, available now as a free download for both Mac and PC, provides remote control of the V-60HD over a connected LAN. In addition to the comprehensive virtual control provided by RCS, Roland's Smart Tally function provides wireless tally capability to any smart device on the LAN via an IP browser setup screen, thus eliminating the need for wired tally cables typical to live production setups.
The V-60HD offers a feature set suited for live event production as well as broadcast, recording and streaming. The V-60HD supports SDI camera inputs plus scaled HDMI inputs for data, computer, tablet and other video sources via a variety of video connections, plus a Program and independent AUX bus for confidence/presenter note monitoring, downstage monitoring or side screens. The V-60HD also offers advanced audio functionality including multi-channel embedded audio, XLR/TRS and RCA analog inputs, and multichannel embedded audio to two SDI outputs, plus comprehensive dynamics and auto-mixing.
Compact, portable and easy to operate, the V-60HD supports six video channels from a variety of inputs, including 3G-SDI, HDMI and RGB sources with scaling on HDMI and RGB inputs to support both video and VESA resolutions from 480i up to WUXGA. A built-in de-interlacer enables 1080i and 1080p SDI video sources to be used simultaneously without external signal conversion.
Program, Preview and AUX bus sources enable flexible output for multiscreen environments such as churches, conference centers, hotels, and trade show facilities. The dedicated AUX bus may be assigned to any of the four discreet SDI or HDMI outputs providing seamless switching from the eight input channels and two still images uploaded via the USB port. The USB port also allows users to save program files and memory settings and upload software updates.
A front-panel 3-inch LCD display allows quick access menu navigation and access to switcher parameters. A multiviewer supports Program and Preview feeds and up to eight video sources with audio meters and labels.
The professional user interface also includes broadcast switcher quality cross-point buttons with PGM/PST LED color indicators, a rugged T-bar and DSK (downstream luminance or chroma keyer) quick edit knobs for key level and gain. Two sets of dedicated controls enable center framing of Split and PinP (picture-in-picture) placement. The DSK can be used to apply up to three layers of composition incorporating titles, song lyrics, logos or graphics coming from the video sources. Video processing enables cut, mix with cross-dissolve and NAM/FAM transitions, with up to 30 different wipe patterns, with seamless transition ensured by time-based correction and frame synch.
The V-60HD also features a 18-channel audio mixer with four TRS/XLR combo jacks with 48V phantom power, an RCA stereo pair, plus audio de-embed from the six video inputs. Audio processing capabilities include powerful dynamics and effects, such as a high-pass filter, gate, compressor/limiter, 3-band EQ, delay and the ability to select audio-follows-video channels. The audio features also include an innovative discreet multi-channel audio embedding function and auto-mixing capability.
Leave a Comment
Share Article
Back to Top
Zoom NA Adds F1-SP Field Recorder and Shotgun Mic
Zoom North America now offers its new F1-SP Field Recorder + Shotgun Mic system, which comes with the F1 Field Recorder and the SGH-6 shotgun mic. The recorder and mic system mounts to DSLR cameras with a hot shoe.

The Zoom F1 Field Recorder + Shotgun Mic bundles the F1 Field Recorder with the SGH-6 Shotgun Mic and the included SMF-1 shock mount connects the F1-SP to a DSLR thus eliminating unwanted thumping sounds caused by vibrations when shooting on the move. The F1's audio output connects to the camera's input using the included 3.5mm stereo cable, and while recording, the F1 can also record to a microSD card, creating a separate stereo audio file that provides flexibility in post-production.

The F1 Field Recorder and SGH-6 mic feature an aluminum construction to make carrying it lighter and features a newly designed LCD display that claims readability even in direct sunlight. Users can monitor levels, battery life, rumble filter lo-cut settings and more, while the one-touch controls that surround the display make recording levels, limiter settings and volume output easily accessible. The F1-SP combination can record high-resolution audio up to 24 bit/96 kHz.

Other features for videographers include a tone generator, sound markers, auto-level recording, on-board limiter, USB connectivity and more. The F1 can be powered using two AAA batteries (included) or with the optional AD-17 power adapter.

The Zoom F1-SP system lists for $249.99 and here are all the specs.

Leave a Comment


Share Article
Back to Top
Blackmagic Design Introduces New Micro Converter BiDirectional SDI/HDMI
Blackmagic Design today introduced Blackmagic Micro Converter BiDirectional SDI/HDMI, a pocket-size, broadcast quality video converter that simultaneously converts SDI to HDMI and HDMI to SDI in all SD and HD formats up to 1080p60 for $65.
The Blackmagic Micro Converter BiDirectional SDI/HDMI converts signals between professional SDI broadcast equipment and HDMI sources such as computers, projectors and big screen televisions. The converter can send different video formats in both directions at the same time. For example, customers could use it to convert NTSC format video from SDI to HDMI in one direction, while simultaneously converting 1080p60 video from HDMI to SDI in the other direction.
Blackmagic Micro Converter BiDirectional SDI/HDMI features professional 3G-SDI connections for working with all SD and HD equipment and formats up to 1080p60, including Level A and B devices. Unlike other small video converters, Blackmagic Micro Converters feature the highest quality broadcast technology, miniaturized into an industrial strength durable metal enclosure. Customers get the same broadcast quality 10-bit video processing found in full size converters. In addition, Blackmagic Micro Converter BiDirectional SDI/HDMI also has SDI re-clocking on the 3G-SDI input which regenerates the SDI video signal, reduces SDI jitter and improves SDI eye pattern before the signal is processed. This allows longer cable lengths and makes them incredibly reliable for use in professional broadcast.
Blackmagic Micro Converter BiDirectional SDI/HDMI can be powered via micro USB from a laptop computer, big screen television or mobile phone battery back. It can also be powered using an optional DC plug pack which supports 110 to 240V AC and comes with 4 different international AC socket adapters so customers can plug them into outlets anywhere in the world.
Leave a Comment
Share Article
Back to Top
JVC Debuts Line of 4K HDR LCD Monitors
JVC Professional Video today announced two new series of studio LCD monitors for 4K workflows. Available in two models, the DT‑U series provides native 4K resolution with 10-bit color depth and HDR compatibility. Dubbed the DT‑G series, all of them handle 4K and 2K sources.
The 28-inch DT-U28U and 31.5-inch DT-U31U feature native 4K LCD panels with 3840×2160 resolution, LED backlight, wider color gamut and HLG HDR and PQ HDR display for realistic imagery. Both monitors feature multiple 4K inputs, including 12G-SDI, 3G-SDI quad link, 4K/60p HDMI 2.0, and optional plug-in SFP adapter. Users can also display four independent SDI sources in quad view mode and there are extensive connectivity options for legacy sources. The DT-U31E supports 100 percent DCI-P3 and 84 percent ITU-R BT.2020 color gamut, while the DT-U28E supports 100 percent Rec.709 and 80 percent DCI-P3 color gamut.
With sizes ranging from 17.3 to 27 inches, DT-G series monitors support 4K/60p HDMI and 2K-SDI signals. Each 8-bit panel has 10-bit signal processing and LED backlight, with the three largest models offering 1000:1 contrast ratio.
Designed for critical video applications, both the DT-G and DT-U series are equipped with a new zero latency image processing mode with only a few lines of delay, which is ideal for lip sync monitoring. Both series also feature 3D LUT 17x17x17 precise auto calibration, with built-in color generator and calibration software, and support user uploaded 3DLUT cube files, which are convenient for color creation in post. Plus, with several built-in De-log LUTs (including JVC J-log1), the monitors can convert directly to ITU-Rec.709.
All models feature a built-in auto calibration function, with only an external X-Rite sensor probe required. Calibration can be done directly from the front-panel USB connection, so the monitor does not need to be removed from its installation.
The six new LCD monitors are:
DT-G17U 17.3 inches $2,400
DT-G21U 21.5 inches $2,750
DT-G24U 23.8 inches $3,200
DT-G27U 27 inches $3,600
DT-U28U 28 inches $6,100
DT-U31U 31.5 inches $6,700
The DT-G monitors are all here.
Leave a Comment
Share Article
Back to Top
Roland Ships the XS-62S Six-Channel Video Switcher and Audio Mixer
Roland Professional A/V is now shipping the XS-62S, an integrated six-channel video switcher and audio mixer with PTZ camera control capabilities designed for installed or portable live event, recording, broadcast and streaming productions. The XS-62S dis in a 1RU form factor and can be operated by a single user or remotely from a Mac or PC or programmable interface.
The Roland XS-62S supports seamless six-channel switching between four SDI inputs, featuring de-interlacer along with scaled HDMI and RGB inputs from computer, tablet and other video sources, plus two still images stored in internal memory. Two SDI and two HDMI outputs may be assigned to program (PGM), preview (PVW) or auxiliary (AUX) buses. The multiview output displays all six video input sources, two still images and PGM and PVW outputs with audio meters. Three video switching modes are available, enabling the XS-62S to handle a wide range of applications, including presentations, performances and special events, corporate AV conferences and distance learning.
In PGM/PST Mode, the XS-62S operates as a traditional video switcher, enabling the grouping of multiple images on a single screen, with independent assignment to the AUX bus supporting confidence, downstage monitor or additional presentation screens. Downstream keyer (DSK), which supports both luminance (black/white) and chroma (blue/green) keying, plus PinP (picture-in-picture) functionality, enables compositing of titles, graphics and inset video. PinP may be selected in circle, heart or diamond shapes in addition to the typical square or rectangle.
Dissolve Mode offers video switching and composition with cross-dissolve to the PGM bus and is suitable for a system where the user directly operates the main unit in a meeting space or event. The separate AUX bus is also available in Dissolve Mode.
In Matrix Mode, the XS-62S allows individual video input signals to be assigned to three different destinations on three buses with fade-to-black seamless switching. This mode is effective for routing signals in applications using multiple screens while simultaneously mixing program audio and controlling PTZ remote cameras.
The XS-62S features an 18-channel audio mixer with four TRS jacks and an RCA stereo pair, plus audio de-embed from the six video inputs. Roland's innovative discreet eight-channel analog audio embedding enables the operator to select which audio source to embed separately to SDI outputs 1 and 2, for example, to fix audio issues or separate multi-language audio sources when editing after an event.
In addition to the high-quality preamps, powerful on-board audio processing includes a high-pass filter, gate, compressor, three-band EQ and delay, plus the ability to select audio-follows-video channels. Processing may be controlled from the front panel screen menus or using Roland's Remote Control Software (RCS) for PC or Mac. Integrated auto-mixing automatically adjusts the audio inputs based on weighting, ensuring even levels for the room mix, recording and web streaming even from hard-to-manage sources as multi-microphone discussion panels.
Leave a Comment
Share Article
Back to Top
Focusrite Debuts Red 16Line Audio Interface
Focusrite is debuting its Red 16Line audio interface supporting 64-in/64-out Pro Tools | HD and dual Thunderbolt 3 ports. With its Dante and analog connectivity, Red 16Line interfaces with your live sound or production console to capture multichannel audio broadcasts into Pro Tools or other native audio DAWs. The Red 16Line features ultra-low latency A-D/D-A conversion for 16 line level ins and outs, two Red Evolution mic preamps, up to 121dB dynamic range and expansion over Ethernet for networked audio. The host mode can be simply changed either in the remote control software, or on the device front panel to select Pro Tools | HD- or Thunderbolt-connected native DAWs in seconds.
Red 16Line features 16 line inputs on D-sub, coupled with 16 line outputs and two main monitor outputs, and the outputs can be ganged for surround monitoring applications. The two digitally-controlled Red Evolution mic preamps provide up to 63dB of ultra-clean gain along with stereo linking, individually switchable phantom power, high-pass filter, phase reverse and Air mode (the name Focusrite gives to the sonic signature of the classic transformer ISA preamp).
Here are the detailed specs.
Leave a Comment
Share Article
Back to Top
New Version of Rohde and Schwarz R&S CLIPSTER Debuts

Rohde & Schwarz just demo'ed a new version of the DCI and IMF mastering product CLIPSTER. Version 6.6 offers new software features and hardware configurations. It processes images in realtime up to 4K 120p and offers a broad range of professional media file formats. Thanks to baseband SDI and integrated tools, R&S CLIPSTER can also be used in various post production workflows. The workstation's key benefits include excellent stability, DCI and IMF mastering, color format conversion to SDR and HDR as well as comprehensive codec support. Users can output numerous preset professional formats with the help of an output wizard, thereby saving valuable time.

R&S CLIPSTER can generate digital cinema packages (DCP), interoperable mastering format packages (IMF) and AS11 and AS02 packages, delivering excellent quality, reliability and performance. R&S CLIPSTER enables robust video playback for quality control, evaluation and approval as well as playout to tape via SDI, DisplayPort and HDMI with 16 embedded SDI audio channels or 16 AES/EBU channels. This gives the user a high degree of flexibility when creating complex final formats.

Here are the details.

Leave a Comment


Share Article
Back to Top
For all you REGULAR readers of rAVe Rental [and Staging] Edition out there, hopefully you enjoyed another opinion-packed issue!
For those of you NEW to rAVe, you just read how we are — we are 100 percent opinionated. We not only report the news and new product stories of the ProAV industry, but we stuff the articles full of our opinions. That may include (but is not limited to) whether or not the product is even worth looking at, challenging the manufacturers on their specifications, calling a marketing-spec bluff and suggesting ways integrators market their products better. But, one thing is for sure, we are NOT a trade publication that gets paid for running editorial or product stories. Traditional trade publications get paid to run product stories — that's why you see what you see in most of the pubs out there. We are different: we run what we want to run and NO ONE is going to pay us to write anything good (or bad).
Don't like us, then go away — unsubscribe! Just use the link below.
To send me feedback, don't reply to this newsletter. Instead, write directly to me at gary@ravepubs.com or for editorial ideas, Editor-in-Chief Sara Abrons at sara@ravepubs.com
A little about me: I graduated from Journalism School at the University of North Carolina at Chapel Hill (where I am adjunct faculty). I've been in the AV-industry since 1987 where I started with Extron and eventually moved to AMX. So, I guess I am an industry veteran (although I don't think I am that old). I have been an opinionated columnist for a number of industry publications and in the late 1990s I started the widely read KNews eNewsletter (the first in the AV market) and also created the model for and was co-founder of AV Avenue, which is now known as InfoComm IQ. rAVe [Publications] has been around since 2003, when we launched our original newsletter, rAVe ProAV Edition.
Everything we publish is Opt-in — we spam NO ONE! rAVe ProAV Edition is our flagship ePublication with what we believe is a reach of virtually everyone in the ProAV market. rAVe HomeAV Edition, co-published with CEDIA and launched in February 2004, is, by far, the largest ePub in the HomeAV market. We added rAVe Rental [and Staging] in November 2007, rAVe ED [Education] in May 2008 and then rAVe DS [Digital Signage] in January 2009. We added rAVe GHGav [Green, Healthcare & Government AV] in August 2010 and rAVe HOW [House of Worship] in July 2012. You can subscribe to any of those publication or see ALL our archives by going to: https://www.ravepubs.com
To read more about my background, our team and what we do, go to https://www.ravepubs.com
Back to Top
Copyright 2018 – rAVe [Publications] – All rights reserved. For reprint policies, contact rAVe [Publications], 210 Old Barn Ln., Chapel Hill, NC 27517 – (919) 969-7501. Email: sara@ravepubs.com
rAVe Rental [and Staging] contains the opinions of the author only and does not necessarily reflect the opinions of other persons or companies or its sponsors.