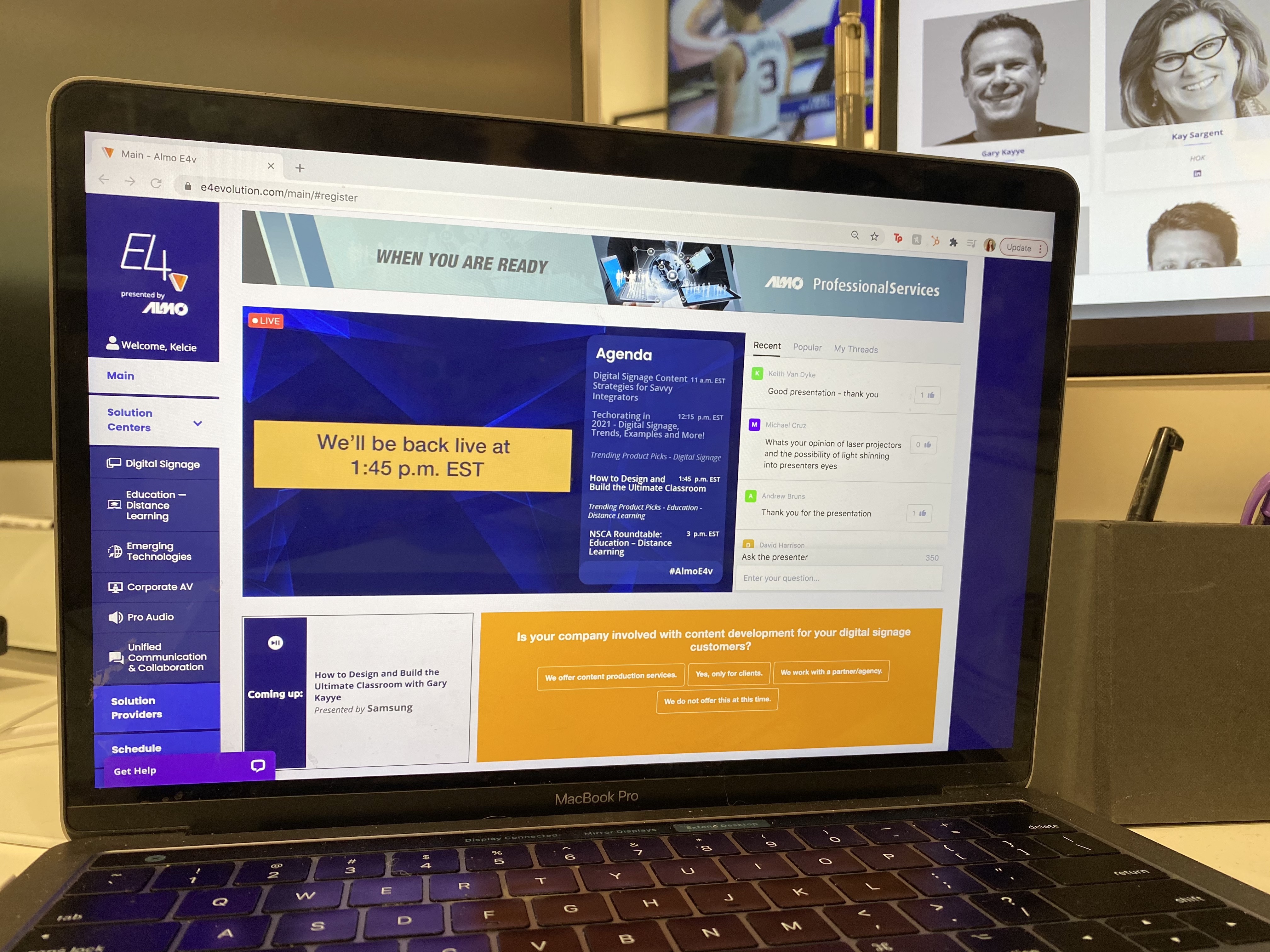 On Tuesday and Wednesday, we brought you live coverage of the Almo Pro A/V spring 2021 E4v virtual show experience (day one here; day two here). This time around, we were excited about some new additions and features, like a networking widget in the rAVe LAVNCH VTS platform that allowed attendees to connect together in real time.
The third and final E4v show day looked promising.
Spring 2021 E4v Lineup (March 11):
Digital Signage Content Strategies for Savvy Integrators (Jim Nista, Almo)
Techorating in 2021 — Digital Signage, Trends, Examples and More! (Jonathan Brawn, Brawn Consulting)
How to Design and Build the Ultimate Classroom: The Journey of a Professor and an AV Geek (Gary Kayye, THE rAVe Agency)
NSCA Roundtable — Next-Generation Workspaces (Tom LeBlanc, National Systems Contractors Association; Thomas Gadbois, Samsung; Terra Norine, Trox; Rob Voorhees, Almo)
Our roundup of the education/distance learning and digital signage part of the show — part three of three in an E4v recap series — is below. You'll enjoy this one.
Digital Signage Content Strategies for Savvy Integrators
Jim Nista is a digital artist and creative director, currently the senior director of content creation services at Almo. (He also holds two software patents, we learned!) His session Thursday, "Digital Signage Content Strategies for Savvy Integrators," helped us understand why digital signage is one of the few areas of AV in which content is king.
To make creative ideas shine, AV integrators need to understand all aspects of creative services for digital signage. To own the entire project, integrators need to offer a total solution for digital signage. That includes being well-versed on, or at the minimum knowing how to collaborate with other agencies or in-house staff on, content.
There are actually multiple types of digital signage content, Nista pointed out. He, himself, breaks them down into two categories, the industry as a whole often thought of as two separate parts. Each of the two types of signage — informational and advertising — uses different hardware, software and solutions.
So what's your strategy for this content? What are your customers using the digital sign for? Who's going to maintain it? In a multifaceted category like digital signage, these are only the initial questions.
"They're not just buying this to spend money," Nista said. The content — which takes hard creative, programming and graphics work — is why digital signage exists. It's not just about who's doing the content but who's doing all the work it takes to get that content to the digital screen.
This was a great session, and we 100% recommend registering for E4v to watch it on demand. Nista also recommends checking out DSEG's Digital Content and Media Expert (DCME) certification for creating signage content.
Techorating in 2021 — Digital Signage, Trends, Examples and More!
This isn't the first time we've heard about something the next E4v presenter, Jonathan Brawn, refers to as "techorating." To check ourselves on that, we took a trip down memory lane and found validation, stumbling upon this 2014 article and presentation by Alan C. Brawn and Jonathan Brawn on the same topic. Cool flashback, right?
Now, seven years later, remind us — what the heck is techorating? Brawn, AVIXA's 2020 Educator of the Year, explained.
"Techorating is about creating experiences and we are not confined by rectangles anymore!"

Learn more about Technorating as told by Jonathan Brawn at the #AlmoE4v. #AVtweeps @AlmoProAV @EpsonAmerica https://t.co/yTZ4RsioNl pic.twitter.com/vuKipDftSs

— rAVe [PUBS] (@rAVePubs) March 11, 2021
We've got a challenge in the way we currently approach AV, Brawn led. We have to select the right display for each and every application. "Experiential," a word that was brought up in Nista's session, is a fantastic term, Brawn said. The experience is a critical aspect of technology across every type, and we really need to start thinking outside the rectangle on the wall. Look at InfoComm's rebranding to "AVIXA," for instance; the Audiovisual and Integrated Experience Association brings in the word "experience" again. Experience is "the fact or state of having been affected by or gained knowledge through direct observation or participation," Brawn explained.
"Techorating" (or decorating with technology), a term Brawn was introduced to years ago, is the concept of using technology for more than communication but also for decoration — largely in a way that makes the experience more memorable. That's where display technologies like projection come in.
Throughout this great session, Brawn talked about creating better experiences, paying attention to changing industry standards, understanding design based on the objective/purpose of the system, learning the unique benefits of projection (which are full systems, not just a device, E4v emcee Mandy Beckner echoed) and "thinking outside the rectangle."
Ready to get out there and techorate?
How to Design and Build the Ultimate Classroom
Rounding out the final spring E4v session was rAVe's Gary Kayye — a self-proclaimed "AV geek" and a professor of advertising at the University of North Carolina at Chapel Hill. UNC has close to 30,000 total students, and Kayye brings a unique perspective on this topic; he has empathy for what both AV/IT and university professors, to each their own, go through — he knows both! Just look how excited he is to cover this topic!
Two versions of his "ultimate" classroom at the Hussman School of Journalism and Media, the first built years ago (with traditional AV) and the second built in 2019 (with AV-over-IP), have been implemented, and you can get the AsBuilts for each classroom here (Reese News Lab aka Room 11) and here (Room 58).
There were four scenarios to account for in each classroom:
Students and professors both being 100% in person
A mix of in-person and online, lecturing via streaming (hybrid)
A mix of in-person and online, lecturing via Zoom (HyFlex)
Asynchronous, for distance learning, offering both recording and lecture archiving
What did UNC do to merge these four systems?
In Room 11, front 4KE projection (4KE was available at the time of the build) and back-of-room short-throw projection allow for projection anywhere, empowering a HyFlex environment where remote students can participate — notably different from hybrid classrooms, when a student joins remotely but professors can't see or hear them. It takes four cameras to livestream and do lecture capture, two PTZ cameras and two fixed cameras from Vaddio and Jabra, Kayye explained. Only one mic-array (no battery required) covers the full 38-ft. by 33-ft. room. A room-based control system, with a single-button start and stop, allows professors to adjust on the fly. Other Room 11 systems, like wireless sharing and recasting, are outlined in Kayye's presentation, which you can find via the E4v archives.
Room 58 is the first fully networked Extron NAV AV-over-IP classroom in North America. Along with AV-over-IP, part of the recipe to doing this second classroom well depended on great audio, Kayye explained. A front native 4K projection system with a very large screen also allows for digital canvassing. The AV-over-IP system sends and receives AV signals and provides a very flexible matrix with near-zero latency. It allows the UNC team to centralize the AV in another room but still sufficiently deliver the room's desired features via a simple and easy-to-use touch panel.
Other Room 58 systems, like cameras, displays (Sharp and LG) and display control (Intel Unite), are outlined in the room's AsBuilts, which we linked to above.
E4v Day Three: It Takes a Village
After a lively NSCA roundtable with guests Tom Gadbois, Terra Norine and Rob Voorhees (the best way to get the scoop on the session is to register for E4v post-event), we reflected on a great final day of E4v and the live AV education it offered.
We also made sure to catch the day's Solution Centers, which included what the show called expert insights (offering one RU per four videos watched), classes and featured products. Thursday's two featured Solution Centers were digital signage and education/distance learning, including sessions like:
Ed Tech Has Evolved Way Past Just Projectors, Tablets and Computers (Panasonic's Darryl Krall and rAVe's Gary Kayye)
Commerce Goes Curbside with Outdoor Digital Displays (Sixteen:Nine's Dave Haynes and Peerless-AV's Brian McClimans)
Here's Why You Might Want to Spec Three Cameras in Every Classroom (rAVe's Gary Kayye and Almo's Jake Sanders)
All in all, the spring E4v has been fantastic, offering viewers a new collection of industry education that we hope you found valuable. The show began Tuesday, March 9, and continued March 10 and 11.
If you missed day three of the spring E4v, catch all the sessions by signing up here: https://e4evolution.com/. Bonus! Almo is offering E4v viewers a new "Flex Experience," allowing you to view the spring E4v content on demand March 12-April 16.