Volume 5, Issue 10 — October 31, 2016
The Four Uses of 4K Video in Churches

By Anthony Coppedge
House of Worship Technology Consultant


I made a prediction in 2014 here at rAVe that 4K video would start to become the normative in large, multi-site churches by 2020. I think I'll still be accurate with that prediction, though I'm now dividing that future-glance into current realities and applications where 4K — at least in part — can be a used by churches right now.

Here, in late 2016 as of the writing of this article, I know of only one church (Mosaic Church in Hollywood, California) that has gone 4K with their entire video production system. Yet the number of churches shooting and editing in 4K but transcoding down to 1080i/1080p has grown dramatically, with dozens of churches deep in the field production options that 4K video affords them. To understand this trend, it's important to consider the delivery of video in today's technologically savvy churches.
4K Video – Without the Video
Internally, most churches use video projection as the main form of 'video' content for displaying song lyrics, sermon notes, and graphics. In the truest sense, this isn't actual video content, but rather computer-generated outputs at resolutions ranging from 1280×720, 1366×768, 1600×900, up to about 1920×1080 (assuming 16:9 aspect ratio — though quite a few churches are still hanging back in the 4:3 aspect ratio days). The overwhelming majority of churches have invested in specialized church software for handling the database of song lyrics and scripture notes, with popular choices being ProPresenter, MediaShout, and EasyWorship. Though each of these vendor tools allows for video playback, the majority of the work is done in the software as purely graphical elements sent to the projector as simple computer input.
Considering that over 90 percent of the 300,000+ churches in the United States have the attendance of fewer than 90 people, the need for video is far lower than it is for larger churches. In this sense, the need for 4K is also minimal considering the content is computer based graphics that look terrific on a screen suitable for viewing in a 100 seat — or less — venue.
4K for Field Production
The benefits of 4K video in field production are notably greater for churches, as the final output for these videos will be limited to 1080i/p HD video projectors of a church YouTube or Vimeo channel. Because 4K allows for far more picture information, it's possible to use a single camera in the field and crop content as if it was shot with multiple cameras since the 1920×1080 resolution is the final output. In this way, 4K is a church editor's dream because it opens up entirely new possibilities both with the overall resolution and the RAW video files that DSLR-style or Super35-style cameras can capture.
Search YouTube for 4K church video and you'll find 4K content downsampled to HD video to see examples of this field production in action. This is the first step to introduce church leadership to the production capabilities possible that rival what is seen on television — and, indeed, digital film — as a church looks to 4K as an upgrade option for their venues.
4K As a Church Stage Sets or Environmental Projection
Video projection and LED curtains and video walls have also allowed churches to introduce staggeringly large electronic canvases that act as scenic backdrops. With 4K resolution, the opportunity for stunning, crisp, and bright images takes these church stage sets to new levels of immersion. Today, multiple HD scenes are stitched together via software, but it's now possible to simply open up a 4K canvas and seamlessly introduce the fidelity of visual imagery that exceeds what their attendees see in most movie theaters.
For churches that have invested in environmental projection, the only limit now is the projector's resolution and brightness. With extreme high brightness 4K projectors available, this has the opportunity to be a game-changer for the house of worship market with never-before-seen detail that amplifies the overall effect of this immersive display technology.
4K for Multi-site and Video Venues
Indeed, as my 2014 prediction pointed out, the most likely church candidates for 4K are those venues currently used with larger-than-life Image Magnification (IMAG) for video venue campuses where the sermon is projected/displayed via video (live or playback). In particular, those churches that have opted for the huge, dropped-to-the-floor center screen for the lock-down shot of the main stage and side screens for the close-up IMAG will realize the most impact of 4K on this center canvas, as the life-like realism of 4K will further enhance the suspension of disbelief that helps attendees focus on the message and not think about it being a video screen they're watching.
4K overall in the multi-site church venue is not a difficult sales proposition considering the extreme importance placed on high-quality video playback in these venues that place emphasis on these displays. The upgrade from SD or HD to 4K is one where a good demo with 4K footage, 4K signal processing and 4K projection will make quite an impact on church buyers and decision-makers.
As I pointed out at the beginning of this article, I only know of one church that has gone with 4K all the way with end-to-end 4K video workflow. Frankly, it's both challenging and expensive, as it requires an entire infrastructure replacement, much like that which happened a decade or more ago when churches stepped up from SD to HD for live production. From capture to processing to storage to editing to archival, this is a major investment that only a few dozen churches could realistically consider today.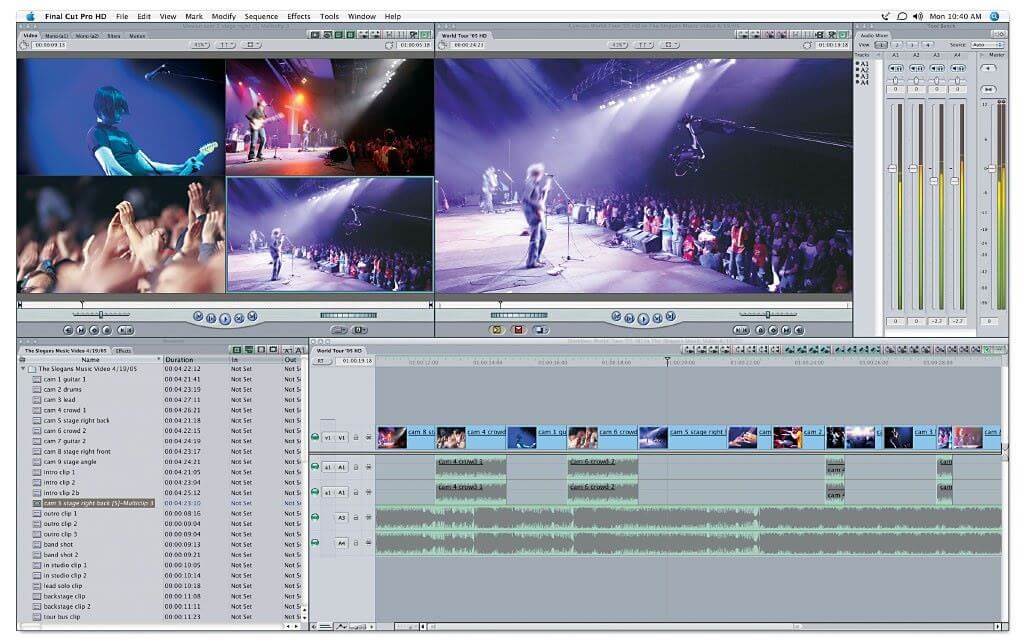 Still, there's ample opportunity to start with 4K either at the field production and post production level or go with the route that Sony has offered with their software licensing option which turns on 4K in their cameras once the church has the full infrastructure to handle it (1080p is enabled by default). There are a lot of churches that need a plan to get from HD to 4K, making now the ideal time for manufacturers and systems integrators to introduce strategic upgrade paths for the house of worship market.
Will 4K be possible for your church clients? Leave your comments below.
Leave a Comment
Share Article
Back to Top

Click above to learn more
The HD and 4K Video Storage Issue Facing Churches

By Anthony Coppedge
House of Worship Technology Consultant


It is incredible to consider that less than 100 years ago, the original video signals had about 210 lines of resolution, evolving to 512 lines in 1952 with the advent of color television, to the eventual jump to 1920×1080 (pixels instead of lines) for High Definition (HD) video. It's now possible to get 4K resolution in the consumer market with the promise of 8K coming in 2017. These increases have been amplified by the consumer market, which has dominated the content creation of high-resolution content for television, film and digital media. The trend has followed along in the commercial markets, too, not the least of which is seen each weekend in the over 300,000 churches in the U.S. alone.

As the House of Worship market happily adopts the advances in video, the unforeseen challenge is the HD and 4K video storage issue facing churches. Now that they can capture content at HD and 4K, where and how are they going to store, archive and manage all of that massive data files? It's all happened so quickly (relatively speaking), that there's not been much thought by the vast majority of churches on these pending challenges.

Historically, the very largest churches with decades of experience in broadcast television have been the only ones with the experience in archival and long-term storage of media. I hail from this generation and remember the climate-controlled archival rooms that held rows upon rows of 1″ tape, 3/4 U-Matic, Betacam SP, Digital Betacam, P2, etc. where these physical recording tapes held archival content. These churches only represent a tiny, fractional percentage of the entire market, so their experience is largely unknown by 20- and 30-something aspiring content producers in young, growing churches.
What the broadcast experienced churches know is that it's one thing to store content; it's quite another to catalog, manage, and access archival content.
LTO (Linear Tape-Open) has been around for a while and has been used in larger media-rich environments, but in the house of worship market, the typical solution is to use hard drives or tape/solid state storage (Sony's XDCAM HD and Panasonic's P2 HD formats are typical for medium to large churches). And to share those files? iCloud, Google Drive, and Dropbox prevail. Not exactly great short or long-term solutions, but at least they are in the Cloud, so it's a simple (but inefficient) short-term fix.
To give some perspective on the ginormous file sizes we're talking about, at 4K uncompressed the storage needs will exceed 2.3 TB for one hour of recording — common for the length of many church services being recorded. Heck, even ProRes422 requires over 400 gigabytes of storage for that same hour. Houston, we have a storage problem. Inexact math, sure, but it's close enough to paint the eye-opening picture of massive file sizes. And that's not accounting for multi-camera recordings used in editing. These file sizes quickly become stupefying.
It's not crazy to consider that the general 10:1 rule for raw content to produced content would apply, meaning 23 TB for 10 hours of content from a multi-camera shoot could be edited down to a one-hour church service – every single week. And that's only church services and doesn't include the many man-hours spent capturing video content for testimonials, missionary stories, events and even church announcements.
Hyped for years and now a reality is the new optical Archival Disc, jointly developed by Sony and Panasonic, with a promised 100-year shelf life for managing long-term archives. I chatted with Sony's marketing manager for Optical Disc Archive Systems (ODS), Ellen Heine, and Sony's Faith Market manager, Craig Harper, to get the latest data about this new format.
"When you look at storage, you want it to be accessible and quickly identifiable," shares Heine, "and pure file storage on a hard drive won't give you that." To her point, the need to store the captured video content is a good starting point, but all of the project files and even an export of the video editing project is helpful to save hours of time for future editing needs. It's one thing to keep a shelf full of hard drives with Post-It notes, but it's quite another to organize relevant media files together.
Additionally, most churches won't have the archive rooms described above and the risk of damage to a hard drive is higher than that of a dust- and water-tolerant media like ODS. An interesting example of this scenario is Lake Point Church in Rockwall, Texas, which archives to an ODS disc that sits on a shelf. It's an easy first step towards a robust long-term storage solution. It's also budget-friendly, as a $6k drive is an affordable starting point. Surprisingly, the cost per disk is only about 4 cents per Gigabyte for the new Generation 2 Optical Disc Archive media!
With only one church (to date) running a 4K end-to-end video system in the U.S. (possibly in the World), the 4K content being captured today by church producers for field production could benefit quickly from ODS as not only a long-term archival format, but as a near-term solution for the acquisition side of the workflow. When a video shoot is complete, producers can offload camera storage directly to ODS, instantly freeing up camera storage for the next field production shoot. "ODS is a time-saver," opines Harper, "both for accessing the large files associated with HD and 4K as well as the storage retrieval for future editing."
And those large churches using long-term tape storage? "If you're using LTO (Linear Tape Open), every 3 years you're replacing the tape and the drives. With ODS, you're not forced into media migration, which is a very budget-friendly option for churches not used to the broadcast media demands."
The workflow can be as varied as you need it to be because ODS Is essentially the reliable storage at the end of the workflow. For example, if in a shared storage environment for online editing, you'll need a way to purge that storage before it is full. The nice thing about having the archive on optical disc is that it's readily available and can be accessed right off of the disk when needed as a near-line device.
Of course, this begs the question of Cloud-based storage: is it a viable option? The answer is yes, but with qualifiers. In all scenarios, an archival and indexing system is required; these are available from a number of vendors including XenData, SquareBox, Pre-Roll Post and many others. The key is accessibility and transfer speed; on-premise ODS is a robust, easily accessible solution, while Cloud is limited by connectivity. Arguably, the Cloud is anywhere/anytime access, so the real question churches will need to ask is how often and to what extent do they need to access their archival content and project files. Sony even has a Cloud service, Ci, designed to address this need.
The future for high-resolution church services is large; large file sizes, large storage needs and large sales opportunities for systems integrators and manufacturers alike.
What say you? How do you see the HOW market adopting long term media storage? Comment below.
Leave a Comment
Share Article
Back to Top

Click above to learn more
Sennheiser Announces New Design for HD 280 PRO Monitoring Headphones
Sennheiser has redesigned the HD 280 PRO monitoring headphones with a new design and improved comfort for the wearer. The most visible change is the headband, which features differently designed padding that keeps the sensitive fontanelle area of the head free from pressure. This, along with a weight of just 285 g, ensures stress-free use for long hours. The headband length can be adjusted in more than a dozen increments, while the swivel joint and the rotatable ear cups ensure a perfect fit around the ear. Soft ear pads round off the comfort features.
The dynamic HD 280 PROs boast a THD of 0.1 percent and a very detailed, linear reproduction, spanning a frequency response of 8 to 25,000 kHz. Their impedance of 64 ohms ensures universal connectivity. The headphones feature a single-sided, coiled cable with 3.5 mm/6.3 mm plug.
Leave a Comment
Share Article
Back to Top
Apogee Symphony I/O Mk II Adds Dante Option Card
Apogee Electronics has just announced a Dante network option card for its Symphony I/O Mk II audio interface. The addition of Dante expands Symphony's connectivity options which currently include, Thunderbolt, Pro Tools HD and SoundGrid. The Symphony I/O Mk II Dante option card uses Audinate's Dante Brooklyn II module, which features plug and play media networking for up to 64 bidirectional channels at 48kHz.
The Dante Brooklyn II module is a full-featured solution for easily integrating the power of Dante networking into new and existing products. A single Brooklyn II module provides a complete, ready-to-use Dante interface, and can equip a networked audio device with as many as 64 channels of bi-directional digital streaming. The onboard MicroBlaze CPU includes its own Linux environment, enabling the development of custom embedded applications for device and network control and monitoring. A wide range of interfaces is supported, and Audinate's comprehensive software toolkit streamlines integration, dramatically lowering time to market.
Leave a Comment
Share Article
Back to Top

Click above to learn more
PreSonus Releases StudioLive AR USB Hybrid Mixers
PreSonus is now shipping its StudioLive AR USB-series hybrid mixers. The series includes three models: the 18-channel StudioLive AR16 USB, 14-channel StudioLive AR12 USB and eight-channel StudioLive AR8 USB.
StudioLive AR USB mixers are equipped with a Mac- and Windows-compatible, 24-bit, 96 kHz, USB 2.0 audio interface that can capture all input channels and the main mix. Like every PreSonus mixer, StudioLive AR USB mixers are bundled with everything you need to record, mix, and distribute your music. Create multitrack recordings with one click in PreSonus' Capture live-recording software, then mix, edit and distribute from award-winning Studio One 3 Artist DAW production software; both are included free. Every StudioLive AR USB mixer comes equipped with an onboard stereo SD recorder that lets you record the main mix without a computer — just hit Record and go. You can also use the SD recorder to play up to 32 GB of MP3 and WAV files for hours of program music or backing tracks without needing a computer.
StudioLive AR USB mixers also feature the unique PreSonus Super Channel, which allows you to play audio from four stereo sources simultaneously. Plug a media player into the Super Channel's unbalanced RCA inputs. Connect your tablet to the 1/8-inch stereo input. Play stereo audio from the onboard SD recorder or from your USB-connected Mac or Windows PC. Use onboard Bluetooth 4.1 to pair your phone to your StudioLive AR USB mixer and instantly have wireless access to your music library for break music, backing tracks, or ear-training. Have a song you want the rest of the band to learn? Pair your phone and start rehearsing. The Super Channel allows you to play back audio from four stereo sources at one time.
Compact and road-ready, StudioLive AR USB mixers are packed with the connections and features needed to mix and record live, in the studio and in rehearsal, including Class A mic preamps; instrument and line inputs; semi-parametric three-band EQ; and an internal stereo effects processor, providing a superior all-in-one solution for mixing and recording your performances. All models are shipping and the prices are StudioLive AR16 USB, $599.95; StudioLive AR12 USB, $499.95; and StudioLive AR8 USB, $399.95. Here are all the details.
Leave a Comment
Share Article
Back to Top
Studio Technologies Releases Model 362 Listen-Only Beltpack Featuring Dante
Studio Technologies has launched the Model 362 Listen-Only Beltpack that features Dante audio-over-Ethernet technology. Intended for use by on-air talent or production personnel, the Model 362 is a two-channel user device that supports headphone monitoring of two audio channels associated with a Dante application.
Key features of the Model 362 include configurable audio channel routing, dual level controls, 1/4-inch and 3.5-mm output jacks, and Power-over-Ethernet (PoE) powering. With only a PoE connection and a pair of headphones or an earpiece, a complete broadcast talent cue or audio monitoring location can be created. Also known as an interruptible foldback or "IFB," talent cueing is an unheralded but critical part of on-air applications. The Model 362 can be used with other high-performance Dante-enabled products from Studio Technologies, such as party-line intercom and IFB interfaces, 2- and 4-channel intercom beltpacks and announcer's consoles, as well as being interoperable with products from hundreds of other manufacturers.
The setup and operation of the Model 362 is fast and simple. Both power and bidirectional digital audio are provided via an etherCON RJ45 jack, which is used to interconnect with a port on a standard PoE-enabled network switch. Both 1/4-inch and 3.5-mm output jacks allow use of a wide range of stereo headphones, single- or dual-ear broadcast headsets, and stereo or monaural earpieces or earbuds.
The Dante Controller personal computer application can be used to route two audio sources to the Model 362's inputs. Two "push-in/push-out" rotary potentiometers make it easy for the user to set and maintain the desired level on the two-channel headphone output. Four LEDs provide a clear and complete indication of the unit's operating status.
Leave a Comment
Share Article
Back to Top
Renkus-Heinz Ships ICONYX Integrated with Dante
Renkus-Heinz has announced the immediate availability of new Dante-enabled versions of ICONYX Gen5 and IC Live for Fixed Installation. Iconyx IC Series and IC Live ICL-F Series models are now available in -RD versions, offering Dual Redundant Dante connectivity with audio transport and configurable sample rates up to 96kHz.
Concurrently, Renkus-Heinz has announced the release of RHAON 2.1, a major update to the company's acclaimed RHAON II software now with support for Dante connectivity. The new v2.1 update of RHAON II (Renkus-Heinz Audio Operations Network) incorporates over 100 software updates and enhancements, including support for multiple zones, as well as a new Device Icon View mode for organizing larger systems. System Status reports covering all device parameters can easily be generated, and copy/paste of DSP settings between different device types is also supported.
Leave a Comment
Share Article
Back to Top
Christie Pandoras Box 6.0 and Widget Designer 6.0 Debut
The new Christie Pandoras Box 6.0 media server is officially launching this week and it combines the newest rendering technology with intuitive media and show control. Among its new features, Multi User mode allows multiple Pandoras Box operators to split the workload of a project and benefit from the increased efficiency by working on different tasks like warping, content encoding, timeline programming or simply work simultaneously on the same sequence. Pandoras Box 6.0 also features many workflow improvements such as editable meshes and warps, UV map adjustments and live canvas masking and painting all from within the preview window.

With Widget Designer, customers can create dedicated user interfaces and interaction logic simply by connecting visual control components. New to Widget Designer 6.0 is a redesigned HTML5 user interface and native HTML support including CSS Styles. Animation and transitions are now available for all pages and widgets and the new composite nodes allow for the integration of node-systems into re-usable custom nodes.

Leave a Comment


Share Article
Back to Top
Anchor Audio's Bigfoot and Beacon Line Arrays Add AIR Wireless Capability
Anchor Audio has announced that the Bigfoot and Beacon line array's now offer the AIR wireless technology, and have complete wireless capability and connectivity between units. The Bigfoot and Beacon AIR's are not passive companion units, but instead, are main units with either an AIR transmitter or AIR receiver built-in. The units can be used together for larger coverage or separately as stand-alone units.

The Bigfoot and Beacon AIR systems are battery powered, operate six to eight hours or more on a single charge, and receivers can be placed 150+ feet from the transmitter. AIR transmitters and receivers come as an optional built-in upgrade to the main sound system and replace the CD/MP3 combo player in the units. The transmitter can connect to an unlimited number of AIR wireless companion speakers. The AIR wireless technology offers 100 user-selectable channels operating within the 900 MHz frequency, which is one of the few clear channel ranges available and, therefore, limits interference from competing signals. The Bigfoot and Beacon line arrays are durable and easy to transport with built-in wheels and handles. Delivering 130 and 120 dB of clear sound respectively, these portable sound systems are ideal for both music and voice amplification making it truly versatile.

Currently, Anchor Audio offers AIR capability in the Bigfoot and Beacon Portable Line Arrays, Liberty Platinum andGo Getter Portable Sound Systems, and MegaVox Pro Portable PA System. All of the Anchor AIR product line, including the Bigfoot and Beacon can be mixed and matched to fit your ideal audio solution setup.

The AIR companion transmitter also connects seamlessly with Anchor Audio's Assistive Listening Devices (ALB-9000), which operate on the same 902-928 MHz, resulting in an immediate ADA-compliant portable sound system. Main-unit systems are available with up to two wireless microphone receivers in addition to the AIR wireless companion transmitter.

Leave a Comment


Share Article
Back to Top
1 Beyond Launches New StreamMachine Line
1 Beyond announced a new, more powerful line of StreamMachine systems for live streaming and recording. The 1 Beyond StreamMachine, billed as an all-in-one video switcher, recorder, streaming encoder, comes in five models designed for different needs.

The new StreamMachine systems are:
1 Beyond StreamMachine Edge ($3,995) is a compact and affordable desktop system for those who want a professional quality broadcast on a tight budget.
1 Beyond StreamMachine Portable ($8,495) and StreamMachine Portable Pro ($11,995) are all-in-one units with built-in monitor, keyboard and trackpad for those who want to take their production on the go.
1 Beyond StreamMachine Studio ($5,995) and StreamMachine Studio Pro ($8,995) are sturdy rack units for control rooms, production trucks or other locations where portability is not needed. They can also be configured as a desktop unit.
All models have at least four HD-SDI inputs and can capture, stream and record 1080p. The Pro level units have more storage capacity, CPU power and 8 HD-SDI inputs. Highlights of new features for all systems include:
Powerful GPU encoder to stream high resolutions using less CPU
High resolution ISO recording
Easy to use Wirecast Pro user interface to add effects, resize, position, crop, flip rotate, and combine multiple video sources, apply color correction filters and more.
Updated 2D/3D animated titles with live text entry, or scroll/display text from a file or an RSS feed.
Virtual sets, instant replay, enhanced built-in audio mixer and audio/video delay all standard.
Leave a Comment
Share Article
Back to Top
NEC Europe Launches Another WUXGA Native But 4K-Capable, Laser Installation Projector
NEC Display Solutions Europe today launched the PX1004UL laser phosphor projector. Offering maintenance-free operation for up to 20,000 hours and spec'd at up to 10,000 ANSI lumens brightness, the PX1004UL completes NEC's Solid State Light (SSL) source line-up of projectors with 5,000, 6,000, 8,000, 10,000 and 12,000 ANSI lumens.
Using Digital Light Processing (DLP) technology and native WUXGA resolution (1920 x 1200), the projector has the capability to process 4K input signals – but converts them to WUXGA. In addition, the laser projector utilizes a filter-less design technology and is essentially dust proof, removing the need for filter cleaning or replacement. These features combined with low overall power consumption provide exceptional reliability and virtually zero maintenance. The PX1004UL projector is therefore an attractive option in scenarios where total cost of ownership is crucial and maintenance access is limited.
The projector offers easy and flexible installation options with support for third party lenses. This enables the PX1004UL to be used as a drop-in replacement without any reprogramming. The free landscape and portrait orientation function of the projector makes it suitable for use at any angle, while the geometric control function makes the projector perfect for projection onto curved surfaces. Furthermore, the projector supports automatic camera-based stacking and blending. This gives users quick and easy multi-screen setup capabilities, plus support for large presentation pictures.
Go here for all the detailed specs.
Leave a Comment
Share Article
Back to Top
Epson Debuts New PowerLite 2000-Series Portable Projectors
Epson today announced the new Epson PowerLite 2000-Series. The series features nine projectors that are designed for business meetings, large boardrooms, lecture halls, classrooms, and houses of worship. The PowerLite 2000-Series includes up to 5,500 lumens of color brightness and 5,500 lumens of white brightness, in addition to full HD 1080p support and comes equipped with built-in enterprise level Wi-Fi security, and features a full interface for multiple connections and installation flexibility.

The PowerLite 2000-Series leverages HDMI connectivity but also includes USB ports for images from a USB drive stored as PDF, JPEG, BMP, GIF, or PNG files without having to connect to a PC. In addition, leveraging a wireless LAN module, the PowerLite 2000-Series projectors offer security features such as WEP, WPA-PSK, WPA-EAP, WPA2-EAP wireless encryption to help prevent information leakage in an enterprise environment.

The series also features Faroudja DCDi Cinema video enhancement technology delivering exceptional image quality without introducing artifacts. In addition, the DICOM Simulation Mode (Digital Imaging and Communications in Medicine) provides the ability to reproduce images with an advanced grayscale level that simulates DICOM Part 14, designed for viewing grayscale medical images, such as X-rays, for training and educational environments. Wireless screen mirroring with Miracast allows PowerLite 2000-Series users to stream Full HD movies, videos, photos, and music from a smartphone, tablet, laptop or PC directly to the projector.

The flagship models – PowerLite 2265U and PowerLite 2165W – include HDBaseT connectivity for easy installation, in addition to support for Multi-PC projection, which allows up to four individual PC screens to be displayed simultaneously over the network with up to 32 connected to the same projector. The projectors include Screen Fit, an auto-sensing feature that adjusts the image size to fit within a frame, whether it's a screen or a board, with the push of a button. The PowerLite 2265U and PowerLite 2165W projectors can be used with the Epson iProjection App to display content from an iOS or Android mobile devices with wireless or network capabilities4.

The different models can be compared here:
Leave a Comment
Share Article
Back to Top
For all you REGULAR readers of rAVe HOW out there, hopefully you enjoyed another opinion-packed issue!
For those of you NEW to rAVe, you just read how we are — we are 100 percent opinionated. We not only report the news and new product stories of the ProAV industry, but we stuff the articles full of our opinions. That may include (but is not limited to) whether or not the product is even worth looking at, challenging the manufacturers on their specifications, calling a marketing-spec bluff and suggesting ways integrators market their products better. But, one thing is for sure, we are NOT a trade publication that gets paid for running editorial or product stories. Traditional trade publications get paid to run product stories — that's why you see what you see in most of the pubs out there. We are different: we run what we want to run and NO ONE is going to pay us to write anything good (or bad).
Don't like us, then go away — unsubscribe! Just use the link below.
To send me feedback, don't reply to this newsletter. Instead, write directly to me at gary@ravepubs.com or for editorial ideas, Editor-in-Chief Sara Abrons at sara@ravepubs.com
A little about me: I graduated from Journalism School at the University of North Carolina at Chapel Hill (where I am adjunct faculty). I've been in the AV-industry since 1987 where I started with Extron and eventually moved to AMX. So, I guess I am an industry veteran (although I don't think I am that old). I have been an opinionated columnist for a number of industry publications and in the late 1990s I started the widely read KNews eNewsletter (the first in the AV market) and also created the model for and was co-founder of AV Avenue, which is now known as InfoComm IQ. rAVe [Publications] has been around since 2003, when we launched our original newsletter, rAVe ProAV Edition.
Everything we publish is Opt-in — we spam NO ONE! rAVe ProAV Edition is our flagship ePublication with what we believe is a reach of virtually everyone in the ProAV market. rAVe HomeAV Edition, co-published with CEDIA and launched in February 2004, is, by far, the largest ePub in the HomeAV market. We added rAVe Rental [and Staging] in November 2007, rAVe ED [Education] in May 2008 and then rAVe DS [Digital Signage] in January 2009. We added rAVe GHGav [Green, Healthcare & Government AV] in August 2010 and rAVe HOW [House of Worship] in July 2012. You can subscribe to any of those publication or see ALL our archives by going to: http://www.ravepubs.com
To read more about my background, our team and what we do, go to http://www.ravepubs.com
Back to Top
Copyright 2016 – rAVe [Publications] – All rights reserved – All rights reserved. For reprint policies, contact rAVe [Publications], 210 Old Barn Ln. – Chapel Hill, NC 27517 – (919) 969-7501. Email: Sara@rAVePubs.com
rAVe contains the opinions of the author only and does not necessarily reflect the opinions of other persons or companies or its sponsors.